For the love of the stage
From an improvisational trapeze performer and fire eater in the 80s to a celebrated Melbourne Fringe 'living legend', Rinske Ginsberg reflects on a life on stage
Chris Hatzis
Eavesdrop on Experts, a podcast about stories of inspiration and insights. It's where expert types obsess, confess and profess. I'm Chris Hatzis. Let's eavesdrop on experts changing the world - one lecture, one experiment, one interview at a time.
For many people, the scariest thing they will ever do in their lives is any form of public speaking. And it seems like more occupations require good public speaking skills as a key selection criterion. Whether you're a manager, university lecturer or theatre or film actor, having a strong presence is more than simply having a good voice. It's movement, it's being in tune with your body, your breathing and every part of your physical makeup.
Rinske Ginsberg is a lecturer in theatre, movement and performance-making at the Victorian College of the Arts. She has over 35 years experience as teacher, performer, movement educator and dramaturge in theatre education institutions and in the performing arts industry. She's had a long association with the Melbourne Fringe and was awarded the title of 'Melbourne Fringe Living Legend' in 2016.
Rinske is currently developing her research into non-verbal communication, physical dramaturgy and the use of theatre-training techniques for developing skills in teaching and learning across academic disciplines.
Our reporter Steve Grimwade travelled down St Kilda Road to the VCA to chat to Rinske about her work in performance, theatre and acting, as well as her storied career in the performing arts scene in Melbourne in the 70s and 80s. Before they began, though, Rinske put Steve through his paces with some breathing and vocal exercises to prepare him for the gruelling interview to come.

Steve Grimwade
What do you want me to do?
Rinske Ginsberg
Standing up. Well you've probably done some breathing exercises. Just connect - no, we're not muscling the breath. We're just connecting with the breath, just allowing the muscles of your abdomen to relax and letting the breath flow in through the nose, filling up all the spaces of your body, letting it release of its own accord. Then we could start with warming up the muscles of the face.
Steve Grimwade

So do you want me to speak as well as - or just to move literally my mouth?
Rinske Ginsberg
See if you can just blow through your lips. [Lips blowing sfx] That's it. You can play with that a little bit.
Steve Grimwade
It's quite hard to do to actually have totally relaxed lips.
Rinske Ginsberg
Great. That's pretty good. And now let's try a little hum. So first of all I'd like you to just rub your chest, and just maybe [hits chest] give a little bit… and just, mmmmmmm… bring your vibrations to your chest… good…
Steve Grimwade
Mmmmmmmmmm…
Rinske Ginsberg
Now work up to your lips… make your lips nice and soft because you've just blown through them… mmmmmmmm… feel the vibrations on your lips… mmmmm… beautiful. So then we could just play with, you know, different kinds of sounds. Brummmammmammmaaa….namamameeeeoooo…. Or really, this is just like…
Steve Grimwade
Namamameee…. The thing is I haven't got the imagination to do anything but repeat what you're doing.
Rinske Ginsberg
Brrrrrrrrrbrrrrrrr…. riding a motorbike on the hills…
Steve Grimwade
I think that's enough. Is that OK with you, is there more to go?
Rinske Ginsberg
Oh, we can be here for hours. Really, we've only just started.
Steve Grimwade
I think we'd better move on, it's not my shyness. That's great.
Rinske Ginsberg
Thank you.
Christ Hatzis
That's very nice work, Steve. I think you're ready to go.
Steve Grimwade
When I was thinking how to introduce you I did think about the word actor and that it scanned better than performer. It has one less syllable. But it occurred to me that there might be a considered difference between a performer and an actor, and do you distinguish between the two?
Rinske Ginsberg

I guess there's a fine distinction. I usually use the term performer in every circumstance, and for me an actor really is the interpretive artist and the performer is not just interpretive but generative and adaptive and creative in terms of devising new work. That's how I see it, and in terms of what we're - at the moment we've - this year we're starting two new degrees, two BFAs - a BFA Acting and a BFA Theatre - and that's how we distinguish those disciplines if you like; that one is devising and making new work and generating material of all kinds, and an actor is one who is interpreting new and - oh contemporary and historical work on a traditional level.


Steve Grimwade
Does tradition hold to this day? Is tradition changing? Is there less need for actors and more need for performers?


Rinske Ginsberg
I wouldn't say so. I think the whole craft of theatre really is about storytelling. That's at the very heart of it on a primitive level. We all want to sit around a campfire and hear people tell us things that we will never experience. So both historical and traditional and classical work has as much relevance today as brand new site-specific, immersive, ambulant private work does. So that's what I think.


Steve Grimwade
I guess - I mean the first question is how can you teach acting? How can someone else - how can someone learn to embody someone else?
Rinske Ginsberg
The first thing that you want to frame really to answer this question is that the processes of cognition thinking are acting and feeling all happen together at once. It's not like I move without thinking and feeling; it all happens together.


Steve Grimwade
Well at first do you need to have a thorough sense of your own body and mind before you can truly inhabit someone else's?
Rinske Ginsberg
I think the thing from my perspective - because I'm a lecturer in theatre but my speciality is the actor's body. So I'm training or basically I think what I really am training is awareness. So that's your first - it's the cornerstone for any learning for an actor - is that the actor or the performer is going to replicate the behaviour of either real life or heightened life, exaggerated life.
So you want to be a student of your own behaviour and the way that we need to do that - yeah, the way that it happens is that you start to distinguish what it is you are doing at any point. Really the breath is the key. You start with the breath; you're conscious of how your body moves with breath; you become conscious of the shape of your body; about your physical structure; how it goes together; how it moves. Those are fundamental things to begin an actor's training. You start with the body and then you put the body in space.
Then you put the body in space with action and then you put the body with space with action and text, and in between all those the things that are happening concurrently is an imaginative - fusion of imagination is happening with expression all the time.
So, yeah, that's on a very - that's what I would say is fundamental practice for the training of an actor, as it is in a way for the training of any form that is interactive with the environment. Sports people - they have to become highly tuned into the firing of their neuromuscular responses; how that happens; really training that; refining the impulse into action. I guess that's one of the things that we predicate all our training on - is the actor's body and both the functional instrumental aspect of that towards the expressivity. These days in a way I think actor training is really vital because - and it could be - I'd love to do it with all kinds of different populations, because as we become more and more or less and less physical in relation to the environment and we spend more time on screens, people lose the idea of space.
I don't know whether you're having that experience of walking down a crowded street and people just run into you, because it's like they can't imagine that you're real and three-dimensional because everything that they do is on two dimensions. It's looking at a flat screen. So that's really very interesting and necessary if you're going to inhabit live performance.
Steve Grimwade
I get a sense though that this is also connecting who you are very much internally and physically with a sense of empathy. There seems to be then - it starts there but then it transmits outwards.
Rinske Ginsberg
Yeah. One of the things that is primary for the actor is to be able to transform really into different characters or in different situations, and so in a way there's a bit of a fallacy that acting is a natural thing. It's not. It's quite unnatural to be natural. It's all about pretending really well. So one of the things that you start off doing, as I said, is attending to how you are naturally and then beginning to have a sense of exploring different qualities of how you engage with say weight or space or time.
Time and space for me are fundamental areas of life, but particularly teasing out how an actor responds to constraints and invitations to explore facets of that is where an actor understands how the body can express an internal state, and how their bodies can inhabit an imagined place that then the audience is enlisted in.
Steve Grimwade
Does it come from the heart and mind of the actor to pretend what is this other lived state, or does there need to be a study of other people and the way other people are to really do it successfully?
Rinske Grimwade
Yes. Simply, yes, to all of that. It is all of that because in the beginning it must be technique. You have to be able to analyse movement in a way. That's one of the things that we do over time - is that the student or the actor begins to understand what they're doing posturally, gesturally, spatially et cetera, et cetera.
Then people watching and observation is critical because people are kind of crazy. They're stranger than we imagine. Stranger than fiction. Stranger than you can make up in a way. So to really understand that there is an enormous scope in the palate of how you would be posturally or gesturally.
Steve Grimwade
You spoke earlier about how training like this is an absolute luxury, so I guess many of us don't pay that attention, not only to ourselves but to the other. We just walk through life and see 10 per cent of it, 50 percent of it, but not all of it.
Rinske Ginsberg
That's exactly right. So we're unconscious most of the time and in fact it's necessary to be unconscious, otherwise if you were conscious of everything you did, every thought you had, that's the definition of madness. So you want to have that integrated and certain patterns and habits that we have in the way in which we move, which we learned very early on, for an actor some of those habits have to be re-renovated actually so that they are not impeding the possibility of taking on other roles. However, you don't want an actor to lose everything because that's what makes them them.
So it's a really - look an actor's job is really hard. It is craft combined with practise so that all the things that we're talking about - the techniques, the analysis, the understanding and particularly in roles there's an enormous amount of text analysis and character lists you have to make and objectives and all kinds - depending on which methodology you're using. But the actor who can fuse that over time with impulse that's where you want to go. That is the virtuosic actor - is the one whose craft is now invisible and the practise of lying is so impulsive and alert. That's what you're aiming for.
Steve Grimwade
I'm wondering how the teaching of acting has changed over the time that you've been doing it.
Rinske Ginsberg
You know in some ways I would say it hasn't hugely. I think the principles of actor training are - what would you call it - they're fundamental and they haven't changed enormously, but what has begun to change is a real understanding of embodiment and that neurologically all the ways in which you would train an actor are supported by current neuroscience - discoveries in neuroscience and cognition. So that's really exciting. The true connection between the mind and the body is really the thing that is 21st century. When I was first here as a student in 1977…
Steve Grimwade
Child actor obviously.

Rinske Ginsberg

[Laughs] Oh dear, that's very flattering. But it was a Stanislavskian approach and at that time it was a cerebral - a more cerebral approach to the acting process than is the case now.
Steve Grimwade

Can you tell me a little bit about your research because I believe there's some sort of connection between acting and teaching and learning and how the skills of one can inform the other.
Rinski Ginsberg
There's a huge connection. My connection to that is in relation to what I've been doing with lecturers and tutors in the university really. I was approached by a scientist really. He's a statistician, a brilliant statistician who, after 14 years of doing his bachelor's, master's, doctorate, postdoc, got a fabulous job in the university, and the first teaching he had to do was in front of 600 people. He is a deep introvert so standing there facing this enormous wall of faces was just crippling to him, and he just had this suspicion that he needed training - well not just a suspicion but his suspicion was that actor training could help him.
So he and I got together over a period of time and created a bit of a grant and we got a grant to start these workshops. I worked with a friend of mine who's a voice teacher and a dialect coach and accent coach; similar age. We have quite a lot of experience together and so we began to take these workshops - actor training methods for lecturers and tutors - which over the last three years have been without any kind of publicity. They roll on and they're really effective. So we've had the great opportunity to work with academic librarians, with School of Biomed, anatomy and neuroscience, business and economics, computing and information.
It goes on and it's really exciting because people - what we do in a classroom or in a lecture hall is interactive and it a way it is performative, because you are the focus of how the information is being imparted. So in a way it's the corollary to acting.
Steve Grimwade
It speaks to that - probably one of the problems at the heart of a large research institution is that you have researchers. You don't necessarily have teachers. They are totally different skills. I'm really glad that that statistician has used his mind to realise he needs to train his body.
Rinske Ginsberg
He is such a great guy, but the other thing - we're lucky because we're quite well-resourced because there is the Centre for the Study of Higher Education and the Graduate School of Education is doing similar work. It's a known quantity but I guess what I bring to it is an understanding of nonverbal communication; what the body is saying really and how to bring that under your conscious control, and how to - it be effective in connecting in all kinds of different circumstances. My colleague, Anna McCrossin-Owen, is similarly skilled.
Steve Grimwade
This does bring me to my next question - this idea of how you use your skills for good and evil and how you actually bring your acting into your life. Are you acting now?
Rinske Ginsberg
Of course, yeah, because I don't think you ever not act because different circumstances bring out different aspects of your personality. So it's like somebody says to me [unclear] I'm just not myself - that wasn't authentic - and it's like well I think this is a little bit of a - you're on the wrong path of thinking for me, because if I'm in hospitality and I'm serving you I need to bring out the cheer in me to connect with you. You know what I mean. It's like - and if I'm talking to my dog I'm a different kind of - so we have many personalities in real life so, yes, but I consciously do it in class. I consciously do it. I will play - because I'm basically an introvert. I know it doesn't sound like it but I am. I'm very quiet at home.
I'm solo most of the time, but here I've got to be in front of 40 or 50 people and I have to - or even five in a room - but I have to motivate them and I have to be the - walk the walk and talk the talk.
So you can't be just playing one version of yourself because you feel like it and whatever - yeah, that's great, thank you, okay, next. You can't do that. That's something to recognise if you're - depending on the circumstances, even in something like this, I need to be modelling the energy that you can hear over the radio. I need to be modelling energy so I connect with you. Do you know what I mean? It's like it's a - we are interactive, whether it's a one-on-one, a small tutorial group, a computer lab, a large lecture hall. There are zones of energy that are necessary and ways in which you can create connection really.
Steve Grimwade
I want to actually go to maybe a negative view of the world of acting. What makes a successful actor as opposed to a good actor?
Rinske Ginsberg
It depends on your versions of what you define as success. Is success making a lot of money? Is it Hugh Jackman or is it…
Steve Grimwade
I probably was actually going towards that visibility, stability in life, your ability to act to make a living.
Rinske Ginsberg
I think the successful actor is the active actor, the strategic actor, who is really open and not selective in a way, because the more experienced an actor is the more he can bring or she can bring to the role.
Acting is a lifetime profession. That's the joy of it. It's not just about you in the beauty of 18 to 28. It's - well you look at Ian McKellen or some of our great Australian actresses. Really at the top of their game in their 60s, 70s and 80s. Even Robyn Nevin - it goes on - Robyn Nevin - there's a whole stack of them, but they just get better and better with age because it's the depth of life experience and the complexity of our personhoods.
Steve Grimwade

Are those opportunities becoming more realistic as you get older, because I mean - not you personally but as we get older - there's always been that argument that acting is a young person's sport?
Rinske Ginsberg

Yeah. Well the thing that's so extraordinary about living now is that performance and acting can take many forms. So the actor can be an avatar; the actor can be - if you think about Andy Serkis or Cumberbatch's Smaug in The Hobbit, you know what I mean, it's like motion capture, web series, you can create your own niche channel; your personality can be internationally renowned. Do you know what I mean?
There's many ways in which an actor - not just the conventional in a darkened room an audience and a text - acting is everywhere, everywhere, and the successful actor can exploit all of those possibilities and I would - I would - and the successful actor is the actor who believes in training I would suggest, because you need to be performance-fit. You can't just - these days because there's more demand on you.
Steve Grimwade

In 2017 you created a most Fringe - sorry, in 2017 - I should have done those exercises - in 2017 you created the most Fringe shows ever with fellow living legend, Ian Pidd. What are the perfect or not so perfect ingredients of a Fringe show?

Rinske Ginsberg
Oh, that is really difficult because the definition of Fringe has changed over the years - well certainly the actual reality of Fringe. So the definition of a perfect Fringe show is surprise. Really on a very simple level you go to the Fringe to see stuff you will never see in any other circumstance in the first instance because it's Fringe. You'll see something there that maybe in another five years you start to see on the main stages because Fringe is the source. That's where people get their first airings because it's open to all and it's non-curated in the main.
There's some certain programs that are curated but you get to see things that people where you just go 'oh my god I have never seen an eight foot puppet doing that', or, I don't know, 'I'm in a car and I'm going down the backstreets of Kensington and what happened then? Why is she running along the river and oh what was that that fell in the water.' You know what I mean. It's like - Fringe just takes you on the most amazing journeys. It's really - yeah, so I would say surprise is the cornerstone.
Steve Grimwade

In 2016 the Fringe made you their second only Living Legend. Seeing you win that honour truly warmed my heart. Here was a room of a few hundred people applauding madly and they were madly in love with you. My sense was that you had impacted all of them all their lives, and this for me reaffirms my belief in community and participation. Modesty aside, what was it about your contribution to the Melbourne Fringe that elevated you in their eyes?
Rinske Ginsberg
Look really on a simple level I think I've been around a long time, so longevity is one of those things. Look, back in the '80s really I was a ratbag of a performer. I did my training here but really I was a terrible actress. Terrible with text, absolutely terrible. So really on graduation if I was going to stay in this kind of theatrical industry on any level I had to pioneer my way into performance - what could I do as a performer - which was where I began to find movement and motional improvisation through various different sources.
I just travelled and worked with teachers I liked. So very early on I was part - well I was an improvisational trapeze performer. Motivity was my form; improvisational gymnastics and trapeze.
So that was - that laid the groundwork for me. My friends had been - subsequent friends were the people who started Fringe network. We were in the parades. I was just involved for a very long time.
Happily I've had this association with VCA over many years so I have had a lot of chances to work with students and mentor them in some ways. So I think it's just that - strange and wonderful networks - and part of that was when I was here as a student there was the big rise and rise and rise of - well the rise and rise of eccentric Fringe performance. So venues like The Flying Trapeze Café had just opened. The Pram Factory was out of La Mama and Melbourne Uni. The Pram Factory was rocking way back in the '70s. So I put myself through my three years of training here in a number of ways.
Firstly, I did a lot of hospitality but I was a fire-eater at nightclubs and I also worked at The Last Laugh which a lot of us did, which was this fantastic theatre restaurant; really such an incredible institution that eventually led onto Comedy Festival and - it's a huge history. We can't go into it; it's just forever.
Steve Grimwade
I think these things are local; they're also general. I mean really that's the human experience I find most of the time, and maybe we need to go really local and really particular. I think I need to hear the story about a bit of garbage and The Last Laugh.
Rinske Ginsberg

[Laugh] No. Okay, alright. Two visionary entrepreneurs, John Pinder - extraordinary New Zealand-born amazing, amazing man. He really loved rock and roll. He started TF Much Ballroom, I don't know, back in the day and he started this little theatre restaurant, The Flying Trapeze, which was a shopfront in Brunswick Street.
Then he palled up with a guy called Roger Evans, and Roger Evans was a graduate from the London School of Economics, and so together they created The Last Laugh Theatre Restaurant which was at the corner of Gertrude and Smith. It was a big institution. Anyway, so Roger was the man, the business manager who enabled everything to happen and John was the dreamy programmer, but that was a marriage made in heaven. They were incredible together. Roger was probably more - what would you call it - bohemian and adventurous in some ways than John.
I remember we used to work - it was a big - we used to have these long tables of people, big groups of people, and I remember coming up - there was 10 of us on the floor, waiters - but I remember once I had this table and one of the customers on the table was - imagine that it was a restaurant. It was just a theatre restaurant. People had rubber gloves plonking the chicken marylands on plates. There was no finesse to it and you didn't come for the food. You came for the fabulous entertainment. Circus Oz or - it was just like - we had amazing entertainment. It was just extraordinary.
Anyway, so I go out to Roger and he's in the booth and I'm saying "oh my god, Rog, I've got this client, this customer, and he's saying 'have you got horseradish here, could I have English mustard [blah, blah, blah] and it's driving me nuts.' He said 'okay'." Came out behind the booth and he said who is it and I pointed to this guy. He said right come with me and he got another waiter and the three of us took out two of these - where we used to scrape off the plates in the kitchen - we took out these huge rubbish bins and Roger stood on the table, walked over and put both of these rubbish bins on the table in the middle of the auditorium and said "right, here's everything we've got in the restaurant, help yourself". The guy walked out and everybody cheered [laughs].
He was so cool like that. It was just great. We could just do anything we liked - well within reason - but they were great bosses. We just made that place our own. We used to have nights where we'd decide - on the Saturday night in between shows Rog and John would get takeaway Chinese for - there'd be 15 of us - and we'd have 40 minutes because shows - and so we'd be - and during that time we'd all be talking about what we wanted to do. So some nights we'd have wedding nights where we all came dressed up as brides, or pyjama parties or something. We used to just - we carried customers in, we played with them. It was just a wonderful job. I loved it. I was there for a long time.
Steve Grimwade

So what seemed possible in that time that wasn't previously possible?
Rinske Ginsberg

Look, that was in the days before insurance and being able to sue people. OH&S wasn't a major issue, but that apart it was a very adventurous time in terms of innovating in performance really. They were movers and shakers. Pinder I think was a remarkable person and spawned - and came at the same time as a whole lot of other people really.
Circus Oz was born out of Matchbox and the Pram Factory. The Pram Factory was a seething hotbed of radical politics and radical performance. It was like - it was the - if you like, the cleaving of Australia as a colony. We were coming into our own. We were making - and it wasn't just in Melbourne, it was everywhere. People were pushing boundaries on performance in terms of writing scripts. Just think about what was happening and Aunty Jack and Steve Spears. It was just all over the place; this radicalisation and taking back of the vernacular, our idiom, our manners, our ways. The Pram Factory - I just remember Marvellous Melbourne. It was an adventurous time.
Steve Grimwade
Are we still as radical?
Rinske Ginsberg
No. I don't think we're politically motivated. We are in pockets but because we now can select our tribes in a way we can stay - we've got our genres sorted. We've got our little ghettos everywhere you go now so you belong to groups, whether or not you recognise that, that are more homogenous than diverse. So we actually have to bring back diversity; whereas once upon a time you had a neighbourhood, you had three generations of people living in a house. It's all changed. Those sorts of things have changed.
Steve Grimwade
I mean that's society but has the motivation of theatre changed or is theatre just a reflection of who we are anyway?
Rinske Ginsberg

It's differently expressed now. I guess what are the new frontiers these days - and I might have gone off a little bit half-cocked there because I guess what is radical in performance now in a way is the interdisciplinarity of form; the rise of colonising different venues; whether those venues are open-air. There's a whole range of places now in which theatre can take place. The the live art work, which is an extrapolation from performance art in some ways, that's I guess where the frontier is now. That's the new way in which the body can be engaged in provocations really where theatre and art - where film and art, where voice and the body - it's a great time for those - for that - what I would say interdisciplinarity.
Steve Grimwade
You spoke earlier about John Pinder and Roger Evans, but is the age of the impresario dead? Do we need them more than ever?
Rinske Ginsberg

Absolutely, and I don't think it's dead, no. I think the impresario is now embedded in different institutions, and again expressing - the expression of the impresario is different. So now there are producers really who foster and animate work in the same way - or not in the same ways but in similar ways - to the impresario.
Venues are too expensive to run unsupported, but there are - some of the state venues really, like the Art Centre or City of Melbourne venues, even Malthouse, they all have components where they are generating new work, whether that's Darebin or Malthouse or MTC. Also within the institutions where people are being able to - small laboratories are operating.
Steve Grimwade
Is it a case that the individual is now their own impresario?
Rinske Ginsberg
Yes, absolutely.
Steve Grimwade
We've had a DIY culture since the '60s, '70s, probably forever, but I mean it's been more pronounced, but I suspect now more than ever the business of the artist is owned by the artist.
Rinske Ginsberg

Absolutely. You have to be digitally savvy. You've got to be - social media across all kinds of platforms of ways in which you can communicate what you're doing.
Steve Grimwade

I guess - was there any advice that was given to you when you began on your path?
Rinske Ginsberg

Just don't do it [laughs]. I don't think - look that's not altogether true, but certainly - actually it is true. It is true. Everybody tried to talk me out of it and really I wish I'd listened [laughs].
Steve Grimwade
So given that we've now reaching towards inspiration, is there any advice you'd have for other performers and actors starting on their path?
Rinske Ginsberg
You want to make sure this is your thing because it's completely consuming. You want to work out whether you are called to do this as a vocation because it's heartbreaking if it isn't. I know that sounds terrible but if you love the expressivity, the possibility of expressing yourself on stage, there are many ways to do it without devoting your whole life to it. That's what I would say.
You want to think because it's a beautiful, rewarding, incredibly rich, life. It's amazing on that level, but you might not make any money. But it is, it's an amazing - I was talking the other day about what the actor or the theatre graduate from here comes out with, and really they come out with such a really humanitarian education. We educate the whole person in a way and that is the metaphysics if you like, or the metaphor, for acting training - is that it educates you to the universality of our lives in a way.
Steve Grimwade
So next time I walk onto a darkened stage up to the microphone and there are 200 people looking at me what do you want me to think about?
Rinske Ginsberg
Think about them, not yourself.
Steve Grimwade
That's going to be quite hard.
Rinske Ginsberg
Well I think that's the definition of stage fright - is when people get just - it's like it's all about how nauseous you're feeling, how sweaty. Your awareness is all tuned in and if you can tune it out then it's all about how you get across to them what you believe in and then they'll get you.
Steve Grimwade
Rinske Ginsberg, it's been a pleasure. Thank you so much.

Rinske Ginsberg
Thank you Steve.
Chris Hatzis
Thanks to Rinske Ginsberg, academic and lecturer at the Victorian College of the Arts. And thanks to our reporter Steve Grimwade.
Eavesdrop on Experts - stories of inspiration and insights - was made possible by the University of Melbourne.
This episode was recorded on December 8, 2017.
You'll find a full transcript on the Pursuit website.
Audio engineering by Arch Cuthbertson, co-production by Dr Andi Horvath and Silvi Van-Wall.
Eavesdrop on Experts is licensed under Creative Commons, copyright 2018, the University of Melbourne. I'm Chris Hatzis, producer and editor. Join us again next time for another Eavesdrop on Experts.
Acting is not natural - but it can be learned, and Rinske Ginsberg passes on her wisdom about how the body can express an internal state; as well what it takes to make it as an actor.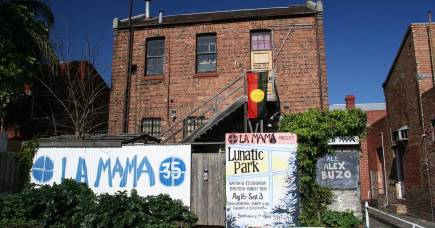 The Melbourne Fringe 'living legend' reflects on life in Melbourne's radical arts scene of the 1980s, and how performance and art making has changed since.
Episode recorded: December 8 2017
Producers: Dr Andi Horvath, Chris Hatzis and Silvi Van-Wall
Audio engineer: Arch Cutherbertson
Editor: Chris Hatzis
Banner image: Laura Canovaro/Flickr