Getting involved
The pandemic has changed student life rapidly –impacting on mental wellbeing. But our sense of belonging and connection can help protect our mental health
CHRIS HATZIS
Eavesdrop on Experts - stories of inspiration and insights. It's where expert types obsess, confess and profess. I'm Chris Hatzis, let's eavesdrop on experts changing the world - one lecture, one experiment, one interview at a time.
Student wellbeing and mental health has always been a major focus for the University of Melbourne and the COVID-19 pandemic has caused uncertainty and stress for many students. The student experience in relation to an infectious outbreak requiring quarantine is relatively unknown. How do universities support and reach out to students during this period and what is the ongoing student experience during an outbreak of the current nature?
Sarah Wilson is the Pro Vice-Chancellor, Student Life at the University of Melbourne. She's also an internationally recognised expert in Cognitive Neuroscience and Clinical Neuropsychology. The Pro Vice-Chancellor, Student Life has accountabilities for the quality of the student experience, wellbeing and outcomes across all elements of student life at the University.
Sarah Wilson sat down for a Zoom chat with Dr Andi Horvath.
ANDI HORVATH
Sarah, you're at the University of Melbourne and students and staff are working differently. If you're in the Australian context, we're missing our international students. The dynamics have changed everything.


SARAH WILSON
This is true, Andi. I don't think we could have imagined the extent to which the pandemic would change the way so rapidly and overnight almost, that we had to deliver the curriculum differently. We had to think about different ways of working. We had to think about the experience of online learning. The other things that go with that, the broader things that we'd taken for granted from being on campus such as making social connections and friendships and doing all the added extra stuff that comes with going to university. How does that all happen in the context of being in a lockdown or working from home? So, I agree it's been tough. People have found it tough for that very reason.
ANDI HORVATH
It certainly has been tough. I mean COVID has created public health issues, life and death issues, social issues, political issues, economic issues but the challenges for our individual and collective mental health has really risen to the top of many discussions. As a neuropsychologist what are the discussions you're having with colleagues and researchers about our current mental health status?
SARAH WILSON
So that's a really good question because as part of my role I do continue to do my academic work. Fortunately, there is some space still to do that and that includes seeing patients in a clinic once a week for a reduced amount of time but nonetheless it's still core to who I am as a professional and also my research into wellbeing and mental health of people. So, what we've certainly seen and certainly I've seen in my clinic is an explosion of referrals and need to the point that we're really not keeping up with the demand. This always spikes during a lockdown and that's not surprising but it continues on because I think what has characterised the pandemic is uncertainty. It's that uncertainty that really is attached to people experiencing heightened anxiety. Perhaps also this cycle of being locked down, being out of our control that has led to demotivation and feelings of lower mood or depression.
I think there's also been really a significant level of burnout which is this fatigue, this chronic fatigue that has pervaded the motivation of both staff and students to keep up the energy and the joie de vivre really to bring to work every day. So, resilience – our resilience has really been tested in this context.
ANDI HORVATH
Under the COVID environment things are a blur. I mean I find that I don't know what day it is, dress codes are out the window. My routines have shifted. I don't have the usual bumping into a colleague or a friend in the community kitchen at work. It's no wonder we are frazzled. How important is connection to wellbeing?
SARAH WILSON
Yeah, so that's a really good question, Andi, and you've touched on a number of things there. The first is really the importance that structure or routine brings to our lives. I think we've all felt that change. We know from the [meaning] literature that a routine or a sense of regular structure gives many of us a sense of meaning. It's those different things that we do across the day or across the week, the patterns of behaviour that we engage in that give our lives a sense of meaning. So, when we all of a sudden have that all tossed in the air and we lose that we feel all at sea and discombobulated or out of our depth.
The other thing those routines do is serve as markers or flags for our memory, or what we call our autobiographical memory, our day-to-day flagging of events and transitions between different types of activities. We hang our memories onto those hooks or markers. So that delineates time for us and serves as a good reflective tool. I think in the lockdown we lost all of those different markers and so that led to that Blursday effect which everybody talked about. One month merged into the next and we lost that ability to demarcate our lives in meaningful ways. So that's the first point.
The second that you touched on was the social connection. We know really importantly from the literature that social connection is protective for our mental health. So, when we are depressed the last thing we feel like doing is getting out of bed and going out and talking to people, that's effortful. Our natural inclination is to want to shy away or avoid doing that but in fact paradoxically that's the best thing we possibly can do. We know that social friendships, even just a brief hello with the local barista while we are ordering a coffee, social contacts, connections are in fact the things that alter our mood and protect our mental health because they are associated with increases in our sense of wellbeing.
So, as we kind of learn to adjust and adapt to this virus I think the challenge for all of us is to get used to this idea of change. That we're going to go in and out of lockdown potentially, that we nonetheless have methods for dealing with that. We can maintain control over some of our routines and we can get that happening for ourselves. We can find those social connections even if online because that's more protective than no connection at all. So, if you like, having in our toolkit, methods for starting to learn to live with this virus and accepting that this fluctuating pattern might be part of life for the foreseeable future and learning to adapt to that. So that's what that resilience might start to look like.
ANDI HORVATH
I certainly agree with what you've said because I myself have found that exact sort of experience. Actually, I saw it described in a cartoon. There was this cartoon where someone said, oh good, lockdown's over and they stepped outside their door and then they stood there for a few minutes and then went back inside.
SARAH WILSON
That's right, so we've got to resist that.

ANDI HORVATH
We do.
SARAH WILSON
One of the things that we're doing and messaging, we want to message to our students and staff is come back onto campus as soon as you're able. It might be tempting to stay at home. It might be easier to feel like you don't have to travel or more convenient. In fact, your sense of belonging and connection and your sense of mental health and wellbeing depends on you stepping out of that door and not stepping back in but hopping on the tram, or on your bike, or in your car, however you get to university and coming in and being part of the community. Because that's actually vital to you as a person and your mental health and that will help with study as well. That will help with work performance and that will benefit you more broadly.
ANDI HORVATH
That is so spot on. I mean going to the library to study, I know when I was a student, you'd go there just for the study vibe. You didn't actually talk to anyone but you kind of felt like you were all in it together. I must admit I really appreciate your advice on even just walking through the campus. I mean there's beautiful nature in most campuses. In fact, a lot of the Australian universities have quite gorgeous campuses with well-established trees and landscapes and even that grounds one, but feeling that you're a part of something, particularly if you're a student is good. After all, all those student activities that were such fun are now on hold. So how is this going to develop in the future?

SARAH WILSON
Well, I think we're hoping certainly at Melbourne that we will maintain an on campus, an active on campus presence. That this will remain core to our university experience but even for those perhaps who are offshore who might not be able to come on to campus because of the travel border restrictions and the like. We are looking at setting up offshore experiences. What is the ecosystem of student life or university life because it applies to staff and students that makes for the wonderful experience and the benefits that we all know it can give? It's teasing apart those often hard to define bits and creating that for our offshore students as well that we're really committed to doing because as a community we need to be able to hang on to those things and not say, well, we can just replicate that all just by online. Because I think we know in fact that we can't and that we need to create connection points for students either offshore or in Australia on campus to facilitate that experience.
ANDI HORVATH
It's certainly true, community is the new black whether it's not – sorry, whether it's on campus, or online, or your local community. I know I've gotten to know all the baristas' names at my favourite café which I feel really proud of because I'd been going there for years but now more than ever I've found myself needing those connections and just knowing names. So, here's a bit of advice, get to know your barista's name.
SARAH WILSON
That's great advice.
ANDI HORVATH
I have noticed in myself there's a lot of fatigue during lockdown. People have talked about burnout.
SARAH WILSON
Yeah, you're absolutely right, Andi. In fact, there's been a bit written about this because the burnout or the chronic fatigue is something that many people are reporting. I think is really leading people to struggle and feel demotivated and having trouble coping with the challenges. There's an interesting concept relating to this that I think helps us understand it a little bit and it's this idea of ambiguous loss. What do we mean by ambiguous loss? Because normally when we think of loss, well, you've either lost something or you haven't. Certainly, our experience of grief and loss when we would think about that normally would be in terms of the loss of someone important in our life and the grief that would follow that. But ambiguous loss is a bit like imagine if you had a missing person in your family, someone went missing, you don't know if they're gone for good. You don't know if they're okay. You don't know if they're ever going to come back. There's uncertainty around the loss. That's actually mentally very exhausting and emotionally very exhausting because there's not a resolution to that. It's ambiguous, you don't know how it's going to pan out.
Now, if we take that idea and we apply it to the pandemic, well, you can see how that might work. So how long is this lockdown going to last for? We certainly all had that in our most recent fourth lockdown in Melbourne, oh no, not again. How long is this going to go on for? How long is it going to be before I can experience all those normal things, those routine things in my life that I love and give it meaning? The ambiguity about that creates a sense of loss and that brings that feeling of fatigue, and demotivation, and burnout. We also have seen in our students, particularly in our new first year cohort a significant sense of fatigue on the back of their VCE. Their VCE was really tough. They were in lockdown in Melbourne for a large portion of it. They had lost contact, that day-to-day contact with their friends at school that had that protective social effect that we talked about. They're now doing just all the hard yards with minimal appreciation of where this is going to lead to or when it's going to end.
It's also the loss of all those rites of passage that they were hoping for. After you've finished VCE, there's all those milestones, the valedictory dinner, the formal, they missed out on all of those things. Then the gap year, being able to travel, go overseas. So, we're seeing in our first year cohort a lot of them have come along to university which is fantastic but they're all pretty worn out because they haven't had that range of things that would normally revitalise or reenergise them and bring a bit of joy into their day. I think we're probably seeing that more generally across our entire student cohort, undergraduate, and graduate, and our staff. That those activities that normally bring us pleasure, when they're taken away and there's ambiguity about when we're going to get them back, we have this sense of loss and this sense of burnout.
So, I think it's really important that when we're in lockdown in particular we create opportunities for other enjoyable activities. We've seen a bit of that and this is where I guess my research passion for music neuroscience comes into the conversation. We've seen people for instance sing across their balconies with each other or set up online choirs. We've seen families make videos of songs and dance routines. We've seen people engage in creative ways of doing things that they enjoy to bring that energy back and that sense of enjoyment back to their day in light of the fact that they've lost some of those activities that would normally do that for them.
So, I guess, I think what we need to be really mindful of is that we need to be caring and kind to ourself. We need to have some self-compassion, perhaps not expect quite so much of ourselves while we're in lockdown and coming out of lockdown and we're dealing with these changes. Keep our eye out to the fact that we need to be constantly making sure we're engaging in pleasurable activities, preferably for half an hour a day on a daily basis. It's a natural boost to our mental health and wellbeing that we can do for ourselves to help travel through this period.
ANDI HORVATH
I think that's wonderful advice. I mean study is interesting and that's where you do your fact check but people are your reality check. Friends are your, are we living life check, or give us perspective check, and have fun check.
SARAH WILSON

I couldn't agree more. So, we need to capture all of that. When we're in lockdown how do I compensate for that, or add something new or different? A lot of people took up new hobbies during the lockdown and maybe carry on with those too or think of new ways of being creative in those new and challenging spaces.
ANDI HORVATH
I have some friends who do an online craft session which I'm going to try and join in on.
SARAH WILSON
Yeah, fantastic, that's the exact idea.
ANDI HORVATH
Good advice, Sarah, thank you. If you could change things and have unlimited power government wise, what would you add to the university system?


SARAH WILSON
Wow. Yeah.
ANDI HORVATH
I know. I'm giving you ultimate power.
SARAH WILSON
I don't know. That's a scary thought, ultimate power. I think if we could change things, we'd allow our international students to come to Melbourne and have a Melbourne experience. We know that that's what they're asking us for and what they would love to be able to do. So, we'd look at solutions, whether they're travel corridors or other means of prioritising their ability to return. They are hugely important to the culture and the experience of the university for all of us. So having that international presence, they contribute so much to the community that we don't have when they're not with us to the same degree. Universities are internationally focused and grounded places. We're situated in a big world and many of the challenges that we work on and the issues that we tackle are global issues and involve the whole community from an international perspective. So, we need those perspectives with us on campus and we need to be able for our local students, domestic students to have exposure to that thinking too in order to be well prepared for their futures. So, I guess that'd be the number one thing I would be putting forward, that that's a key issue that we would like to see change and sooner rather than later.
ANDI HORVATH
I've often found student life has been really augmented by arts and culture that's been accessible on campus or online or however. Those are important parts of our student life and I'm thinking of things like there was that library, I'm sure it still exists, the Rowden White Library which allowed you to go in and just chill out with magazines but then of course there was the formal library where sometimes just even walking up and down the stacks you'd spot something interesting that you weren't studying. So, is there a commitment to more arts and culture on campus?

SARAH WILSON
Absolutely. The whole new Student Precinct that's being developed is going to have a range of facilities, including cultural performing and arts activities that are going to be activated over time. We're also planning more immediately, so that's going to open actually in about April next year but even prior to that more immediately, one of the really important things that we're doing under student life is a reactivation of the campus for semester two. So, we have with us now, Andi, it's hard to get your head around but some students who have done all of their first year and now halfway through their second year of undergraduate study who have never really been to campus. So, they feel like newbies even though they're halfway through their undergraduate degree. So, we're going to do an orientation. Of course, the first year students who started this year, similarly for them they've had six months at university already but haven't necessarily had a lot of time on campus.
So, we're going to do a mid-year orientation which is going to be a beginning of semester, beginning of the year orientation that we would normally do. Recognising that students might be feeling a bit unsure about campus, a bit nervous about coming on because they don't know many people or they don't know how to get around where things are, how to locate or do things. So, we've got a series of events which are going to roll over the course of semester two, weekly events planned. There are going to be festivities. There are going to be night markets, a farmers' market, cultural and performing events, some reflections on our scholarship as a community, things related to the libraries, all sorts of different activities. I think the message here is our sense of belonging and connection to the university is an active one. It's hard to belong to something if you don't get involved.
So, we're hoping this series of activities that we roll out over the semester will encourage all of our students to come back to campus and get involved in an array of different activities. They can choose the ones that work best for them. It might be joining a club, or debating, or theatre, whatever they prefer and really engage in that part of university life because some of our feedback from students who are at the end of their degrees, they've finished their third year program, sometimes sounds a bit like this: I came to university and I focused on my studies but I didn't really engage or do much more than that. I turned up to class and that was it. I passed and I did well but looking back on my studies I wish now I'd gotten more involved and made more of what was available to me.
In fact, we know there's research that suggests that those students who do get more involved. It's a bit paradoxical, might sound like well, that leaves less time for studying but in fact those students do as well or sometimes better than those who are just focusing on their studies. Because we know that enrichment to the student learning experience really helps them with their learning and expands their learning. Ultimately plays out that they often have better academic outcomes as well. So, this reactivation to campus, we're really hoping that students will take that active step out their door, like you were talking about before, come back to campus, if for no other reason but for helping them adjust, and be well, and maximise their mental health.
ANDI HORVATH
Sounds wonderful. I wish I could start all over again but then again, the other students might look at me and go, what's someone's mother doing here? But I'd love to join in.
SARAH WILSON
No, all ages are welcome. All ages are welcome.

ANDI HORVATH
It sounds wonderful. Sarah, when you're going for a walk or unwinding and looking after your mental health, what do you usually do? So next time we go for a walk what would you like us to think about?
SARAH WILSON
Well, this is a good question. I do two things. I listen to music, that's a long-term passion of mine and I have a whole area of research in music neuroscience. I'm a longstanding musician so I often listen to music. Or alternatively I love to listen to a podcast. As funny as it may sound, Andi, I love to listen to these self-help psychology podcasts of which you can find many on the web to download or through various other programs. I think these are really good because walking is a reflective space. Sometimes when we listen to a podcast that is focused on our mental health and wellbeing it can challenge us. It can introduce us to different ideas and it can help us think more positively or more optimistically about the possibilities or the level of control that we might have by other certain things in our life even when we're feeling a bit flat or down, we don't have control. So, I think these self-help strategies and taking active control over our mental health, whether it's through listening to music, mindfulness, relaxation or podcasts about how to improve our mental health. These are all good things to do.

ANDI HORVATH
That's wonderful advice. I'm always one for recommending podcasts. Professor Sarah Wilson, thank you so much.
SARAH WILSON
Thank you. It's been great to talk to you, Andi.
CHRIS HATZIS
Thank you to Sarah Wilson, Pro Vice-Chancellor, Student Life at the University of Melbourne. And thanks to Dr Andi Horvath.
Eavesdrop on Experts - stories of inspiration and insights - was made possible by the University of Melbourne. This episode was recorded on June 21, 2021. You'll find a full transcript on the Pursuit website. Production, audio engineering and editing by me, Chris Hatzis. Co-production - Silvi Vann-Wall and Dr Andi Horvath. Eavesdrop on Experts is licensed under Creative Commons, Copyright 2021, The University of Melbourne. If you enjoyed this episode, review us on Apple Podcasts and check out the rest of the Eavesdrop episodes in our archive. I'm Chris Hatzis. Join us again next time for another Eavesdrop on Experts.
The COVID-19 pandemic has caused uncertainty and stress for so many university students.
So how can universities support and reach out to students? And how do students build up their resilience?
Professor Sarah Wilson is the Pro Vice-Chancellor Student Life at the University of Melbourne and an internationally recognised expert in cognitive neuroscience and clinical neuropsychology.
She says a sense of belonging and connection is crucial for mental health and wellbeing.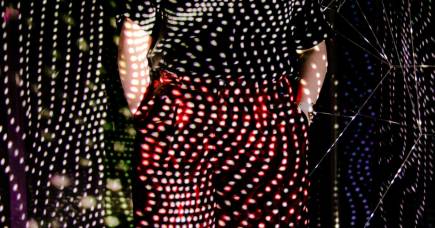 "We know that social friendships, even just a brief hello with the local barista while we are ordering a coffee, social contacts, connections are in fact the things that alter our mood and protect our mental health because they are associated with increases in our sense of wellbeing."
And while COVID-19 has made that challenging, people should take the opportunity to reconnect as restrictions ease.
"Our sense of belonging and connection and your sense of mental health and wellbeing depends on you stepping out of that door and not stepping back in, but hopping on the tram, or on your bike, or in your car... and being part of the community."
Professor Wilson also says it's important to get used to the "idea of change" as we move through lockdown and pandemic restrictions.
"Having in our toolkit, methods for starting to learn to live with this virus and accepting that this fluctuating pattern might be part of life for the foreseeable future and learning to adapt to that."
Episode recorded: June 21, 2021.
Interviewer: Dr Andi Horvath.
Producer, audio engineer and editor: Chris Hatzis.
Co-producers: Silvi Vann-Wall and Dr Andi Horvath.
Part exhibition, part experiment, MENTAL is a welcoming place to confront societal bias and stereotypes about mental health. It features 21 works from local and international artists and research collaborators that explore different ways of being, surviving and connecting to each other. Opening in July 2021, book your free tickets now.
Banner: SELFCARE4EVA_2001 by Mary Angley and Caithlin O'Loghlen: Installation view, MENTAL: Head Inside, Science Gallery Melbourne/ Picture: Alan Weedon