How have plagues and pandemics influenced the arts?
Professor of literature Justin Clemens and artistic director Dr Suzie Fraser describe how throughout history, writers and artists have explored the impact of plagues and pandemics on humanity
CHRIS HATZIS
Eavesdrop on Experts, a podcast about stories of inspiration and insights. It's where expert types obsess, confess and profess. I'm Chris Hatzis, let's eavesdrop on experts changing the world - one lecture, one experiment, one interview at a time.
Art and literature have always allowed us to express ourselves and ponder the meaning of what it is to be human. Throughout history artists and authors have explored and reflected on perspectives of nature, culture and humanity, and pandemics and plagues have played a big part in their inspiration.
Justin Clemens is an associate professor in literary studies at the School of Culture and Communication, University of Melbourne. Suzie Fraser is coordinator at the Centre of Visual Art, also at the University of Melbourne. Justin and Suzie sat down for a social isolation Zoom chat with Dr Andi Horvath to discuss how authors and artists have encapsulated the idea of plague and pestilence through the ages.
ANDI HORVATH
The Black Death was an era in Europe's history where it lost a third of its population. It spanned across the mid-1300s but it did persevere into other centuries as well. Justin, tell us about the literature of that time.
JUSTIN CLEMENS
One of the things about, I guess, literature is it always responds immediately to what's happening in the environment essentially. When a third to maybe a half of the people who you know are dying in extreme and unexpected agonies, then there's going to be a lot of response to that. The most famous book, I think, of all and the most important, I guess, from Italy in the mid-14th century, as you say, it's around 1348 that the plague really starts to hit Western Europe. People start writing responses to this immediately of all different kinds, but the most famous book is probably that of Boccaccio's, The Decameron, which was written after the plague in Florence of 1348.
One of the problems with plagues - and we're going to be experiencing this with COVID-19 - is the problem of recurrences as well. So even though there are some horrible moments, then there are also some horrible aftershocks, not always as large, sometimes larger, but Boccaccio writes this book. It has a frame tale, it's 100 stories in which a whole load of young aristocrats have basically retreated to the hills to avoid the plague.
It's a very traditional way in which, I guess, those with the means try and isolate themselves from the horrors that the people are experiencing. You either get locked up inside your house or you get to go to your abbey or your chateau outside the town. Boccaccio, Decameron, these young people tell each other stories. But that's the frame of the story, that they're all fleeing the plague basically. What do they do when they're bored? They didn't have Zoom, they didn't have the internet and so they tell each other stories over the course basically of two weeks, but 10 days of storytelling.
ANDI HORVATH
Do they fluctuate in their emotional and cognitive behaviours?

JUSTIN CLEMENS
This is absolutely so crucial in the history of literature, writing about the plague and about pestilence, the fluctuation in people's mental lives, in their psychic states, their stability, but also obviously their actions is of incredible importance. The common things that arise continuously are people's terror, passive aggressive advice, personal tales, name and blame, name and shame, conflicting expert advice, crazy conspiracy theories, deliberate misinformation, disaster profiteering and so on.
These sorts of phenomena return again and again from 500 BC to actually the pandemic that we're experiencing now. I think despite the differences in human beings and cultures, there is a certain recurrence of the instability of mental life under these conditions. People really do scream, cry, abandon the gods, abandon the laws, are brought back to then give up, give way, believe all sorts of crazy things.
I think one of the theories going around now is that 5G towers are partially responsible for COVID-19, at least in one small corner or large corner of the internet. These sorts of things, I think, are - I say as Shakespeare did in Romeo and Juliet, a play he probably wrote when he was retreating from the plague in London, the playhouses are closed. But here's the famous statement of Mercutio, a plague on both your houses.
ANDI HORVATH
Talking about God, I imagine that some people perceive a plague as a message from God. Whereas others may actually seek spiritual enlightenment. What has literature taught us about that?

JUSTIN CLEMENS
This is a very, very good question and what you say is exactly right. Many people see - in fact I think most people for most of the time in most of the world have seen plagues as always God-sent or God-given, or a punishment from the divine or something of that sort. One of the greatest or at least most influential plays in European history has been Oedipus Rex by Sophocles. Sophocles himself probably lived through a very, very severe and famous plague in Athens in 430 BC.
The beginning of his play, Oedipus Rex, Oedipus the King, begins with the plague. Oedipus is the king; he's the King of Thebes and the story opens with the horrible plague affecting the city and everyone is in crisis. If it's all right, I might just read a little extract from the beginning of King Oedipus in the Penguin Classics translation, just to give you a sense of that people have that there is something morally awry with the city. I guess you could think of a number of instances here, but something's going to have to be done. It's not just a physical, it's not just a biological plague; it's a moral plague.
So the priest says to Oedipus, my lord and king, we gathered here, as you see, young and old, from the tenderest chicks to the age-bent seniors. Priests, I of Zeus and the pick of our young manhood. More sit in the marketplace carrying boughs like these and around the twin altars of Pallas and the sacred ambers of divination, beside the river of Ismenus. You too have seen our city's affliction, caught in a tide of death from which there is no escaping. Death in the fruitful flowering of her soil, death in the pastures, death in the womb of woman and pestilence, a fiery demon gripping the city, stripping the house of Cadmus, to fatten hell with profusion of lamentation.
Of course, because it's Oedipus, it turns out that Oedipus himself is the cause, the king himself is the cause of all the plague that's infecting the city. Because as you may know, Oedipus is famous for killing his father and marrying his mother, which of course is a nasty parricidal and incest broach of the incest prohibition and therefore, he will be the cause, he will have to be expelled from his own city.
ANDI HORVATH
I want to move to Suzie and your knowledge of the Black Death in the era of the visual arts. Can you draw us some pictures on the podcast medium to help us engage with what perspectives these artists portrayed?

SUZIE FRASER
You have lots of representations of death and pestilence, of disaster, that are cropping up around about the same time as the Black Death, that second pandemic of the Bubonic Plague. One of the most prevalent allegories, visual allegories that emerged at the time was the Danse Macabre, or the Dance of Death. This was a theme in the visual arts. It started off, I believe, in poetry, but it was a theme in the visual arts across painting, woodcuts, murals, that showed skeletons twisting, dancing skeletons, that seemed to be both writhing in pain while dancing with glee. They're tugging and grasping at living people who are going about their daily business and they're escorting them to death.
So this allegory proliferated in art during the Black Death outbreaks of the 14th century. In these images there is a universality to death essentially, there is a universality to death. You have the living and dead existing side by side, but also death is affecting everyone in the world. You have represented living people who are rich and poor, young and old, all genders and classes are being targeted, are being tugged, pulled and harangued into the afterlife. So that's one theme that you see emerging and quite popular in the Middle Ages.
There are also images from biblical doctrine that start emerging more alongside the Black Death, that are focusing on plagues from say the Old Testament but being painted by artists from the Middle Ages and into the Renaissance. So you have Pieter Bruegel the Elder's, The Triumph of Death and this is a tour de force painting, it's 1.2 by about 1.6 metres in scale. It was painted around 1562 and in this scene you have again indiscriminate universal death. You have a swathe of gossamer-like skeletons rampaging through the streets of a dark and desolate landscape. This is a really fantastical and quite fearsome depiction of what people might be going through in a contemporary plague in the Middle Ages.
ANDI HORVATH
Suzie, were any of the religious artworks used as sort of a marketing tool for religion?

SUZIE FRASER
Yes, absolutely, that's a great point to raise. The imagery around death and plague in the Middle Ages and the Renaissance were very much often tied to promoting this idea that you needed to be prepared for the afterlife, that it could happen at any time and so you needed to prepare your soul for death, lest you be left found wanting and die in sin. So that was one way that things like the allegory of the Dance of Death and other images, paintings like Nicolas Poussin's The Plague of Ashdod, which was painted around 1630.
The subject of this painting is a scene from the Old Testament, Book of Samuel and it's depicting God's punishment for people's sin. But it's also relating it to contemporary plague, the Black Death of the time. You see people in these scenes of various ages, that are in various states of activity or prostate with paralysis and these grizzly signs of malady are shown in tones of various grey and desperate expressions on people's faces. That's supposed to be an illustration, I suppose, of how death could come and how we have to look to our sin as potentially a reason for that. So we have to rely on God for forgiveness.
You also get a lot of pictures, imagery, depictions, architecture, that's based around plague saints as well. This was supposed to offer comfort and spiritual healing. So in particular you have San Rocco and San Sebastian who are seen as plague saints and also images of the Virgin Mary, who would offer comfort. This was a way that Christianity could assist people in times of desperation and disease.
ANDI HORVATH
I want to move now to the very first bits of literature that actually started to portray the plague or pestilence. Justin, tell us about those very early pieces of literature, because they would have set a tone or reflected a tone of thinking about the germs that they couldn't see or didn't know about until, of course, modern times.

JUSTIN CLEMENS
That's a very important and very interesting point, Andi. One of the things is of course it's not even - it's incredibly recent that we have a germ theory at all and a germ theory that's actually with scientific evidence, as opposed to merely, I suppose, philosophical speculation. I suppose that one of the biggest enthusiasm for thousands of years has been something that's often referred to as the miasma theory, which is that pestilence, if there is an origin to it, not simply an act of God, but with a material basis, it's due to the organic rotting of corpses, of filthy materials and it's a miasma, a foul stench, smell and mist that people can inhale.
So someone like Florence Nightingale, well into the 19th century, very, very famous, one of the most famous and important, very influential medical nurse of the 19th century, famous for her cleanliness in her hospitals that she established, she didn't believe in germ theory at all. She believed, I think, as far as I know, in this miasma theory, that pestilence is a kind of stench or a foul mist that arises from rot, or indeed from dirty particles floating in the air, but nothing like a bacillus or a virus. So this was a sort of very, very dominant theory for a very long time.
ANDI HORVATH
Tell me about the very early literature.

JUSTIN CLEMENS
One of them I've already spoken about briefly, would be the Sophoclean plays and Oedipus Rex which I mentioned in particular, which begins precisely with a plague that's devastating the city and it seems that the source of the plague has to be found. Of course, because it's not a germ theory situation, they have to send to the Delphic Oracle to ask about the cause. Of course, as I think I mentioned before, the king of the city is in fact the cause of all its problems and has to - the king not only marries his mother and kills his father, all unconsciously, but then when he realises what he's done he tears out his own eyes as a kind of sacrificial expiation for the crime and the guilt of the community.
Other literature from the time, which is very, very important is, for instance, Thucydides, who was an Athenian general at the time of the Peloponnesian War. His description of the plague at Athens in 430 BC and then with a few recurrences after that is an absolute cracker and it's a real classic. It also sets the terms in which many writers thereafter also frame their terms. I may just read a tiny fragment of Thucydides on the plague. It's from the second section of his book, The History of the Peloponnesian War.
The plague originated, so they say, in Ethiopia and Upper Egypt and spread from there into Egypt itself and Libya and much of the territory of the King of Persia. In the city of Athens it appeared suddenly and the first cases were among the population of Piraeus, where there were no wells at that time, so that it was supposed by them that the Peloponnesians had poisoned the reservoirs. Later, however, it appeared also in the upper city and by this time the deaths were greatly increasing in number.
As to the question of how it could first have come about or what causes can be found adequate to explain its powerful effect on nature, I must leave that to be considered by other writers with or without medical experience. I myself shall merely describe what it was like and set down the symptoms, knowledge of which will enable it to be recognised if it should ever break out again. I had the disease myself and saw others suffering from it.
That year it is generally admitted was particularly free from all other kinds of illness, though those who did have any other illness previously all caught the plague in the end. In other cases, however, there seemed to be no reasons for the attacks. People in perfect health suddenly began to have burning feelings in their head, their eyes became red and inflamed, inside their mouths there was bleeding from the throat and tongue and the breath became unnatural and unpleasant.
The next symptoms were sneezing and hoarseness of voice and before long the pain settled on the chest and was accompanied by coughing. Next the stomach was affected with stomach aches and with vomiting of every kind of bile that has been given a name by the medical profession, all this being accompanied by great pain and difficulty. In most cases there were attacks of ineffectual retching, producing violent spasms. This sometimes ended with this stage of the disease, but sometimes continued long afterwards.
Externally the body was not very hot to the touch, nor was there any pallor. The skin was rather reddish and livid, breaking out into small pustules and ulcers, but inside there was a feeling of burning so that people could not bear the touch even of the lightest linen clothing, but wanted to be completely naked and indeed most of all would have liked to plunge into cold water. Many of the sick who were uncared for actually did so, plunging into the water tanks in an effort to relieve a thirst which was unquenchable. It was just the same with them, whether they drank much or little. Then all the time they were afflicted with insomnia and the desperate feeling of not being able to keep still.
He continues from there, so that's quite a vivid and effective description, I believe.
ANDI HORVATH
It certainly makes one think thank goodness we live in the 21st century.

JUSTIN CLEMENS
Well modern medicine.
ANDI HORVATH
Yes, it's quite a graphic description and it's a wonder that we're alive today. Our ancestors must have gone through so much, so we are the lucky ones. Justin and Suzie, let's move to more contemporary times, or at least post-germ theory, where we became aware of microbes, viruses and bacteria. What's some of the literature that reflects on infections post-germ theory?

JUSTIN CLEMENS
Well I guess the ones that occur to me, someone like Edgar Allan Poe is writing in the mid-19th century, so he's not quite there yet, it's still a kind of miasma, I suppose. But as we move into, I guess, modernism and the 20th century, then we do get a whole range of very interesting literary works, which while they're very, very aware of the new sciences, also still try and keep a kind of moral orientation towards the plague or towards the pandemics, rather than simply a scientific one.
One of the classic works, I guess, in this regard would be Thomas Mann's Death in Venice, a very strange little book about, I guess, a successful middle-aged German writer, Gustav von Aschenbach, who goes to Venice and falls literally in love with a 14 year old boy and the plague is hitting Venice at the time. I think a married man, as I say, very successful and recently a Nobel writer, dies of the plague in Venice. You can see immediately that while Mann would be aware after there's many, many, cholera and typhoid and some epidemics in Germany in the 19th century. I think it's a guy called Koch who first identifies the agent of cholera, so he's very aware of the science, but he still - and this is a very literary and I guess artistic response, is you still want to give the pestilence a moral dimension, you can't leave that alone.
Another one, of course, maybe the most internationally famous book about pestilence or plague in the 20th century is, of course, Albert Camus's La Peste, The Plague, which is a classic set - from the 1940s, I think it was written and set in French Algeria. That is a quite incredible, very famous work, but once again, the protagonist of that is a medical doctor who knows what he's talking about. He does know the germ theory, but nonetheless he's still very interested in examining I guess the moral consequences of the plague. If I could just read the end of that book in, I suppose, a rough translation of Camus's The Plague.
In hearing the cries of celebration that rose from the town - this is after the plague has disappeared and I imagine if the plague does disappear for us we're going to have a similar sort of triumphal experience of return and excitement. Anyway, in hearing the cries of celebration that rose from the town, Rieux remembered that the celebration was always menaced. Because he knew what this joyful crowd ignored, that the plague bacillus neither dies nor ever disappears, that it can stay sleeping for decades, in the furniture, in the laundry. That it patiently waits in the rooms, the cellars, the cases, the handkerchiefs and the paperwork and that perhaps the day will come when, for the misfortune and edification of humans, the plague will reawaken its rats and send them to die in a happy city.
In fact that book begins with, I guess, the plague begins as rats come up from underneath the city and all start to die in mass numbers on the streets. A plague of rats releasing the toxic bacillus into the atmosphere.
ANDI HORVATH
Is there a metaphor for infective agents? Is it used as a political metaphor or ideological metaphor?

JUSTIN CLEMENS
It's almost always political and ideological and I think even in our times of technoscience and of incredible medical achievement, that it's never not in one way or another, all of the decisions and the actions made by ordinary people, by leaders, by doctors, by entrepreneurs and so on, there's always an ideological slant to every decision. We could see this, I suppose, actually recently in the very different actions of governments around the world with respect to what's in many ways the same disease, but it has very, very different responses from very, very different governments.
All of those responses, whether they're allegedly trying to encourage at one stage herd immunity, or others which are just going to go into total lockdown, all of these decisions which are political decisions as well as scientific decisions and always moral and ideological in some sense. Do we need to save the economy first? Do we need to save the ordinary people? Do we need to protect our interests? Do we need to serve the interests of the social whole? These are real and pressing questions and they are questions from the very beginning, as far as I can discern in literary terms.
ANDI HORVATH
This makes me think of the AIDS crisis that certainly had a political element to it, where there was a lot of inaction by AIDS denialists in various countries. Suzie Fraser, you've had some insights into art in a time of AIDS, tell us about your reflections of AIDS and visual arts.

SUZIE FRASER
Looking at 20th century art practice necessarily involves looking at how HIV/AIDS, the crisis of the time, fed into practices and fed into people's, individual artists' work, but also into our institutions and into our collectives. It's very crucial and at the forefront of 20th century art. I suppose post-germ theory you see obviously this diminishing of gothic mysticism, of religion and superstition in art related to disease, art related to epidemics and pandemics.
With the AIDS crisis, the pandemic emerged early in the 1980s as a mysterious illness nevertheless that seemed predominantly to be affecting members of the gay community. So immediately you get prejudice and stigma beginning to emerge quite quickly around the illness and the symptoms. So for artists, documentation of the effects, symptoms and the mortality of sufferers from HIV and AIDS became a political act in itself.
So art making was about personification and activism in this era, art became about showing the personalities and agencies of people who contracted the disease. So taking control of the public message and the imagery and you get artists such as in America, David Wojnarowicz and Nan Goldin, representing people going through these illnesses and trying to highlight their personalities and the realities of this disease. But art at the time related to the HIV/AIDS crisis was also about creating community for people who suffered from the disease and offering comfort and a sense of collaboration.
So one of the first artworks to emerge in the 1980s was a collaborative piece called the AIDS Memorial Quilt, which was started in 1987 in San Francisco by an activist called Cleve Jones. This work, which is still ongoing to this day, is both a memorial and a celebration of the lives of people who were living with and have died from HIV and AIDS. So you get a lot of these collective artistic responses to the crisis, which were about trying to take control of the public discourse around the disease, but also offering a sense of comfort and community for sufferers.
ANDI HORVATH
Suzie, tell us about your work in the pandemics and art research project with the Refuge series that you've done at Arts House.

SUZIE FRASER
Arts House in North Melbourne launched a series of art projects in 2016 that were titled Refuge. Refuge is a five-year project with partners across many sectors in society, such as the emergency management area, so Emergency Management Victoria, Red Cross Australia and also the University of Melbourne. Refuge is about exploring how artists can participate in strategies for managing and surviving climate-related disasters, such as heatwaves, floods and most recently social displacement.
In 2018, the theme of Refuge focused on pandemic and the artworks and the research that came out of the 2018 iteration of Refuge was in partnership with the Peter Doherty Institute for Infection and Immunity at the University of Melbourne. So artists who participated in Refuge 2018 had training and some seminars with researchers at the Doherty Institute to try and get a scientific understanding of what pandemic means as a concept, but also current research and activity around pandemics such as now COVID-19.
So Refuge Pandemic had a particular focus on stigma and anxiety around disease, so how treatments in times of health crisis can be directed to facilitate emotional, psychological and of course physical wellbeing. One work in Refuge Pandemic was by an artist called Jen Rae and it was titled Apitherapy Quarantine. This was a participatory exhibition which drew attention to, first of all, depleting bee populations on the planet, but also exploring how honeybee products could be used as part of therapies and treatments during illness.
Another work as part of the exhibition was Ellen van Neerven's audio installation titled Tiddafly. This work foregrounded the tragedy and disaster that was wreaked by introduced contagions to Australia on Indigenous communities. So looking to 19th century-introduced contagions and their effects on Aboriginal communities and populations. This work was essentially a memorialisation of these widespread dead and also a caution for contemporary audience to not forget the historic violence of contagion.
ANDI HORVATH
Very interesting indeed and very pertinent that it was started before this COVID-19 situation.

SUZIE FRASER
Yes, absolutely. The Refuge series, which is still ongoing, it was one iteration left which has been delayed and will be staged in 2021, the Refuge series is looking at climate-related disasters that we know are happening right now. So we know that pandemics are going to be more frequent, for various reasons related to climate, population movement, population growth. So with this knowledge from science that we are undergoing changes on our planet and we're going to be increasingly confronted with new difficulties, new public disasters and on a more frequent basis. The Refuge series was set up, was established to try and in advance start thinking about how we can tackle these scenarios, how we can prepare for them and try to counteract them as well.
ANDI HORVATH
The notions of community and community welfare have certainly emerged during this COVID-19, but also some behaviours on fear and selfishness like the panic buying in supermarkets. Justin, I'm just wondering, do policymakers access literature for examples of modelling human behaviours in pandemics?

JUSTIN CLEMENS
If only they did, I think that the situation might be often less deleterious than it turns out to be, because one of the things that literature certainly has done for thousands of years along the lines that I've been speaking about has been very careful and attentive about the ways in which people act under these sorts of pressures. There's an incredible encyclopaedic documentation in often very, very striking and effective forms of the sorts of things that people are likely to get up to. Thucydides is one of them, Sophocles is another.
There's a great text from 1722 by Daniel Defoe, the very famous author of Robinson Crusoe. He also wrote A Journal of the Plague Year, which is set in 1665, which was the Great Plague, the last great bubonic plague to hit London ever. One of the things that Defoe does, definitely drawing on some of the other works that I've already mentioned, is precisely talk about this oscillation between community but also - and it has a very similar lesson route - immunity. The relationship between immunity and community is always in tension and there are always people who are disaster entrepreneurs and there are always people desperate to help other people, even at risk to themselves. It brings out in an extreme way the differences that are integral to human life in general, between the desire for immunity to segregate, to shut off, to lock down, to escape, to hurt and exploit other people, that comes out. But also these incredible acts of selflessness and care are right there at the same time in this contradictory way.
If I could just read a little section from Defoe, which I think shows some of this, he talks first of all about the court of Charles II, which is very famously King of England, party animal. He shuts down his court, as Defoe says, it was then gay and luxurious. It put on a face of just concern for the public danger and all the plays and interludes which, after the manner of the French court, had been set up, were forbidden to act. The gaming tables, the public dancing rooms, music houses, the jack-puddings, merry-andrews, puppet shows, rope dancers. All of these are shut down by the court, which had made partying part of its political. So that's one of the things that even the king does in England in 1665.
But then as Defoe goes on to talk about, that the people were now led by their fright to extremes of folly and that they ran to conjurors and witches and all sorts of deceivers to know what should become of them, who fed their fears and kept them always alarmed and awake on purpose to delude them and pick their pockets. So they were as mad upon their running after quacks and mountebanks for medicines and remedies, storing themselves with such multitudes of pills, potions and preservatives as they were called. That they not only spent their money but poisoned themselves beforehand for fear of the poison of the infection and prepared their bodies for the plague instead of preserving them against it.
I think that very simple opposition between community and immunity, the contradiction there does sum up something that I guess we'll see continuing everywhere. The selflessness and the community orientation and then the desperation for still to exploit other people, to make money out of this, a total self-interest.
ANDI HORVATH
Suzie, I noticed in a café there was a poster that said kindness is also contagious. So this sentiment of of citizen art and in a digital era I've been listening to choirs that are at remote locations, coming together in the digital medium. This is an exciting era for not just artists, but also citizen artists.

SUZIE FRASER
Yes, absolutely. It's really bringing out some very positive examples of public creativity and citizen artists. Just last week, the first week of April, Dr Kate Just from the Victorian College of the Arts, along with Dr Tal Fitzpatrick, who just completed her PhD at the VCA, started an Instagram project titled COVID-19 Global Quilt. This project invites people to contribute a patch to the quilt which reflects their experience of the current pandemic and the impact the upheaval is having on their lives, families, work, jobs, also on their health.
It already has a strong and active international participation and such projects are a way of bringing people together across these distances, facilitating connection and wellbeing, also trying to stave off this isolation. The physical isolation of course is something that we're all having to deal with and we're all having to adhere to. But psychological isolation is something that can be tackled and overcome and creative practice is certainly a way that we can help achieve that.
In thinking about isolation, in the last few weeks I've been reflecting on a book I read a few years ago called A Journey Round My Room, from 1763, by Xavier de Maistre. It chronicles a 42-day confinement by the writer to his room in Turin as punishment for duelling. It's a strange little book and it definitely speaks to this psychological toil that the writer is going through when confined to his room and left in isolation. But it also speaks a lot to the creative tactics that we can use to deal with our situations, to try and achieve interesting and participatory outcomes that can help us to get through these situations. I might just read a little section. He says near the beginning of the story that he writes about travelling around his room.
Hence when I travel in my room, I seldom keep to a straight line. From my table I go towards a picture which is placed in a corner. Thence I set out in an oblique direction for the door and then although on starting I had intended to return to my table, yet if I chanced to fall in with my armchair on the way, I at once and most unceremoniously take up my quarters therein. In long winter evenings it is oft times sweet and always prudent to stretch yourself therein, far from the bustle of crowded assemblies.
A good fire, some books and pens, what safeguards these against ennui and how pleasant again to forget books and pens in order to stir the fire, while giving oneself up to some agreeable meditation, or stringing together a few rhymes for the amusement of friends, as the hours glide by and fall into eternity, without making their sad passage felt.
I suppose in all the traumas and difficulties that our communities are going through while having to self-isolate, we can start to think of strategies that we can use to get through it together in our individual context, but also using contemporary technology to connect us through distance, through walls and across national borders.
ANDI HORVATH
Not only do we turn to scientists for answers, but of course we turn to authors and artists and perhaps even discover the author and the artist within ourselves. Thank you very much Justin Clemens and Suzie Fraser.

JUSTIN CLEMENS
Thank you, Andi.
SUZIE FRASER
Thank you very much, Andi.
CHRIS HATZIS
Thank you to Justin Clemens, associate professor in literary studies at the School of Culture and Communication, and Suzie Fraser, coordinator at the Centre of Visual Art, both at the University of Melbourne. And thanks to our reporter Dr Andi Horvath.
Eavesdrop on Experts - stories of inspiration and insights - was made possible by the University of Melbourne. This episode was recorded on April 8, 2020. You'll find a full transcript on the Pursuit website. Production, audio engineering and editing by me, Chris Hatzis. Co-production - Silvi Vann-Wall and Dr Andi Horvath. Eavesdrop on Experts is licensed under Creative Commons, Copyright 2020, The University of Melbourne. If you enjoyed this episode, review us on Apple Podcasts and check out the rest of the Eavesdrop episodes in our archive. I'm Chris Hatzis. Join us again next time for another Eavesdrop on Experts.
One of the things about literature is that it always responds immediately to what's happening in the environment, says Associate Professor Justin Clemens from the School of Culture and Communication at the University of Melbourne.
"People started writing responses to the plague immediately, but the most famous book is probably Boccaccio's The Decameron, which was written after the plague in Florence of 1348," says Professor Clemens.
The Decameron is a group of stories united by the overarching tale of a group of young aristocrats who have retreated to the hills to avoid the plague.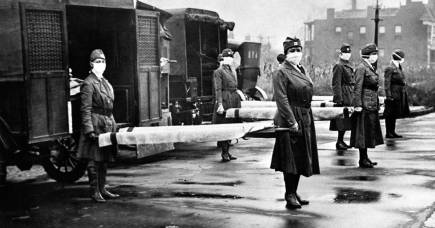 "They didn't have Zoom, they didn't have the internet and so they tell each other stories over the course of two weeks," Professor Clemens says.
Dr Suzie Fraser adds that the Black Death, or the Bubonic Plague, was also depicted by visual artists using representations of death, pestilence and disaster.

"One of the most prevalent visual allegories that emerged in the Middle Ages was the Danse Macabre, or the Dance of Death," Dr Fraser says.
"This theme depicts a universality to death where the living and dead exist side-by-side. Living people who are rich and poor, young and old, all genders and classes are being targeted, are being tugged, pulled and harangued into the afterlife."
Fast forward to today, and COVID-19 is also bringing out some very positive examples of public creativity and citizen artists, says Dr Fraser.
"Dr Kate Just from the Faculty of Fine Arts and Music, along with Dr Tal Fitzpatrick, started an Instagram project titled COVID-19 Global Quilt.
"This project invites people to contribute a patch to the quilt which reflects their experience of the current pandemic."
Episode recorded: April 8, 2020.
Interviewer: Dr Andi Horvath.
Producer, audio engineer and editor: Chris Hatzis.
Co-production: Silvi Van-Wall and Dr Andi Horvath.
Banner image: 17th Century Woodcut Depicting Londoners Fleeing from the Plague An illustration showing Londoners fleeing the country because of the plague. Printed 1630. (Photo by © Historical Picture Archive/CORBIS/Corbis via Getty Images)
Subscribe to Eavesdrop on Experts through iTunes, SoundCloud or RSS.