Human dignity and digital identity
The data trail we leave behind in our online life raises complex ethical questions about digital privacy and identity
CHRIS HATZIS
Eavesdrop on Experts, a podcast about stories of inspiration and insights. It's where expert types obsess, confess and profess. I'm Chris Hatzis. Let's eavesdrop on experts changing the world - one lecture, one experiment, one interview at a time.
You're sitting in a cafe. Having a coffee, using the free wifi. You're chatting and posting online to your various social media accounts. But where does that data go? Beyond our friend's circle, who else is seeing our daily data habits? Does our social media define us or is our identity in our bodies only? And what happens to that digital identity when we die? These ethical questions are being asked by us more each day. The answers are, naturally, complicated and ever evolving.
Luciano Floridi is the Professor of Philosophy and Ethics of Information at the University of Oxford. He was the special guest and keynote speaker for the Network Society Symposium here at the University of Melbourne in 2017. The keynote was entitled "The Green and the Blue: The Smart Deal For a Sustainable and Preferable Future". Our reporter Andi Horvath sat down with Luciano to talk about digital privacy, the ethics of data as identity, and the all-important question of whether robots will take over the world.
ANDI HORVATH
Being an ethicist, your terrain is the digital world. Why do we need ethics in the digital sphere?
LUCIANO FLORIDI
So ethics is that area of inquiry where we start looking at what's right, what's wrong, what's the good thing to do, what's the bad thing to do, and of course, we've been there for a long time. So, you may wonder, do we really need something new? Do we not know what's the right thing to do or who should I be, why should I do it? Well, the thing is that every now and then life, history, human development pops up new issues that need a bit of rethinking. So, it's not that we don't have any framework, but how you apply that framework to the new challenges, the new problems, that's what ethics does today. So, the new problems today clearly around us, the digital. Privacy, for example, or who owns what, am I being pushed and pulled when I'm on a social media? Is anyone monitoring me? Is it good to have all this data circulating? Who's managing the benefit of all this?
Well, these are all new ethical questions. Of course, we have old frameworks that are pretty robust, but how we apply them to the new challenges, that's the question.
ANDI HORVATH
As human beings we are online, sometimes we're offline, but you actually talk about us being 'onlife'. Explain that to us.
LUCIANO FLORIDI
The truth is in many places, say Melbourne included, you never really go online and you never are entirely offline during the day. Of course, there are plenty of places in the world where people have never been on the internet and plenty of places where they are totally connected, checking their emails or WhatsApp, 24/7. But for most of us say in Oxford or in Melbourne, New York, Tokyo or Rio de Janeiro, what happens is that we are in that mixed space where you're connected, for example your mobile phone is sending your geographical location 24/7 and you're not really perceiving that. At the same time, you might be driving a car with a GPS telling you where to go and that's also an online experience.
But at the same time, you're walking down the street, you are driving a car so that's also offline. So how do we square this? Well by talking about this mixed space of 'onlife' where we are experiencing both things at the same time.
ANDI HORVATH
As my identity evolves in the digital world, I guess the issues of privacy become very pertinent today. Because my identity is not just my flesh but it's in fact - or what I say and my behaviour - but it's in fact my digital data, my medical data, my purchasing data. Is this why we need governance of the digital space?
LUCIANO FLORIDI
I think so. Privacy has always been a big issue at any time in any corner of the world. But the digital has brought that to the forefront, has made it really salient, important, significant because of the amount of data we can collect, the processing power we have to transform those data into information about an individual, tailoring the information to that individual profiling. So, all of a sudden, it's a problem that touches me very closely. As you said, what exactly are we talking about when we're talking about privacy? Well, let me simplify a lot by having two positions. One is more economy oriented, my data as in my car, my house, my shoes, I own them and I can do whatever I want, sell them or give them to someone for a little while and back again.
The other one is more in terms of identity, my data as in my lungs, my liver, my eyes. They're mine as in they make me who I am, they are constituting of myself. Now we're moving increasingly towards a 'my data' in a constituting position, as my organs for example, and therefore the protection of privacy becomes the protection of myself.
ANDI HORVATH
I heard you say that there are more dead people online by 2050 than there will be alive then.
LUCIANO FLORIDI
Yes, so this is something that we tend to forget, but unfortunately we are mortal, and now that we live 'onlife' increasingly we spend an enormous amount of time online on social media. When people are no longer here, they pass away, their profiles remain behind, they are digital remains. Numbers and figures change depending on who is running them but maybe 2050 or 2060, but pretty soon we'll have more digital remains online than live profiles. What do we do with these digital remains? What kind of culture are we developing? We come from a long, long time, millennia of respect for human remains, of understanding what human being means also with the dead. We haven't quite caught up with the new challenges. This is something that we need to think about now because it's happening pretty quickly.
ANDI HORVATH
So you tie human dignity in with privacy.
LUCIANO FLORIDI
So imagine privacy is about who you are as opposed to what you have and think in terms of who you are as protecting your special nature as a human being. It's not just about who you can become or the opportunities or means to an end, but it's drawing a line saying, look some things just shouldn't happen. So, we don't allow people to sell their organs, even if they are their own organs. We don't allow people to prostitute themselves, even if they are in charge of their body. Likewise, there are some information that constitute an individual; they should be protected as we protect their identity. Now in that respect, privacy, personal identity, human dignity. Human dignity is the preamble that supports the whole declaration of human rights, is left undefined for a reason because we all understand what we're talking about and any definition would be exclusive of some features.
So, we want to be as inclusive as possible, multicultural in different societies, but we know what we're talking about and that is the crucial foundational stone around which we want to build the rest of the edifice.
ANDI HORVATH
Are various corporations already exploiting the digital datasets and can we curb that in the future?
LUCIANO FLORIDI
So corporations have been in charge of running the digital world now for some time and in a way, that's a good thing. We needed that kind of market oriented entrepreneurial daring innovation that has made a huge difference for good. I would argue that they shouldn't be left alone shall we say, and their position should be complemented by socio-political approach. So, I'm not saying that it's a bad idea to have all this corporate running the internet for example or social media or digital innovation. I'm saying that they shouldn't really be the only force, the only voice in town. Now if we had a socio-political project, in other words if as a society we could express what we would like to see happening in the digital world, then we would have for example the human dignity at the centre of the discourse, not just and not merely economic interest. That is an important counter-balance.
ANDI HORVATH
So this is really about governance. We need to start now, don't we?
LUCIANO FLORIDI
We need to start now, we are in a way laying the foundations of the mature information societies that we want to see happening in the foreseeable future. Future generations will look back and ask us what did you do when you had a chance of doing the right thing? Why you didn't think in terms of setting up the right framework for the development of say artificial intelligence, digital tools, innovation, automation and so on? I think we have an enormous chance, an enormous opportunity, we should grab it. One moment or reflection sometimes, a bit less optimistic, is that we might having huge opportunity cost, things that we could have done, we should have done, we didn't and we in a way achieve less than we could have if only we had been doing a little bit more thinking.
ANDI HORVATH
What are some misconceptions the public have about artificial intelligence and robotics in the digital era?
LUCIANO FLORIDI
I'm afraid there are many because the digital tends to polarise views. So, we have the incredibly over-rosy picture, call it Hollywood, and the incredibly dark, doomed picture, maybe from Paris if we have another geographical location. The truth as usual is in the boring middle in the grey area and there the misconceptions can be taken care of. For example, let's take two points, one, there's only a limited amount of jobs in the world, if robots take those jobs there will be less jobs available for human beings. Not true, this is Economy 101 really, there are as many jobs as economy makes them feasible. Therefore, as the digital comes in, more jobs will become available but above all some jobs that were not affordable, not viable in the past will become more viable, more affordable and therefore we'll pass the threshold of what can be doable in society.
Or take for example again artificial intelligence, the huge misconception that some kind of Terminator, SkyNet, some sort of a Star Wars scenario is going to happen. That's totally fanciful; absolutely not what science would teach us. We're getting distracted when some of the real problems are around the corner. These are just two among many. I think a more rational, well-informed debate would definitely help the governance of all this.
ANDI HORVATH
Who is disadvantaged or exploited in the digital era?
LUCIANO FLORIDI
When we look at the digital era we have these divides all over the place, the divide between those that are able to use online tools, services and so on, and those who are not. Those who have the kind of education that helps them to be empowered and those who don't. Those who live in areas where there is not connectivity and those who actually do, et cetera. So, the divides are many and I think that we are leaving behind a big chunk of the population all over the world, including in smart cities like Melbourne, but also in corners of whole continents like Africa. That is on us; essentially the inclusive, equal, fair governance of the digital is going to be the challenge for the nearby future. It's not just the new technologies, the new innovation that are around the corner but really what we want to do, the kind of human project that we want to put in place, that will be the challenge for the thinking people around the world.
ANDI HORVATH
Professor Luciano Floridi, you are the keynote speaker for the Network Society Symposium here at the University of Melbourne in 2017. Now your talk is entitled "The Green and the Blue, the Smart Deal For a Sustainable and Preferable Future". What are your take-home messages for the audience?
LUCIANO FLORIDI
Essentially nature and the digital world, the natural and the arti-factual, need to be joined into shall we say a new marriage where they complement each other and support each other. We're not going to have a future, and I'm serious about this, we're not going to see future generations enjoying a decent life on this planet if technology and nature don't build a strong alliance. Whereby the green, nature, and the blue of technology, digital technology, make a strong push to improve how sustainable our development of this planet is, but also how socially acceptable or shall I say preferable that development is going to be. So, one the one hand green economy, a green ecological approach to the world, we need to take care of the world, we need to stop consuming the world as if there were no tomorrow.
At the same time what forces can help us to do that? Well technology, which is one of the greatest things that humanity has ever done in its own history. Meaning that the digital technologies can help us to lower our impact on the world, improve how we use the world and maybe let us think a little bit more about how beneficial to the world our development can be.
ANDI HORVATH
Okay. You've got the microphone, professor. Profess!
LUCIANO FLORIDI
If I can say maybe just one small thing in this huge development of amazing opportunities that we have today is let us focus a little bit more carefully on the sharing of the benefits that all this innovation is bringing about. We speak a lot about inequality, unfair world, it doesn't take much to put things straight and right again. That little much that is required is called politics, with a capital P, it's the best thing that we can do to ourselves to make sure that the immense opportunities that we are developing are to the advantage of as many people and as long as possible in terms of future impact as we can. It will be also very good for business, so a longer-term perspective for business and for society, benefit-sharing and corporate world as good corporate citizens, I think that that is the way forward.
ANDI HORVATH
Professor, who's going to pay for that?
LUCIANO FLORIDI
It's a bit of a myth that we don't have enough money. We look around and there are immense fortunes being accumulated in very few corners, and the myth is supported by a mistake, the mistake that these immense fortunes will sooner or later percolate through society. Well let's get rid of the myth and of the mistake. Wealth has been accumulated but it's not percolating. We know very well what it means to make sure that wealth percolates, it's called taxation. Fair, distributed, intelligent, pro-business, but there are not many other different ways of doing this. Make sure that what wealth is being created is also beneficial to the wider society.
ANDI HORVATH
Robots don't pay tax.
LUCIANO FLORIDI
Robots don't pay taxes, and that is a problem because it means that there is less money to spend on social initiatives for example. But corporate world that takes advantage of robots makes higher profits and therefore can provide more in terms of supporting society at-large. Of course, I'm not supporting some kind of an extreme left-wing appropriation of wealth et cetera; that is very far from what I'm suggesting. But one more socially oriented, maybe Scandinavian approach to what it means to live in a decent society, well that's a good idea. Let me give you one example to be concrete. Norway is the only country in the world that has a social-political approach to oil. When we talk about data being the next oil, maybe we should look at Norway as the proper place where their oil has been properly exploited to the benefit of the most, rather than just a few companies.
ANDI HORVATH
Can you explain the Norway model?
LUCIANO FLORIDI
The Norway model is a great example of how you can in a mixed economy between say the social, the political, the government and the good business, can lead to profit which is socially preferable, essentially sustainable. In Norway, oil is, I'm over-simplifying but the point should be sufficiently clear, is owned by the Norwegians. Meaning that the company that runs the oil business is a mix between government and business. Now I said I'm over-simplifying things that are legally quite complex but the point is quite simple. The profit of having oil in your nation goes back into, to some extent the pockets of the Norwegians and future generations is handled very carefully in order to avoid inflation, for example, as it has happened in many other countries, say in South America. So, it's an intelligent, well informed, economically viable, sustainable, exploitation of resources.
Now transfer that to for example large datasets. Governments are sitting on immense quantities of data which are probably very useful economically. Shall we just open that to any company whatsoever? Well that's the transparency, that's a good thing, at the same time who will be able to take advantage of large datasets if not the usual suspects? So, we should be a little bit more careful and try to mix and match and see what can go back into society once we start exploiting the resources which belong pretty much to everybody. Because remember those data by the government have been collected through means that have been funded by taxation. So, let me be clear, I'm not suggesting in any possible way a socialist left-wing kind of policy here, I'm talking about good business for good society, the two things are compatible, we just have to be a little bit more careful and smarter.
ANDI HORVATH
Just going back to robots, is there such a thing as robot dignity?
LUCIANO FLORIDI
We need to remember that robots are essentially tools in the hands of human beings. Of course, we speak about autonomy, machine learning, independence in terms of decisions. But let us not forget that if there is any problem behind what robots do or will do, it will be a human problem. What I'm worried about are not the robots and therefore their dignity, I'm worried about the human development and use of robots when done in the wrong way. So, robot's dignity, it will be like the dignity of my fridge, I don't think so.
ANDI HORVATH
Professor, it's an absolute inspiration to meet you. Thank you.
LUCIANO FLORIDI
Thank you.
CHRIS HATZIS
Thanks to Professor Luciano Floridi, Professor of Philosophy and Ethics of Information at the University of Oxford. And thanks to our reporter Dr Andi Horvath. Thanks also to Kate Murray from the Networked Society Institute.
Eavesdrop on Experts - stories of inspiration and insights - was made possible by the University of Melbourne. This episode was recorded on October 25, 2017. You'll find a full transcript on the Pursuit website. Audio engineering by Gavin Nebauer, co-production by Dr Andi Horvath and Silvi Vann-Wall. Eavesdrop on Experts is licensed under Creative Commons, Copyright 2018, The University of Melbourne. I'm Chris Hatzis, producer and editor. Join us again next time for another Eavesdrop on Experts.
You're chatting and posting online to your various social media accounts.
But where does that data go? Who else is seeing your daily data habits? And does your social media define your identity?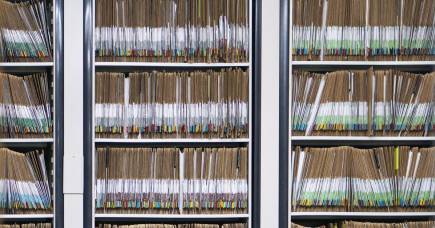 In this episode, Professor Luciano Floridi from the University of Oxford explores some of the ethical questions about our digital lives that are being asked by us more and each day.
Episode recorded: 25 October 2017
Producers: Dr Andi Horvath and Chris Hatzis
Audio engineer: Gavin Nebauer
Editor: Chris Hatzis

Banner image: iStock
Subscribe to Eavesdrop on Experts through iTunes, SoundCloud or RSS.