Is any job safe from the march of the machines?
Richard Susskind argues professions are a relic from print-based society, and white collars workers like lawyers, consultants and accountants need to brace for change
Glyn Davis
G'day. I'm Glyn Davis, and welcome to The Policy Shop, a place where we think about policy choices.
Glyn Davis
According to our guest on today's episode a transformation in the professions is underway. Lawyers, academics, journalists, the medical professions, even the clergy are going to see significant changes to their fields.
Professions, my next guest argues, are a relic from our old print based society. Today's internet world is driving an evolution of professional services, so what does the future look like for our doctors and lawyers and academics and journalists, and what do these changes mean for our society and our economy?
To take us into the future we're joined by Professor Richard Susskind, advisor to professional firms and national governments. Richard is also the IT Advisor to the Lord Chief Justice of England and Wales and, with his son Daniel, the co-author of The Future of the Professions, a book which has been widely praised but, equally, widely feared.
Richard, welcome to the podcast.
Richard Susskind
It's a great pleasure to be with you.
Glyn Davis
We hear a lot about robots taking on semi-skilled jobs, but you run a very different scenario in which the professions are no longer safe from the march of the machine. Are the professional classes too confident that they're going to be immune from change?
Richard Susskind
I think there's been a certain amount of complacency, certainly before our book came out. In many ways our book was a little bit of a wake-up call. The blue collar worker, I think, had clearly known for many years that much, or at least some, of their activities could be undertaken by machines but, as you say, the assumption was always, when it comes to white collar workers and particularly professionals, it was hard to imagine that what they do on a daily basis could be undertaken by any kind of system.
We want to challenge that because it seems to us if you combine the emerging techniques that are used under the heading of artificial intelligence, and you have a look at the progress that's been made in the internet, we are providing entirely new channels for producing and distributing knowledge and expertise in society.
Glyn Davis
Can you describe the forces that, in aggregate, are assaulting the professions? It's not just IT, is it?
Richard Susskind
No. There are a variety. We identify - and I won't trouble you with them in detail - eight broad patterns and 30 trends that, in combination, are affecting the professions. Some of them are rather mundane, to be honest, what we call the more for less challenge, that across the professions people are wanting more professional service at less cost because it transpires that so many of the professions - whether it be medicine or education or law - are unaffordable for so many people.
Another set of pressures are, essentially, the emergence of new technologies in the shape of tech start-ups. In law, for example, just a few years ago there were 200 legal tech start-ups. Now there are over 2000. Each one, when you think about it, is trying to do in law, or to a corner of law, what Amazon did to book selling. Traditional professionals are very aware that there's a new kind of competitor out there.
The boundaries between professions are breaking down as well. If you look at the major accounting firms - who, originally, were accountants and tax advisors - that most of them - again, in my home area of law - are moving rapidly in there as well. I've no doubt in the future you'll see these big businesses in health care and architecture, and other professions too - education as well - so this combination in market terms of relentless pressure and costs, new competitors and players and the emergence of new technologies - it's a very potent and, I think, a very threatening combination for traditional professional firms and for tradition professions more generally.
Glyn Davis
You and your son, Daniel, examined the privileged position that the professions enjoy in society, and you described this as a grand bargain that's facilitated a privileged position. Can you take us through this grand bargain?
Richard Susskind
Yes. I mean there's many aspects to it but, above all else, I suspect what we have is professionals as a form of gatekeeper. The deal is that we grant exclusivity to certain classes of worker that only they're allowed to undertake particular types of work. Only a surgeon is permitted to cut us open. Only an auditor is permitted, authoritatively, to pronounce on the accuracy of accounts. Only a certain type of lawyer, by and large, is permitted to appear in court.
We do this often in the name of protection of the individual consumer, the client, the patient; the idea being that we have this deal which grants exclusivity and, in return for that, we get trusted, reliable, affordable service in important areas of our lives. We can't seem to find any other ways - or haven't, historically, found other ways of sorting the kinds of problems that bring people to professionals.
Glyn Davis
How long have we had this grand bargain?
Richard Susskind
It's been going for a couple of hundred years in our view. We did a little bit of a historical survey and trying to find the origins of the professions; professions as distinct from expert workers. Clearly, there's been people working in medicine and law for many centuries, but coalescing in the form of some kind of profession that's granted this exclusivity that's subject to certain ethical standards and so forth. That's a more recent phenomenon. It emerges, in some ways, from the Middle Ages actually, and can be, to some extent, traced to the guilds, but it's a relatively recent phenomenon that, I suppose, in its current form, dates to the end of the industrial revolution.
Glyn Davis
You're describing a division of labour, that's enforced through regulation and certified by training. We've seen previous groups - you mentioned the guilds, skilled artisans and tradesmen, whose roles have been wiped out, and you're applying the same logic and the same sort of creative destruction processes now to the professions.
Richard Susskind
There are some analogies there. We don't really have mercers anymore. We don't have wheelwrights, cordwainers or tallow chandlers, but we still need silk. We still use silk products. We still have leather goods and candles and wheels. The point here is that the outcome, the deliverable as it were, is still very much in demand, but the process by which these outcomes or deliverables have been created has radically changed. That's why we have a number of discussions.
When you think about it, for example, people don't really want doctors or surgeons. They want health. People don't really want tax advisors. They want to minimise their exposure and ensure they comply with tax regulation. People don't really want architects. They want beautiful buildings that serve the functions they require. The intermediaries, the gatekeepers, the people with whom we have this grand bargain are those that have, in the past, allowed the delivery, or enabled the delivery of health or a fine building or a reliable tax return. Our feeling is that we're seeing emerging technology that can deliver that outcome in an entirely different way.
Glyn Davis
This is a social change with very profound implications, not least for a university which - whose business, I guess, is to certify those professions and send people in to the grand bargain.
Glyn Davis
Well, that's actually right. The universities, I suppose, face two challenges, are what they teach on the one hand and how they teach on the other. As regard how they teach - just one fascinating piece of information - that in one year we found that Harvard had more people subscribing to their online courses than had attended the physical university since its foundation. In one year that was the number of people who signed up.
But it's not just the way in which we teach - and I think that will radically change from e-learning through to some kind of simulated learning environments and practice environments and so forth - it's what we're teaching. It does worry me rather that we're generating, by and large, 20th century graduates rather than 21st century graduates.
If our premise is correct, then it won't be many years before the conventional doctor, lawyer, account, architect, consultant and so forth won't be needed to undertake the work they do today. I challenge law schools and medical schools and so forth. I challenge them and ask whether or not they're developing the people who can, essentially, be developing the system that will underpin and provide the solutions to clients in the future.
Glyn Davis
My colleagues and I are going to go the way of mercers and wheelwrights. Excellent. Can we focus on two professional areas that you've paid a lot of attention to? You've just touched on one, education, and the second is the law, for which you've spent 40 years of your life researching and writing about.
On education, you said in the book that the role of the teacher as the sage on the stage will be fundamentally chained to the guide on the side, which is a very neat formulation, but can you describe the impact of technology on education?
Richard Susskind
I think in that context it was looking at the classroom and what goes on in the classroom. It seemed to us, for example, the anniversary of Darwin - the idea that biology teachers, more or less, competent biology teachers around the world are giving their version of Darwin where there might be an online lecture by Richard Dawkins, for example. Wouldn't it be marvellous to bring a world leading expert and outstanding communicator into the classrooms of all people around the world?
The role of teacher then would not be to deliver the content, but actually to encourage discussion, reflection, critical assessment. That's what we mean by moving from being the sage on the stage to the guide on the side.
That very much assumes, of course, you are retaining the classroom model, which I think there's strong reasons for us so doing, but one can envisage, through online courses and other methods, that entirely new ways - particularly with things about lifelong learning and not just periodic learning - but entirely new ways of enlightening people, of offering them an educational experience.
This might be real time through telepresence type technologies where people, essentially, are video-linked in to live teaching and learning environments. Or it might be through courses that are provided and really packaged as online products which allow people, at their leisure, to watch and replay lectures and to participate, perhaps, through some form of virtual reality in what I call simulated practice environments.
For instance, in Strathclyde University in Scotland - at which I'm a professor - for many years in our diploma in legal practice, students - the course that people do once they have their law degree, but before they go into a law firm, they have one year of practice training. For many years the idea has been that these students are organised as firms - as groups of students divided in teams of four and they practice law in a fictional online village called [Art Cullach], which is very appropriate for Scotland.
It's in this learning environment and this training environment, this practice environment, that these students interact with judges and with clients and with the police and the courts and so forth. It always strikes me, when I think of astronauts and I watch an astronaut going up for the first time, that this is not the first time they've had that experience.
We've created simulators of a remarkably sophisticated sort to help these astronauts. Why can't we do the same, simulate the environments in which our young aspiring professionals will work in the future? That seems to me to be a solitary - a reasonable goal for universities, as well as the transformed classroom training that I was referring to.
Glyn Davis
Behind the scenes it transforms the way we organise the academic world and profession.
Richard Susskind
Indeed.
Glyn Davis
Richard, much of your most influential research has been around legal practitioners. You've worked in this for a long time. Can you take us through how you think technology will transform the legal sector?
Richard Susskind
The history of all of this was that in the '80s I did my doctorate in Oxford University in artificial intelligence and law. Then and now is really interesting. One question, and that is can computers solve legal problems? That seems to me to be quite an interesting question. In some ways, sad or otherwise, that's what I've dedicated a lot of my life to do. The various aspects of the legal world are affected.
On the one had one can look at everyday law - and one of our difficulties with everyday law is that most people can't actually realistically afford the advice of lawyers. Still less can they afford to go to courts around the world. It's not true in all jurisdictions, but for most people - for example, a dispute, the conduct of the dispute is a process that's highly expensive, highly time consuming and highly combative. It's, by and large, unintelligible to the layperson and, somehow, it just seems to me, is out of step with the internet society.
For my most recent work, for example, in this area is looking at the whole idea of online courts. I chaired a group for the one that is really a combination of the Government and the judges in England and Wales from 2014 to 2015. We recommended, for low value disputes, that we should have online courts which, basically, would involve judges deciding cases, but on the papers alone as submitted to them electronically. Arguments are made and interactions between parties are overseen by judges, but rather than congregating in a physical courtroom, it's done online.
I have for many years been asking the question is court a service or a place? Do you really need physically to congregate together to resolve your disputes? Remarkably, both our Government and our judiciary is highly supportive of this for at least low value disputes. There's interest, I think, in Australia in this as well. Also the whole idea of online guidance and help in so many areas of our lives when we need help or guidance we turn quite naturally to the internet.
There's absolutely no reason why we shouldn't be able to do that in law as well and, indeed, so it is; not just advice, but the production of documents, fairly standard documents. You should be able to answer a series of questions on-screen, and out will come a fairly polished first draft. Technology underpinning that has been around since the last '70s, so this idea of online courts or online advice very much for the consumer end of the legal market.
At the other end - and, in some ways, this is more transformational when you think of corporate law firms, major firms advising, for example, major companies or financial institutions - we've seen transformations there. In large scale disputes the review of documents can now, at least in part, be done by technology. Indeed, research is showing that in terms of precision and recall these systems, when trying to find relevant documents in amongst, say, a pile of 10 million, can outperform junior lawyers and paralegals.
More recently that same technology is being used in major deals where the due diligence exercise is undertaken where, again, large bodies of documents are being reviewed. Systems are outperforming young lawyers in identifying the most relevant documents. Document generation, that I mentioned, for the layperson that could equally apply to very sophisticated drafting of documents, and even the systems emerging now for online legal research conducted by systems rather than directly through human conventional lawyers.
On any view - but I don't want to give the sense this is happening overnight - on any view we're seeing some remarkable developments and some gradual take-up. I've always taken the view that this should result in a better and more affordable service, both for citizens and major businesses.
For lawyers it's quite challenging, however, because much of the work that used to deliver their income is now being taken on by machine. That, of course, in microcosm, is - gives rise to a far larger discussion about what the impact of technology is on our labour force more generally.
Glyn Davis
Let me come to that. I'd just like to pick up the inevitable criticism, or critique, that's offered by some that, yes, machines can do these remarkable jobs, but it's empathy and judgement that are the human contribution to the professional process, and these will be lost in the sorts of processes that you've just described.
Richard Susskind
Yes. Well, I think as regards online courts, we've still got judges as still human beings over the process. The inefficiency we're trying to overcome is the inefficiency of governing in a physical courtroom and all that that entails. The other inefficiency that arises is very complex rules because the idea is to base the online course on far simpler rules that non-lawyers can understand and, therefore, undertake the process themselves.
I don't see any loss there of human interaction. There might be a loss of face-to-face interaction, but there's no obvious reason to me that human beings can't at least express and detect emotions electronically, and using the telephone and maybe video conferencing too. The more general observation you're making though - it is a crucial one - that doctors will, again and again, say to me that what's vital for the doctor/patient relationship is the empathy that the doctor shows to the patient.
There's a couple of responses there. I don't for a second ever want to minimise the great role that fine doctors - fine empathetic doctors - play when they're helping their patients, but we shouldn't overstate that. I mean it's well known, for example, that in surgery some surgeons are wonderful technicians but, themselves, may not be particularly empathetic. Some doctors aren't particularly empathetic, so we shouldn't be expecting more of our machines than we're getting from our human beings.
There's a more interesting challenge in all of this though, and that's the emergence of what's known as affective computing. That's machines that can detect and express human emotions. There's already a system that can look at a human smile and tell whether or not it's fake or genuine. The system that can listen to two female voices and tell whether or not they belong to a mother or a daughter. We are seeing the emergence of systems that, in due course, across a full range of human experiences, will be superior to human beings in being able to detect the emotional state of the person in front of them.
Then the next stage - so for example, in the early '20s, your handheld phone will know what kind of a mood you're in, but it may respond accordingly. That's the next stage, where machines actually provide suitable music or suitable reassuring words or nudges, given the mood it knows we're in.
I refer often in this context to the work that's been done in Japan, where there's a great shortage of nurses. They have - in some of their private hospitals they have robotic nurses available in the rooms. Some people say that's shocking, of course, you need an empathetic human being. At one level what I would say immediately is if you can't afford, or don't simply have human beings, then the test is not is this robot better than nurses. It's is it better than nothing at all?
That's often the test with a lot of the technologies we're talking about because what we identify in the professions is that the benefits of the professions are actually very unevenly distributed. Often these systems may not outstrip in terms of performance and empathy a top notch expert, but will be way better than what most people have just now, and that's almost no access whatsoever.
What would happen - just to slip back to the example of the nurse in Japan, or the robotic nurse - is that there's some kind of wireless connection between the robes of the patient and the machine, and it can detect whether or not there's some kind of agitation or pain or discomfort and make comforting noises. It makes comforting music. Keeps the person company. That, for many people, might sound bizarre but, again, the choice of having some kind of electronic care facility as against no care facility - I think that is not a choice. I think it's a very promising option where we lack the appropriate human resource.
What fascinates me in the area of psychotherapy, for example, is that some people are now saying that they prefer interacting with an electronic psychotherapist, and not least because they don't mind bearing their souls and disclosing their darkest secrets and worries to a machine rather than to a fellow human being, but also because these systems are so programmed that the responses they receive are actually - it's not that the machine is feeling empathy in the way a psychotherapist would, but they're sending out the signals and offering responses which give rise to the kinds of reactions we would want in our patients.
Now, I really want to be very clear here. I'm not saying these systems are more empathetic than human beings. I am saying they're way better than nothing, and I'm also wanting to challenge the view that - well, the view that most people take, that all professional service needs to be delivered through an empathetic advisor. I don't accept that is the case in all cases.
Glyn Davis
An aspect of this, Richard, that you touch on as well, is data assisted decisions, or using aggregation of information to help the human decision maker be more consistent. There's, of course, that remarkable Israeli research that shows that sentencing decisions by courts are deeply affected by the time of the day that the prisoner appears before the judge and where the judge is at on their daily cycle. Can you say a little about how IT might transform by providing, in a sense, a more consistent base for policy choices?
Richard Susskind
It was parole decisions, which may come to the same thing, but I think they are slightly different in the Israeli situation. You know we're creating massive amounts of data in all our professions as a by-product of our daily activity. It turns out that this data, in a sense, is just an invaluable body of past experience into which we can dip. What's evolved over the past few years through a number of technologies, variously called - they are different, but all things one will hear, like machine learning and data science and data mining and so forth, and clever algorithms, but, basically, ways of discerning patterns or regularities or correlations in the data that human beings might not notice themselves.
The most, I suppose, extreme example are systems, for instance, that can predict the outcome of court decisions more accurately than human lawyers, based not on the law, but based on - it's essentially a statistical prediction of the behaviour of the courts. It might be based on the name of the judge. Again, you say correctly, the time of day of the decision and so forth.
We're seeing more advanced systems in medicine as well, where the - reported earlier in the year in the prestigious science journal, Nature - is a system that could diagnose malignant melanoma, detect melanoma from images more accurately than dermatologists, but this system, there's nothing about histopathology or dermatology, but it's got 110,000 or so past cases where they're imaged together with the results of the pathology recorded, and through very, very crudely - this is an over-simplification - some kind of partial pattern matching, the system more accurately than a human being can look at an image of a lesion and detect whether or not it's likely to be a melanoma.
It's not simply the use of data to identify irregularities or anomalies in the behaviour of human beings, as with the judges. It's actually using the data to undertake the work that would otherwise be undertaken by human beings. This is why some people are saying that data science will trump medical science. Even in areas such as architecture, if you look at the design of the Hamburg Concert Hall, it was almost entirely designed by algorithm.
It's such a beautiful building. It's hard to imagine that there wasn't a human being directly involved. In a way, though, it was because it was drawing on countless past designs held within very large amounts of data. We're getting these systems to use the data to derive, essentially, patterns from the data. There's a whole very sophisticated technologies involved in this - to - well, in a way, isn't it like we human beings do? Experts often say they rely on their past experience, but what these systems have is many more instances of past experience.
Glyn Davis
They can also correct for predictable biases in human behaviour.
Richard Susskind
That is true, but people do worry about the biases that algorithms and data can also…
Glyn Davis
Incorporate.
Richard Susskind
Indeed.
Glyn Davis
Indeed. Now, I'd just like to invite you to speculate on some of the policy implications. In many ways you've described a world that would produce much better services for individuals, but leave an awful lot of professionals without necessarily much to do.
Richard Susskind
Yes. I mean at one level there's a very big public policy debate about the future of work because what we're seeing, I think, on any view, is machines taking on more and more tasks historically, both white collar and blue collar work, historically we thought only could be undertaken by human beings. A lot of debate we're finding about does this mean the end of the worker - is work vital to the human condition? Is it not work that gives us meaning as well as income and so forth?
There's considerable debates to be had about the impact on our way of life. I think of our generation, we find it hard to imagine a life without work, but it's not inconceivable. It's just very much at odds with our past experience of how you make a living and how you live a meaningful life. I think profound policy questions arise from, essentially, the displacement of labour by machines because this, essentially, means that what is going on is that value and income, as it were, and productivity are attributable less to labour and more to capital.
The very interesting question that arises is who actually owns this capital? We're seeing already today that so much of the intellectual capital - so much of the data as well, and the processing and so forth, and the data storage - is already owned by a very small number of major organisations. This could, in the long run, have a very polarising effect between those who own and can benefit from the capital and those who do not.
The redistribution of the value that's derived from the capital - or maybe in a reallocation of the capital - is an issue - a huge issue of political economy, probably of political philosophy, as well as policy making, over the next few decades. These are some urgent issues that need to be addressed quite quickly.
Another one, not unrelated, is the moral limits of these systems we're developing as AI systems become more powerful. Even if they are able to undertake certain kinds of tasks, are there any activities that we would say we want to be beyond our machines. I don't know. You may share my intuition currently, at least, that I wouldn't want a machine to be able to decide whether or not to turn off a life support system and then actually flick the switch without human intervention. I don't think I'd really want a machine to pass a life sentence on another human being. We sense, I think, most of us, that there are some moral limits, but these need to be debated publicly and thought through rationally.
Glyn Davis
It's been a huge pleasure today to talk with the co-author of The Future of the Professions, Professor Richard Susskind. Richard, thank you very much.
Richard Susskind
The pleasure's all mine. Thank you. For those that are interested, I've made a submission to the House of Lords select committee on artificial intelligence. We have one of those in the United Kingdom. It's online. It's called Artificial Intelligence; Challenges for Policy Makers. There's certainly enough to keep us going for a while if you're in the policy field.
Glyn Davis
Excellent. Thank you for listening to The Policy Shop.
[Music]
Voiceover
The Policy Shop is produced by Eoin Hahessy, with audio engineering by Gavin Nebauer.
The Policy Shop is licensed under Creative Commons copyright, University of Melbourne 2017.
The professions are being transformed by new technologies like artificial intelligence. Lawyers, academics, journalists, the medical professions and more are already seeing significant changes in their fields, and more is on the way.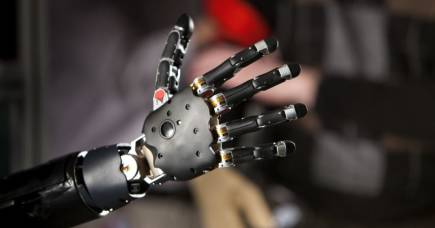 We already know robots are replacing many blue-collar jobs, but are the professions safe from the march of the machine?
Professor Richard Susskind discusses what the future might hold for our professions.
Episode recorded: 8 December 2017
Series Producer: Eoin Hahessy
Audio engineer: Gavin Nebauer
Banner image: Pixababy