Language for living
Poetry is a way of being alive and alert to the world in ways that we too often forget, says Professor David Mason
Chris Hatzis
Eavesdrop on Experts, a podcast about stories of inspiration and insights. It's where expert types obsess, confess and profess. I'm Chris Hatzis, let's eavesdrop on experts changing the world - one lecture, one experiment, one interview at a time.
Whatever happened to poetry? Once a cornerstone of almost every culture, the presence of poetry seems to have been reduced to the recitation of lines in classrooms, except for the few that uphold this ancient, shape-shifting art form.
Professor David Mason is one of those people, arguing for the resurgence of poetry as something that is universally good. When expression of a thought or feeling is too difficult to articulate in other ways, poetry might just be the answer.
David is a writer and poet who recently gave a lecture at the University of Melbourne titled 'Turning to Voice: Poetry and the Public'.
Andi Horvath sat down to chat with him about the importance of poetry in our everyday lives.
David Mason
My name is David Mason. I grew up in the far Pacific Northwest of the United States but I belong in Tasmania and I belong with Chrissy on the five acres of land we are working and living on right now.
Andi Horvath
Now, you're going to read us a poem by Chrissy.
David Mason
Yeah.
Andi Horvath
Okay. Go for it.
David Mason
This is a poem she wrote in Oregon. We used to own a house on the Oregon coast, which is a lot like Tasmania. It's about a blue moon, which is when you have two full moons in the course of one month, and this is called 'August Moon'. One reason I love this poem is that it says something that I don't believe has ever been said before by any poet in any language:
August Moon
Grey-faced as worlds flow fast away
For worlds are done with every day, from minds hotwired to the sun
Her news is blue, her borrowed light softens the truth
The truth is night
Now, to me that's a perfect example of one of the things poetry does best, which is to shock us into a kind of renewed stance toward to the world and toward life. People will have to think quite a bit about what it means when you say the truth is night.
It might mean that you're saying the truth is something dark or depressive, but it might mean quite the opposite. That ambiguity, that lack of fundamentalist stance in poetry is one of the reasons this art form is important to the human species.
Andi Horvath
David, that was beautiful. You're right, poetry is open to interpretation, just like artworks.
David Mason
Yeah.
Andi Horvath
As different people get different things out of it, except this one is kind of like – I've got a definition of poetry for you. Let's see if the poet likes it.
David Mason
Sure.
Andi Horvath
From emotion to billboards in liquid language.
David Mason
In liquid language?
Andi Horvath
Yeah.
David Mason
Very interesting. I love liquidity. I love water and water is one of the fundamental elements that's important in everything I write and everything my wife writes as well. Liquid language, something that seems fluid, flowing, but also is the stuff of life. There's no life without water.
The great poet W. H. Auden says thousands have lived without love, not one without water. Water is life, there's no life on earth without water. Water is of the utmost importance. The species will die off without it; all species will die off without it. In that sense, poetry is associated with life.
By the way, the great mythological figure for poetry, Pegasus, the winged horse, has in its etymological route the word pêgê, which is the Greek word for a spring. The very thing, the tap or the spring that you get your water from is what this horse is named for. In myth, the horse was pawing the earth and where the horse was pawing the earth – depending on which version of the myth you've read, the different mountains in Greece – a spring came up and a source of water.
That may or may not be the spring around which the Muses gathered, the Muses being the daughters of Memory. So, memory, water, the flight of poetry, all of those things are mythologically associated. I think your definition is pretty good and a lot of…
Andi Horvath
Oh, thank you.
David Mason
It's also vague enough to be useful.
Andi Horvath
I did add onto the end of that, and it's meant to be shared.
DAVID MASON
Yeah. Yeah, absolutely.
ANDI HORVATH
Because poetry, it needs to be shared, needs to be public.
DAVID MASON
Yeah.
Andi Horvath
Now, David, tell us your various definitions of poetry or ones that you've liked.
David Mason
Well, there have been many. I mentioned Auden earlier. Auden said that poetry was a game of knowledge. He also said it was a reverent frivolity. It is an awareness of being alive in the world through the medium of language and I think that's the fundamental importance of it. It creates moments of honouring our being alive now and it connects us to other people's voices in past times. For example, if I quote a great anonymous poem that goes:
Western wind, when will thou blow?
The small rain down can rain
Christ, if my love were in my arms and I in my bed again
That's a song. There's a lovely melody for that song, you can find it on YouTube. It's a beautiful, beautiful piece of work. We don't know who wrote it, so it's by that great poet Anonymous. It's roughly 500 years old, and there it is, a human voice talking about the most elemental, the most important human experiences there are, being far from home wanting to get back home. There it is, there's the basis of the Odyssey of Homer. It's the basis of a great deal of literature in the world.
'Christ, if my love were in my arms and I in my bed again.' Wanting that intimacy, wanting that human connection, it doesn't get more profound than that. The fact that we don't know who wrote that poem is irrelevant. What we have is a human voice crossing time and speaking to us about experience that we all share. In that respect, I think a definition of poetry would be it's a voice. Auden says "all I have is a voice to undo the folded lie". He says that in 1 September 1939. I think that's an important aspect to the art.
Andi Horvath
Poetry seems to have disappeared from our lives. I don't remember really doing poetry, only at school. I don't hear it every day. What's happened to poetry?
David Mason
Well, in fact poetry hasn't disappeared. I'll address that in just a moment. Poetry is ubiquitous, it's everywhere, and I can give you several demonstrations of that. But one thing that does happen is that that formal art that we associate with poetry comes to seem distasteful to a lot of people, partly because education makes it distasteful. Education tends to turn it into something that's a bit like eating overcooked brussels sprouts; it's supposed to be good for you but it doesn't feel good, it doesn't taste good. So, a lot of young people turn away from it or lose interest in it. Or a lot of older people will remember that they were meant to get poems by heart, not necessarily poems that they liked or that they enjoyed. It was fed to them like the vegetable course they didn't really want to have, and that's just a social problem.
What those people come to understand if they're given an opportunity is that it's really not poetry they object to, it's something about their education they're objecting to.
Poetry is everywhere. It's in pop music, it's in rap and hip-hop, it's in folk song. Bob Dylan won the Nobel Prize in literature and I think that's a relatively coherent decision on the part of the Swedish academy. Poetry is in movies, television shows. It's really ubiquitous. There's in fact a website, the Academy of American Poets, where you can go and find a list of movies and TV shows in which poems are used.
I'm remembering a case in Woody Allen's movie 'Hannah and Her Sisters' in which Michael Caine is falling in love with his wife's sister, played by Barbara Hershey and their courtship is exemplified by a poem by E.E. Cummings that he asks her to read, and you hear this poem on voiceover in the movie. If you're sitting in a crowded theatre watching that film, you'll notice that the audience will just become quiet as that poem is being spoken, because it's an unaccountably beautiful poem.
It's a poem I can't really paraphrase; it's a poem of absolutely gorgeous language. "Somewhere I have never travelled gladly beyond any experience, your eyes have their silence", it goes. At some point, the poet says "I do not know what it is about you that opens and closes". Beautiful, beautiful language. That audience in a movie theatre may or may not be aware that they're listening to a poem from a book. It doesn't matter. What matters is that there's a quality of language that's happening in the room that creates a tension. It slows things down and makes people listen, especially when it's well performed. That's poetry.
Andi Horvath
So, it is everywhere around us?
David Mason
Yeah, it is. A great deal of the language you speak every day is in fact Shakespeare. There's a very high percentage of common phrases used on the street in Melbourne every day that are Shakespeare, straight out of Shakespeare's plays.
Andi Horvath
Will you share a poem with us?
David Mason
Okay. Here's an example of a poem – I'll see if I can remember it. My father descended into Alzheimer's and it was a terrible thing to see and I was also taking care of another Alzheimer's patient at that time in my life. It was a troubling number of years. After he died, I remember sitting in my office, a kind of sterile room in Colorado, with an avalanche of books piled up around me, and thinking to myself two things, thinking I hadn't written free verse in a while and I should try something in free verse, and also thinking that there were aspects of my father's decline that I'd always been afraid to write about. I said you'd better write about this, this thing that scares you.
I don't know why it scared me to write about it but it did. I ended up writing this poem relatively quickly and it ended up being published in the New Yorker and getting around the world quite a bit. It was a good lesson for me, learning that sometimes you have to write what you're afraid to write.
It's called Fathers and Sons:
Some things they say one should not write about
I tried to help my father comprehend the toilet
How one needs to undo one's belt
To slide one's trousers down and sit
But he stubbornly stood and would not bend his knees
I tried again to bend him toward the seat
And then I laughed at the absurdity
Fathers and sons
How he had wiped my bottom half a century ago
And how I would repay the favour if he would only sit
"Don't you!" he gripped me, trembling, searching for my eyes
"Don't you!"
But the word was lost to him
Somewhere a man of dignity would not be laughed at
He could not see it was only the crazy dance that made me laugh
Trying to make him sit when he wanted to stand
I'm not sure why I was so afraid to publish that poem, but it was necessary for me to try to write about the thing that I thought other people would find distasteful. That's a big lesson. You have to disarm the ego and be willing to risk saying what you're afraid to say.
Andi Horvath
There's something of relief for me in hearing that poem because I've been experiencing something very similar, in fact, identical, and I just – I appreciate the relief that someone else has that experience as well.
David Mason
Yeah. We live in a time right now where we're very sceptical about notions of human universality. We're so involved in our separateness, our identities, all that sort of thing, and that's all important, there's no denying it. But in truth, the arts do speak to forms of universality, which is why they travel the world, it's why they're ubiquitous, why they get around, why Yeats is read in Japan and India and why Shakespeare is everywhere.
Yeah. Chrissy just dipped into the studio and reminded me of this lovely moment, just about the time Macduff discovers that his wife and children have been killed by Macbeth's henchmen, when Malcolm says to him:
Give sorrow words, the grief that does not speak whispers the o'er-fraught heart and bids it break
Chrissy and I have talked about those words quite a bit as an essential aspect of poetry. Poetry is not just about griefs of course, it's also about joys. It's about goofiness, it's about play, it's about the anarchic spirit within all of us. But it does seem to give a kind of measured dignity to our griefs, and that's an important thing.
Andi Horvath
The comedy, the tragedy, the humanity.
David Mason
Yeah.
Andi Horvath
Let's make poetry more ubiquitous, even more ubiquitous.
David Mason
Yeah.
Andi Horvath
Let's bring it into the business world, let's open conferences with it. Let's have one at the door of the library. Now, you're on that exact mission.
David Mason
Yeah. Well, I'm giving a lecture tonight that's based on my years of experience as the Poet Laureate of Colorado, but I've always been interested in this interface. Why is it that sometimes isolated and very private lives of poets can come to be important in public moments.
It's a strange phenomenon, that is to say, one of the worries about having a Poet Laureate or being a Poet Laureate, is that one might trivialise the art, turn it into a sort of advertising, like advertising for a monarchy, for example, or advertising for the empire.
Sometimes Tennyson and Kipling are accused of excusing the dark side of the British Empire as poets, but that's not all Tennyson and Kipling were about. There's a lot more to them than that.
It strikes me that, at its best poetry, is about being alive to the world and alert to the world in ways that we too often forget. I think one line I would chisel on every building in America is "if you can bring nothing to this place but your carcass, keep out". Now, that's the end of a William Carlos Williams poem, which is called Dedication for a Plot of Ground. I quote that poem to my students and it sort of shocks them into awareness.
If you can bring nothing to this place but your carcass, keep out. What the hell are you doing here? So, what it does is it throws the onus back on the audience, back on the listener, the auditor of the poem, and says who are you, what are you going to do? How are you going to change your stance toward life? How are you going to look at things again, look at things anew?
The other aspect of it is that I'm not sure you can force poetry into the public. I'm not sure you can just decide as a matter of public policy that it's going to be everywhere. I'm not king of the world so my druthers are not going to be public policy. It creeps into the world in these strange ways. It comes out of small presses, it comes out of small voices. It comes from lives that are sometimes entirely neglected.
John Donne was a public man but he only published a couple of poems in his life, and there's hardly a more important lyric poet in the language. Emily Dickinson, one of the very greatest poets ever to write in English published I think fewer than seven poems in her lifetime, and the poems can be incredibly difficult and arcane. They can really make you wonder what the heck she means.
That's an important aspect of the art, that sometimes it doesn't come in a simple [superfacial] way. It asks you to think multiply, to identify meanings that you might have not been able to come up with by other means.
Yeah, make poetry public. I like the idea of the Laureate as somebody who's simply going around spreading the word, as something of a – spreading the gospel, as it were. But you have to do it with a sense of humour and with a sense of balance and a sense of proportion, understanding that you can't make other people love anything. This is something that I learned as a teacher.
In fact, I started something in America that's kind of wonderful in that a friend of mine named Dana Gioia, who ran the National Endowment for the Arts, picked up this idea and ran with it and started a program which is practised in many high schools all over America now where kids memorise and perform poems. It's called Poetry Out Loud. It's a great program that Dana devised, but it was an idea that he and I had been talking about for years.
I was teaching poetry in an institution where a great many of my students would tell me they just hated it, they'd always hated it. They'd sit there with their sullen looks and crossed arms saying there's no way in hell you're going to make me like this stuff. And so I finally learned that they're right, I can't make them like this stuff. What I can do is tell them that they will flunk if they don't memorise and recite 100 lines of it. Okay. I can say you can recite a dirty limerick, you can recite Mother Goose, you can recite whatever but you've got to recite 100 lines of verse or you will get an F in this class, you will flunk this class.
That has been the fundamental element in all my teaching for 30 years now and it's the best thing I've ever done as a teacher, because what it says is you don't have to love anything but you have to know what it is. You have to experience it. Many of those students who would tell me they hated poetry would come to me afterwards and say grudgingly, "well, that wasn't so bad, that was a good thing you made me do". I tell them they can get free beer in Ireland if they can recite a lot of poetry, right, so it's a useful thing.
Andi Horvath
In Ireland [laughs].
David Mason
Yeah. In Ireland, yeah.
Andi Horvath
Got to love that. More pubs should do that, I think.
David Mason
Yeah.
Andi Horvath
More Irish pubs out there, come on, beer for poetry. Love it. Now, David, tell me about your inspirations. I know this is probably a question you get a lot but tell me about the process of inspiration. Also, I've noticed an obsession in your poetry, because I've had a scan of them and I keep seeing recurring motifs of the water, the shore, the sea, salt, that sort of thing. Am I onto you?
David Mason
You're onto me. Yeah, though my father grew up far inland in Trinidad, Colorado on the New Mexican border, and my mother grew up in Colorado as well. They met on the Pacific in World War II, and I grew up on the Pacific, specifically an arm of the Pacific Ocean in the far northwest, very close to Vancouver BC, a place called the Puget Sound, which happens to be at a latitude north, very close the latitude south of Tasmania, and it happens to resemble Tasmania quite a bit so I'm quite at home in Tasmania, just as I was at home growing up in the northwest.
I respond to landscape and weather, kind of the way werewolves respond to the moon. There's some kind of absolute, blood deep response to what's around me. That's been the case all my life. So, that is the source of my inspiration: place, atmosphere, weather, where I am, and also human voices. I remember my parents reading aloud to me and I remember taking language in as a voice, as a series of voices, and always responding as a voice.
I've also been thinking a lot lately that my name, Mason, is in some sense a response or indicative of, a metaphor for the way I write poems, that is to say a mason is not just someone who puts one brick on top of another or one stone on top of another. A mason is actually paying a great deal of attention to the material itself. Particularly if you work with stone, you are really looking at the shapes of stones around you all the time, and picking them up, weighing them, studying them, thinking about whether they'll fit with another stone or not.
To me, working with words is a lot like that. Not as a mechanical process but as a process of observation and a kind of physical association, rubbing one thing up against another and seeing what happens. I would say that when you're working, when you're in the midst of writing something, very, very often you're not conscious so much of a purpose or a destination in what you're doing, you're just aware of what happens when one word touches another word and where it might lead. Very often it might be a rhyme or a sound that's leading the hand as much as anything else.
Andi Horvath
My elderly parents went into aged care recently, and the one book my mother took on the first day in was a poetry book, and I do remember this poetry book because she used to read poetry out loud before I went to school as a kid. There were some poems I even remember the one line to because they made me giggle or laugh, it was about a fly hitting a wall, and that sort of thing.
So, should poetry be out aloud, and I also think it needs to be shared, but I'm also thinking, and you've inspired me, poetry is kind of therapy.
David Mason
Yeah. Oh yeah. It's very – I think the arts are very therapeutic. The process of making art is a therapeutic process. There's something about the way it unites the hemispheres of the brain, there's something about the way it creates a form of attention, close attention to the world and attention to the medium you're working in. Shakespeare says, "my nature is subdued to what it works in, like the dyer's hand".
Well, if your nature is subdued to the medium it's working in then you are deeply involved, you're deeply attentive. What can happen – this is something the poet Robert Graves noticed, he was very big on the idea of the trance state – what can happen is what's called a hypnogogic trance where you're so attentive to things that you forget time passing. What's happening there is that you are experiencing a unity of being, a unity of self, which is not self-conscious, it's not ego conscious, and there's something like a salve, like a balm that comes onto one's spirit when one experiences that.
It's partly why the creative experience is addictive, I think. We need it, we want it, we desire it. We want to get back to that place where we were self-forgetful, like being in the midst of a dance. If you're thinking about yourself when you're dancing you're not going to dance very well. If you lose self-consciousness, you're going to be involved in the dance, and that's important.
Andi Horvath
What's your take-home message or what would you like us to think about next time we stumble across a poem or we're aware that what we've heard was poetic?
David Mason
Well, if you stumble across something and you think it's interesting, then I would say what is it that made you interested in that moment. The same thing that would happen if you see anything out in the world and you suddenly think, that's interesting. It might be that it's a line that feels memorable.
I'm suddenly thinking of two lines by William Butler Yeats, "many times man lives and dies between his two eternities, that of race and that of'", I think "soul", something like that. He's talking about birth and death. So, between the two eternities there are many times you live and die. Now, that is important to me because it's important to know when I feel like I'm dying, when I feel like I can't live through this, I can't survive this, that I will be born again, I will live again, that one goes through these things in life all the time, especially if one is reasonably alive and aware and willing to grow, willing to die, like sloughing off one's skin and finding another.
Andi Horvath
Renewal.
David Mason
Renewal, yeah. Now, what I've done there is I've just given an example of some lines that floated into my head that grabbed my attention. Lines can come from any place and they may be from a poem. They may be particularly poetic lines that are not necessarily from a poem, they might be something you read on the street or something you heard on a television program or in a pop song or something else, and you suddenly fixate on that line, that turn of phrase. That experience is an experience you want to hang onto in life. That's one of the moments when language is helping you. One thing, one aspect of poetry is that it is really language for living. It really is.
There's a way in which my profession, the academic teaching profession, has done a little bit of damage to the art by suggesting that somehow or another we need to think of it entirely as an intellectual process. Sometimes the words are just beautiful words and you really want to just carry them around and sing them even.
I used to work in unloading ships in Alaska when I was young or I worked as a gardener in upstate New York for a while and working alone in strange places, very, very often lines from poems would just float into my head and I would make up tunes for them, I would make songs for them and I would sing them out loud to my own little tunes. Well, that's a way of carrying the art and making it your own.
I've known a Scottish immigrant with the equivalent of a grade eight education who had hundreds of Scottish poems by heart, a man who moved to America at the age of 42 and died at the age of 84 in Cleveland, Ohio. Whenever – in his eighties, when he used the word home, he meant Scotland, he didn't mean Cleveland. Well, poetry was his country, his home that he carried with him. They weren't always great poems. Sometimes they were poems from tea towels in his mother's house or silly little ditties or children's poems, sometimes they were Bobbie Burns' poems, but this was a way of carrying his culture, carrying his language.
It's utterly portable, and that's an important aspect of the art. It's something you can carry in your head, you can carry in your heart, and it comes in handy. It's not just that a poem might speak to a specific occasion, but it's also that sometimes just being able to say beautiful words, to put beautiful words together, is a way of moving through time and living your life and holding onto your life more valuably.
Andi Horvath
Professor David Mason, thank you for your beautiful words.
David Mason
Thank you.
Andi Horvath
Before I let you go out of the studio, sitting here on our desk here is a book by yourself, David Mason, 'The Sound'.
David Mason
Yeah. Well, this is a new and selected poems. This represents from my point of view perhaps the best work I've done in shorter forms over the last 40 years. The book of mine that's best known in America is actually a novel in verse called 'Ludlow', a historical novel, but these are generally shorter poems. There's one long narrative poem in the book and a few shorter narrative poems, but on the whole, these are lyric poems.
'The Sound' is the title of one of the poems. It refers of course to the Puget Sound, where I grew up, but the sound is also what Robert Frost called "the gold in the ore". The sound is this kind of feeling one has when one works in the medium of words that one is pursuing a sound, one is hoping to make a sound that matches the sound you've always loved all your life. It's a way of coming to the art through music, through the auditory imagination.
Andi Horvath
Will you leave us with a poem from 'The Sound'?
David Mason
Sure. I'll tell you what, I'll give you a little love poem for my wife. This is a poem called 'The Soul Fox'.
I wrote this poem in Colorado. She had just seen a fox out the back window of our cabin one October evening with snow on the ground and she was grieving, missing Australia, and grieving other things about being in America. So I wrote her this poem:
My love, the fox is in the yard
The snow will bear its print a while, then melt and go
But we who saw his way of finding out, his night of seeking
Know what we have seen and are the better for it
Write
Let the white page bear the mark
Then melt with joy upon the dark
Andi Horvath
Beautiful. Thank you so much, Professor David Mason.
David Mason
Thank you, Andi, it's been a pleasure.
Chris Hatzis
Thanks to Professor David Mason, and his wife Chrissy. And thanks to our reporter Dr Andi Horvath.
Eavesdrop on Experts - stories of inspiration and insights - was made possible by the University of Melbourne. This episode was recorded on September 17, 2018.
You'll find a full transcript on the Pursuit website.
Audio engineering by me, Chris Hatzis. Co-production - Dr Andi Horvath and Silvi Vann-Wall.
Eavesdrop on Experts is licensed under Creative Commons, Copyright 2018, the University of Melbourne.
If you enjoyed this podcast, drop us a review on iTunes, and check out the rest of the Eavesdrop episodes in our archive.
I'm Chris Hatzis, producer and editor. Join us again next time for another Eavesdrop on Experts.
"Just being able to say beautiful words, to put beautiful words together, is a way of moving through time and living your life and holding onto your life more valuably."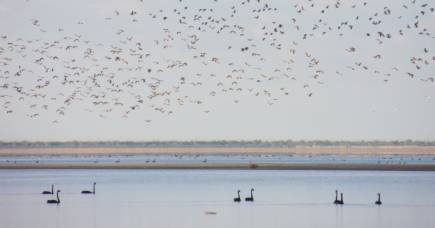 Professor David Mason, former Poet Laureate of Colorado, on why poetry is so ubiquitous and important.
Episode recorded: September 17, 2018
Interviewer: Dr Andi Horvath
Producer and editor: Chris Hatzis
Co-production: Dr Andi Horvath and Silvi Vann-Wall
Banner image: Taylor Ann Wright
Subscribe to Eavesdrop on Experts through iTunes, SoundCloud or RSS.