Rise of the robots
More than half of all existing jobs will be automated within 20 years - but is this a threat or an opportunity?
Glyn Davis
G'day, I'm Glyn Davis, and welcome to the Policy Shop, a place where we think about policy choices.
Male 1
In the world that we are creating very quickly, we're going to see more and more things that look like science fiction, and fewer and fewer things that look like jobs. Our cars are very quickly going to start driving themselves, which means we're going to need fewer truck drivers. We're going to hook Siri up to Watson and use that to automate a lot of the work that's currently done by customer service reps and trouble shooters and diagnosers, and we're already taking R2D2, painting him orange, and putting him to work carrying shelves around warehouses, which means we need a lot fewer people to be walking up and down those aisles.
Male 2
What happens to people who simply can't acquire or don't have the skills that are going to be needed in the new economy?
Male 3
Well what is going to happen to them?
Male 2
We're going to see much worse income inequality and unless we take some humanitarian actions, the truth is they're going to starve and live in poverty.
Male 4
Technology is always creating jobs, it's always destroying jobs, but right now the pace is accelerating, it's faster we think than ever before in history, so, as a consequence, we are not creating jobs at the same pace that we need to.
Male 2
And we ain't seen nothing yet.
Glyn Davis
The world of work is changing fast. Economists predict that in coming years many traditional jobs and trades will be rendered obsolete - the result of automation and robotics. Some estimates suggested 45 per cent of workers currently perform tasks that will be automated in the near future. As this trend gathers pace, more than half existing jobs will disappear, and in Australia, that means up to five million lost jobs.
This is no distant prospect - it's happening now. The long slow decline in manufacturing across Australia sees traditional factory jobs now well below 10 per cent of the workforce. As the last car factories close, there seems little prospect of a revival in manufacturing employment. Automation is now moving into other areas, changing forever the familiar patterns of employment.
So joining us on the line, to discuss what the future of work might look like, is Andrew Charlton. Andrew was a senior economic advisor to the Prime Minister from 2008; he received his Doctorate in Economics from Oxford University, where he studied as a Rhodes Scholar. Andrew is now director at AlphaBeta, a strategic advisory business he co-founded. From Sydney, welcome Andrew.
Andrew Charlton
Good evening Glyn.
Glyn Davis
Also joining us today on the line is Pippa Malmgren. Pippa served as a financial market advisor to President George W. Bush, and on the National Economic Council from 2001. She's a co-founder of H Robotics which manufactures commercial drones, and she runs DRPM Group which provides institutional investors with advice on politics, policy and geopolitics. From London, welcome Pippa.
Pippa Malmgren
Thank you. Thank you for having me.
Glyn Davis
Pippa, can you explain a little bit about automation and how it's affecting different industries around the world?
Pippa Malmgren
Well, automation is simply the process of having machines take over physical functions from human beings. Although these days, artificial intelligence means that it's not just physical functions, it's also computer based sort of filing functions as well. The bottom line is that actually I'm not so sure that automation is a brand new thing. I mean we've been automating when we invented trains, and so that was a more automotive process than going from A to B in a horse and carriage.
But the speed at which automation is occurring, and the breadth of things affected by it, is certainly greater today than ever before.
Glyn Davis
Andrew your consultancy, AlphaBeta, recently published a report on automation; can you tell us what the report says about how automation is changing the way we work?
Andrew Charlton
Sure. Our report looked at automation from the perspective of every one of the 20 billion hours in Australia's economy, breaking down those hours not just by what jobs they composed of, but what tasks they composed of, and seeing how those tasks are dropping out of the Australian economy over time.
We found a rapid rate of change; every Australian, on average, is losing about two hours of tasks per week to machines over each 15 year period, which is quite a lot of change when you think about it over the entire economy.
The nature of that change is that the most physical routine and manual types of tasks are being replaced by machine and humans are focussing on more interpersonal, creative and cognitive tasks. You see that in banks, with automatic teller machines taking out cash processing, and the workers in retail banking focussing on financial advice and interacting with customers. You see it in supermarkets, with automated check-outs and customers now spending more time helping consumers. So the way we do our jobs is changing, not just some jobs but every job.
Glyn Davis
Pippa talked about the long history behind automation and indeed the fear that humans will be made redundant has been expressed many times before, during the Industrial Revolution, textile workers, and most famously the Luddites, protested against the introduction of the steam engine for fear that they would take jobs. Yet in the past technology has always ended up creating more jobs than it destroys. Should we be comforted by these past experiences or is this different in kind? Pippa?
Pippa Malmgren
Well I think that actually we should not be that nervous. I mean we have more people on the planet today than ever before, and we have more people in employment, levels of prosperity have been generally rising and longevity has generally been increasing. So clearly, the world economy is accommodating and making place for more people over time. I think the important thing is the economy is a constantly changing fluid thing; I grew up surfing and I know in Australia everybody loves surfing, and it's like surfing.
It's not a fixed thing; you can't choose I'm going to do this with my career and then that's it - you work in one place for 35 years and that's the end of it. That happened in 50s and the 60s maybe, but it's just no longer the way things are; you're going to have to move and change. My personal view is actually this is a gift, it's a blessing, I mean who wants to work in one place doing one job for 35 years - how boring is that?
What we're going to have now is a world with much more flexibility, with permanent lifetime learning. It's a wonderful thing that we're going to be able to free human beings from having to do the sort of stupid end of manual labour. I mean all the people in the world economy who are lifting boxes, think of the loss of intellectual capital. Now we don't think of people lifting boxes in India or China as having any intellectual capital, but that's crazy - every human being has immense latent talent and capability. We simply aren't providing enough investment, of whatever kind, to be able to bring out whatever great capabilities those people have.
I mean who knows who the next Steve Jobs is? Everybody forgets his father was a Syrian immigrant who came to the US with nothing and probably was a guy lifting boxes before that. This is really a critical point; we are about to free an immense amount of human capital because it won't have to do the manual labour.
Now will we have to work hard to find ways to draw that latent talent out? Sure, but we're doing that anyway. So I'm very optimistic that we're going to get a much better outcome from a world that has more automation and I would go further and say that the new jobs that are going to be created are going to be much more interesting, they're going to demand human skills that no robot can replicate, and it just requires more creative thinking about what our future will hold.
Glyn Davis
A recent study said that just 0.5 per cent, half of one per cent of American workers are employed in the new industries, the industries that have emerged since 2000, particularly around IT, so that's what's triggering the concern about a jobless future even for people who do expect to have lots of different careers and lots of training. Should we be concerned that we actually have to think about a world without employment, rather than a world in which employment is different?
Pippa Malmgren
I totally disagree with that number, and I'll give you an example as to why it's wrong. It assumes that a person employed in this new high-tech IT sector is pretty much the kid who went to Stanford or Berkley and has a PhD, but it doesn't take account of a woman I wrote about in my book, Signals, called Jenny Doan, who is probably about 60 now and she runs a fantastic business in Missouri where she teaches people how to make quilts, right - quilts, old-fashioned quilts like you throw over the bed.
She is so successful in this, she gets 400 visitors a day to the remote part of Missouri where she lives - she gets more hits on YouTube than most music bands, right - she's got a massive following. What is she all about; she's all about using computer modelling to aid the process of cutting out the shapes, which is the hardest part of quilting, and nobody describes Jenny Doan as running a high-tech robotic automation company, but that is exactly what she's doing.
There are millions of women around the world who are designing clothing patterns online and they're selling them, you download them for a few dollars here and there, and it's a small craft business - some of these women are only generating $500 a year, it's a side business, it generates a little cash on the side.
Now nobody describes them as high tech, but that is what they are. So we're counting the number wrong; the fact is almost everything that we can deliver over the Internet, one way or the other, is connected to this process of using automation and artificial intelligence. So it's not just Google, it's not just Facebook, it's not just Tesla and the things that the press write about - it's actually pretty everything.
Glyn Davis
Andrew do you worry about a jobless future?
Andrew Charlton
Not unless you have a very static definition of jobs. Now certainly many of the things we do today, we won't be doing in the future, but we'll be doing lots of exciting new things in the future. I share Pippa's optimism and her view of the long arc of history; I think we are on the cusp of an enormous opportunity to make work much more rewarding, meaningful and enriching for humans, and we're letting the type of work that is best done by machine, that dirty, dangerous and dull work, and we're leaving that to be done by machine. It's an opportunity, not necessarily to destroy work, but to make work more human.
Glyn Davis
Automation may mean that rich countries do not have to rely on the labour provided by developing nations, the cheap goods made by low-wage workers; do you think automation might deny poor countries the opportunity for economic development through the industrialisation that's been the standard pathway today?
Andrew Charlton
I think it has two effects. Firstly, there is the possibility that automation, particularly in industries like manufacturing, mean that those industries are less labour-intensive, they require less workers, and as a consequence the motivation to place those factories in countries where labour is cheap declines, and we're already seeing some of the repatriation of manufacturing from low-wage countries back to higher-wage countries as automation becomes a more important part of the manufacturing process. So that's certainly true.
But the other part, the other channel of causation, is that all of these technologies are enabling information to flow more freely across countries and that is enabling more rapid diffusion of information, more rapid diffusion of technologies and, in many ways, helping the rate of catch-up in much of the developing world.
Glyn Davis
So I'd like to now just pursue the question of automation and the working class, because recently Nobel Laureate, Sir Angus Deaton, on this podcast, spoke to us about his research on the rising death rate of working class middle-aged Americans, and I'd like to play just a short clip that he gave us on the changing nature of work.
Sir Angus Deaton
Globalisation and technical change is making life very hard for people, you know you could think somebody with a high school degree, graduated in 1970, went to work for General Motors or as someone said the other day, went to work for Generous Motors, they got a really pretty good salary, they got an increase every year, and they belonged to the unions. The union may not have been the most pleasant bunch of guys in the world, but they gave some real political power to the working class.
Glyn Davis
And job security, yeah.
Angus Deaton
And job security - and pay rises year after year. So these people could hope for a real middle-class life, and that has sort of gone.
Glyn Davis
Pippa, one of President Trump's central campaign promises was to bring millions of manufacturing jobs back to the US, but that doesn't seem likely in the scenarios we've discussed.
Pippa Malmgren
Well, I would take issue with that; what we do see is, as Andrew rightly points out, repatriation of manufacturing to the United States. So, for example, the company that makes all our iPhones, it's called Foxconn, it's the second largest employer in China, a Taiwanese company that employs 1.2 million Chinese people, and they've just announced that they're building a production facility in Wisconsin. Now when Wisconsin is a more attractive place to make iPhones than Shenzhen, something big is happening in the world economy. It is true that the number of the people that will be employed in Wisconsin will be far less than in Shenzhen.
So the question is: what do we do about new jobs, and my answer is we go back to the iPhone, where did it come from? It came from Steve Jobs, a teenager in his garage - that is where innovation occurs. Everybody thinks you have to have big money and you have to have a big company, but the fact is most innovation is created by firms that employ less than 10 people and some kid in a garage or working off the kitchen table.
Now, by proviso to my optimism, is the one thing that we must do in order to ensure that we don't end up with a completely unemployed working class, as Angus Deaton put it, is we have to equip everybody with the skill to innovate. Now specifically what I think we have to do is put, what an American would call shop-class, back in the school system. This is the class where you learn how to build an engine, how to weld metal, how to make the toaster work when it's broken, how to work with physical things, and this is not a small thing.
I mean we assume that people have to go to university and follow a track that takes them to a white-collared job and that that's the only path to success and it's the only path to Silicon Valley. That is not true. We can have a world where people are innovators and inventors themselves, but we have to equip them with the tools, and one of the biggest problems today is that the automation process makes it harder to access that.
So I think that the key thing is to stop thinking that a university degree is the only avenue to success and the only thing we treat with respect and instead let's go back and put practical skills in people's hands, because we'll get many more Steve Jobs, they will create the next iPhone…
Glyn Davis
Andrew, can I seek an Australian perspective on this; manufacturing in this country has shrunk from 12 per cent a year ago to just over 6 per cent, and particularly the car manufacturing industry has been very hard hit. Are we at risk of producing a generation who don't have the skills or the education for the jobs they aspire to, and haven't had the advantage of what Pippa just called shop-class?
Andrew Charlton
The Australian labour market has been extremely dynamic over the last 25 years; we have lost 100,000 machinery operated jobs in that time. We've lost nearly 400,000 labourers, 250,000 jobs from the technicians and trades. There's been an enormous loss of that type of blue-collar job, but there's also been an explosion of other types of jobs; we've gained nearly half a million jobs in community and personal services over the same time.
So there is a lot of churn but new jobs being created, and the important thing for the education system is to say are we matching the skills that young people are requiring in education with the skills that they're going to require in the future?
If you think about a young person in primary school today, they're going to spend most of their career in the second half of the 21st Century; has our system of education sufficiently changed to equip them with the skills they're going to require? I think it's a question that we really have to grapple with.
Glyn Davis
It's fascinating, you're right, to think about whether we could predict the skills required in the second half of the 21st Century; I think it would be hubris to suggest we'd know the content to teach, but we probably know something about the core skills required - they're things like analysis, logic, problem solving, ability to master new fields quickly, and curiously they're also the traditional attributes of a liberal education.
I'd like to turn briefly to the field of robotics, if we may. Robots and computers of course are becoming increasingly shrewd; Economists Eric Brynjolfsson and Andrew McAfee have argued that computers are so dextrous now, that predicting their application 10 years from now is almost impossible. Pippa, having founded a robotics company, can you tell us how close robots are to being able to replicate human behaviour, and are we all about to be replaced?
Pippa Malmgren
[Laughs] I don't see them replicating human behaviour or replacing human beings during my lifetime. It's interesting as a manufacturer of commercial drones - so aerial robots, I find the gap between what people think they can do and what they can actually do is just a mile-wide.
They are able to do things that we haven't been able to do before; they can give us an aerial view that helps, for example, in the mining industry - we solve many, many problems in the mining industry by having an aerial view. How much fluid is in the run-off dam, which is usually toxic and highly controlled by governments - it's important to know what's the volume and what's the shape of the basin underneath. We can do this using an overhead drone.
We can tell you what's the value of your mine based on a topographical analysis; literally we look at the pile of dirt you've pulled out of the mine, and we can you what's the value of the mine, depending on what you're mining. Now all that's great, but what it can't do is solve the problem just because it exists. It's a human that's using it that is able to take the tool to find a solution.
Another thing is people think that drones and aerial robots, that they have independent intelligence and you often will see them flying in swarms when you look at YouTube videos. But what you don't notice is that it's inside four walls where you have an incredible amount of computing power - this doesn't happen out in the natural environment. So the gap again between what you can do in certain environments and others, is just huge.
I just think it's important to remember that our imagination and what's actually happening are two very different things, so we may over-estimate the ability of automation and robotics to entirely replace the human function. Again I'd come back to the great writers on the subject, who are like yeah, what they can't do is invent. They can't innovate - they can't judge a landscape that isn't linear. It's a mathematical tool basically. Whatever you program into it, it will just do it, but you change the environment and that thing will literally hit the wall, and then it's no good to you [laughs].
Glyn Davis
Andrew, robotics in Australia - are these an emerging and important part of our economy?
Andrew Charlton
Slower than other countries; Australian firms are embracing some of these technologies, but certainly at a slower rate. Nine per cent of Australia's largest companies are engaging in automation and that's about half the rate of some of the global peers, including the United States.
The mining industry in Australia is one of the industries that is at the forefront, but there are certainly many other industries which are lagging behind in terms of our adoption of robotics and artificial intelligence, and this is an important question. These technologies are, first and foremost, are positive productivity shock and they will, amongst other things, determine the competitiveness of Australia's industries into the future.
So this is a debate that has been substantially shrouded in a narrative of job loss and fear and concern, but we need to get some balance into that debate to think about the opportunities in these technologies as well as the risks. That is not to minimise the transitional challenge. That is not at all to say that it's not very difficult for the workers displaced by these technologies. Australia and most other countries do not have a very good record of transitioning workers affected by economic disruption. Over the last quarter Century, I think one in 10 unskilled men who lost their jobs never returned to the labour force, and today nearly one in four unskilled men don't participate in the labour force.
So these big economic shocks are not costless for everyone, and Pippa and I have both been very positive about the future and I think that's right, but we need to remember that for individuals affected, there are significant challenges, and those challenges need to managed and supported.
Pippa Malmgren
I totally agree with that and I think, so more than anything, it's not an education change that's required, as much as an attitude change. This idea that we're going to have to constantly change our skillset, adopt new technologies and embrace them.
One piece of this, I just wanted to emphasise, was we often think in terms of humans versus robots, but it isn't going to be humans versus robots because humans are becoming more robotic every single day. As we age, we're going to find they replace our hip, or they replace our knee - not just with a spare but with a robotic, automated spare part, one that, by the way, will be identical to your own bone tissue because it will have been 3D printed based on your own bone that they took out.
More and more we're taking robotics in order to do internal surgeries. There was a fascinating robot developed the other day which you ingest, you swallow it and it can actually conduct surgeries on you from the inside. It can stay in you to monitor if events occur that require an emergency surgery, as you're walking down the street. I love the saying by Mark Twain that the eyes can't see clearly if the imagination is out of focus, and I think that's exactly what we're going to have to do.
So Elon Musk has got this new company where he will be implanting electrodes directly into human brains, terrifying as that sounds, and what it will do is permit us to be able to interface directly with the Internet without needing a phone or a screen or any kind of physical mechanism. That is an entirely different world than the one we live in today. So I challenge people to draw the line between what is robotic and what is human, as humans become far more robotic, physically, mentally, in every aspect, and similarly we will be injecting robots with more and more human qualities.
Now, I don't think that they will be qualities that permit them to think differently than humans - they'll think the way we program them to, but this does raise interesting questions about where is the line? I mean I hate to go into this space, but they're developing sex toys that are basically humanoid, and one of the big moral debates that's broken out is some of the Japanese-made sex toys have a - you know they're programmed, you can have Program 1, Program 2.
One of the programs is a rape function that a woman could program a male robot to rape her. Then what happens if you end up in a room with this thing by accident? We have so many moral issues and so many societal issues that arise from this merging between what is robotic and what is human.
Glyn Davis
You mentioned Elon Musk and I'd like to pursue that slightly. Elon Musk spoke recently about the impact of automation and argued the case for a universal basic income as a necessary response. Pippa, as an economist, what do you think of the universal basic income idea as a policy response to potential wide-spread unemployment?
Pippa Malmgren
Well first of all, I don't think we're going to have potential widespread unemployment, and brilliant as Elon Musk is, I also think he is not appreciating the new jobs, and new functions, that will come to life as automation advances.
But also I think it's not really a matter of providing a universal basic income, it is how to get government to provide services more efficiently than it does today. I mean we live in a world today where governments are mainly deeply indebted, if not entirely broke, and telling their citizens I'm really sorry but I know I promised you could retire at 55 or 65, but now I can't afford that anymore, and your pension fund is underfunded, so the new retirement age in practice is 93, right, which everybody sort of knows that there's a problem here.
So could automation help governments get their act together so they are in better financial shape, and therefore can deliver more services to their citizens, which would eliminate the need for a universal basic income, that would provide more - and frankly you know that needs to happen with automation or without it, but I think that automation is part of the solution.
I mean the way governments operate today, they literally run the business of government using pieces of paper - it's insane what the cost is to government of administering the tax system of the economy.
That could all be automated, but again everything I'm saying is premised on the idea that a human being has to change; they're going to have to be willing to say I used to be an auditor and now I write poetry, which there's a demand for because I sell it on the Internet and people pay me money for it. You're going to have to find what is your new metier as you lose your old one.
Glyn Davis
So Andrew, your report says that Australia needs a bold and proactive policy approach to automation; what do you have in mind?
Andrew Charlton
Well, two things. First of all, we need to shift mindset away from seeing these technologies as primarily threats to jobs, and seeing them as opportunities - opportunities to improve the type of work that we do, to improve the competitiveness of our industries, to create new jobs that are more meaningful, more valuable, more stimulating than the jobs we have today.
Secondly, we need to recognise that there are transitional challenges and we need to prepare the workforce, the current workforce and the future workforce, to adapt and thrive and seize those opportunities. If we do both of those things then automation and artificial intelligence are a huge opportunity for Australia, and one that we really have to seize.
Glyn Davis
Pippa, if I may ask, you're a former advisor to the President of the United States, so what policy strategy about the future of work would you offer the current President?
Pippa Malmgren
Well to be honest, I think people put more credit in the Oval Office being able to fix things than it deserves, regardless of who the President is. I would say this, what we've got to do is number one, get that shop-class back into the schools, back into kids' hands so that we can get a generation that is comfortable with the idea of innovating.
Two, when people ask the question, of any age, what am I going to do when I grow up - which by the way my dad, who is 80, he asked me this question too right, because actually his opportunities to do new interesting things are so much greater today because of the Internet, because of automation and AI. The answer to the question is many, many things; no-one should ever say to anyone you have to pick a job or even pick a career. What you have to do is become capable of doing many things in the course of your life and I think this is an incredible gift, but it's an attitude change.
Third, I think that government can reform the school systems in such a way that we stop focussing on memorisation and passing tests, and instead we focus on how to create, how to adapt, how to become faster at changing ourselves, how to learn new stuff quicker because now we've got life-time education. Like I said, if you're a 50 year old today, chances are you're going to live another 50 years, and the idea that you're just going to sit there doing the same thing you're doing today, is just - well frankly it's going to be very boring for you.
I would get with the program, learn about technology and enter this entirely new world, where you can reach out to the entire of humanity and deliver. So I think these are the things that need to change - not all of them are government driven, a lot of it is just ourselves; we need to change our attitude and we'll get a better outcome.
Glyn Davis
Compelling advice. Thank you. And my thanks to our guests today, Pippa Malmgren, Economist, Advisor and Co-founder of H Robotics. Thank you Pippa.
Pippa Malmgren
Thank you.
Glyn Davis
And thanks to Andrew Charlton, Economist, Advisor, Director at AlphaBeta Advisors.
Andrew Charlton
Thanks Glyn.
Glyn Davis
And thank you for listening to the Policy Shop.
Voiceover
Long before podcasting was hip, our sister podcast Up Close was flying the flag for the University of Melbourne. Check it and our other podcasts out at pursuit.unimelb.edu.au.
This episode of the Policy Shop was produced by Eoin Hahessy and Ruby Schwartz, with audio engineering by Gavin Nebauer.
Copyright the University of Melbourne, 2017.
The world of work is changing - fast.
Economists predict that in the coming years, many traditional jobs and trades will be rendered obsolete as a result of automation and robotics.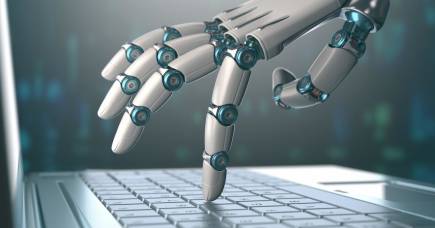 Estimates show that around 45 per cent of workers currently perform tasks that could be automated in the near future. As the trend gathers pace, more than half of all existing jobs will be automated within 20 years.
For Australia, this means up to 5 million jobs lost.
To discuss what the future of work might look like, former economic advisor to President Bush and President Obama and co-founder of H-Robotics, Dr Pippa Malmgren, and former advisor to the Prime Minister and director of AlphaBeta consultancy, Dr Andrew Charlton join the host, Professor Glyn Davis, Vice-Chancellor of the University of Melbourne.
Episode recorded: 16 August 2017
The Policy Shop producers: Ruby Schwartz and Eoin Hahessy
Audio engineer: Gavin Nebauer
Banner image: Wikimedia Commons/The Johns Hopkins University Applied Physics Laboratory (JHU/APL)