Smashing through science's glass ceiling
From a schoolgirl who studied science to meet boys, Professor Frances Separovic became the first female chemistry professor in Victoria. Now she champions young women in science
Chris Hatzis
Eavesdrop on Experts, a podcast about stories of inspiration and insights. It's where expert types obsess, confess and profess. I'm Chris Hatzis, let's eavesdrop on experts changing the world - one lecture, one experiment, one interview at a time.
Professor Frances Separovic is a biophysical chemist and Deputy Director at Bio21, the Molecular Science and Biotechnology Institute at the Faculty of Science, University of Melbourne. She's been a pioneer and trailblazer for women in STEM, and recently the International Union of Pure and Applied Chemistry awarded her one of 2017's 12 Distinguished Women In Chemistry Or Chemical Engineering, as part of International Women's Day this year.
The word 'first' features prominently in Frances' life. First woman to be Associate Professor and Reader in Chemistry at the University of Melbourne. First female Professor in Chemistry in Victoria. First female chemist to become a member of the Australian Academy of Science. First female Head of the School of Chemistry at the University of Melbourne. And trust me, the list definitely doesn't stop there.
Professor Frances Separovic sat down with our reporter Dr Andi Horvath to chat about her passion for science and to talk about, amongst other things, biophysical chemistry, Broken Hill and boys...
Andi Horvath
Take us back to when Francis was at school. What were you like? Were you always into science?
Frances Separovic
No, I wasn't and that's the thing that - I was into everything except sports. So I was a migrant child and I just read everything because I wanted to be the same as the other kids. When I got interested in science, it was when I was going from Year 6 to - what was then Year 1 high school, right, Year 7, and I bought the Messel textbook and I read the whole thing over the summer and I thought it was wonderful.
But the real reason I did science, there was more boys in that class. My parents wouldn't let me go out with boys when I was older, right until 18 and so this was one way I could get to meet boys and I got a lot of attention. I was the only girl in both the physics and the maths class.
Andi Horvath
Way to go, Frances; so you did it for social reasons. But no doubt, it captured you because you continued on in science. You chose to go to university and study science?
Frances Separovic
I chose to do physics, maths and philosophy at the University of Sydney, but I dropped out after three months.
Andi Horvath
How come?
Frances Separovic
I think it was a big change going from Broken Hill where I knew almost - knew the people who mattered, right? You knew everybody. Then I came to Sydney and it wasn't what I expected. I went to university and I was lost and I didn't know anybody and the other thing was too because I did advanced maths and physics and they got me to do Year 1 and Year 2 university at school, right, so when I went to uni it was kind of boring.
Not only was it socially not very exciting, I mean the work was just what I'd already done, so I dropped out after three months joined the CSIRO. But again, by accident, I decided I didn't want to be a hairdresser and they were looking for somebody to - it was called a junior technical assistant, but basically it was washing up in the microbiology lab and I joined CSIRO.
Andi Horvath
So there you are as a lab technician, washing stuff. What happened then?
Frances Separovic
I was very good at washing stuff and so I used to finish by lunchtime and then I went to help in different labs. What really got me motivated to study, it wasn't so much the work in the labs, as I had a child and I realised 'I'm a single mum and I'm not going to go very far without an education'.
So I had to work hard now because I dropped out of Uni. So I did a TAFE course in biology; Biology Technician Certificate. I did that and then it was wonderful. I got a technical officer's salary so I was rolling in money now [laughs]. So I was getting better and better at the microbiology side of things and there was a new person starting and he was doing NMR; nuclear magnetic resonance. I didn't know what that was either, but the people realised that I liked maths and physics and they encouraged me to go to this other lab and apply for a job still in CSIRO.
I got it because I acted very interested in NMR despite not knowing really what it was and I ended up loving NMR, I really did.
Andi Horvath
Give us a little cook's tour of what NMR is.
Frances Separovic
Well, most people know about magnetic resonance imaging; MRI. But that really developed from NMR. NMR is nuclear magnetic resonance, but they dropped the nuclear term because people think that means radioactive, right, so you just call it magnetic resonance imaging. But it's based on the same principle and in MRI you map the nuclei in the body. You basically map the hydrogen and water, for example, and fat.
Andi Horvath
So it's a better way of looking at cells?
Frances Separovic
Yeah, it's a good way to look at cells, but what I do is I actually look at the distances between atoms and do the three-dimensional structure, and working out what's next to what and then we're able to build a three-dimensional structure of a molecule, for example.
Andi Horvath
And views into the molecule give us insights to how things happen. This is your entry into chemistry, right?
Frances Separovic
Yes, so what I like to know and it took a long while to get there, but I like to know how things work and I've mentioned that to you previously. I'm looking at how antibiotics get into cells and I am also looking at their structure actually within a cell membrane and I'm also looking at amyloid peptides from Alzheimer's disease and trying to do the structure of these peptides - these small proteins - in membranes. The way that you can do that is using nuclear magnetic resonance. Other techniques are suitable for crystals or things dissolved in solution, but the particular sort of NMR that I do is applicable to molecules in membranes and even molecules in cells.
Andi Horvath
Frances, you're a professor of chemistry; so how do you describe what you do?
Frances Separovic
I describe it as biophysical chemistry and most people like to know what you're going to use this knowledge for. So, for example, if you're looking at antimicrobial peptides which are a form of antibiotics and you look at how they work and you can then design better molecules, right, you can make them more selective.
For example, most antimicrobial peptides not only kill bacteria, but they also harm our cells and so what you want to do is make them more selective; select for the bacteria and not get - be attracted to our cells. By understanding their structure and where charges are - opposites attract, for example - bacterial membranes tend to be more negative. Antimicrobial peptides tend to be positive, so you can see the attraction.
Andi Horvath
Oh, so there's a bit of static stuff going on?
Frances Separovic
Yeah, so there's a bit of physical chemistry, but I call it biophysical chemistry; so that means I'm not very good at anything, but I try to be better.
Andi Horvath
As a professor of chemistry, what have you seen that's changed dramatically in chemistry in your particular field?
Frances Separovic

In my particular field, biophysical chemistry and its applications to structural biology, the big development is cryo-electron microscopy and doing the structures of large proteins in membranes. That's the big development.
Andi Horvath
That has led to better understanding of how drugs interact with cells or what has been the major application of that particular work?
Frances Separovic
Yes, again it will be drugs interacting with receptors. So about 40 per cent, or even higher, of drugs actually interact with membrane proteins. These membrane proteins, their structure is very difficult to do in solution because they're so big and they don't tumble and you can't get nice spectra; that's what I look at.
And what you can do is look at them actually in membranes and you take like lots of pictures and you put these pictures in bins and you add them all up and you look at the structures that you're getting from lots of molecules and try to see how these molecules change when they interact with drugs. Also, look where the binding site is and then you can make a drug that's more specific and that goes to a particular binding site in a particular membrane protein.
Andi Horvath
Wow, this is a whole universe that's even hard to imagine but it's all going on at the level of molecules in the cells. Where is chemistry going? What would you like to see in the future if I gave you unlimited funds?
Frances Separovic
Well again, if I had lots of money, what I would like to do is do more NMR experiments. So when you do cryo-EM, you look at things frozen or you look at things dead, or you look at sections of organisms, but I would like to do is do the structure of molecules in live cells and we're already starting working on doing the structure of antimicrobial peptides in bacterial cells.
So I'd like to put money into buying more equipment to do dynamic nuclear polarisation, NMR, where we can transfer magnetisation from electrons to the particular molecules that we're looking at and we can get a signal hundreds of times bigger which means that we can get our NMR experiment done thousands of times more quickly and so the cells will still be alive while we doing them. So I'd like to be able to do this in bacteria which are very small compared to our cells and then other people I think will then apply these techniques to eukaryotic cells, or human cells.
Andi Horvath
And doing it in live cells is really important because it gives us an accurate picture of what's going on chemically.
Frances Separovic
Yes, and also we get beautiful structure from crystallography for example. But when you're looking at crystals, what you're looking at is highly concentrated solutions and you're looking at how molecules pack together and these are pretty close to the solution structure, but it's the subtle differences which are important.
If you're looking at NMR, solution NMR, and you're looking at very dilute solutions or very dilute concentrations of the particular molecules of interest, then they're not suffering from molecular crowding. So it's very important to look at things in the right environment because the environment modifies the structure.
Andi Horvath
Frances, tell us about the tension between curiosity-driven research, because I know you've had an experience in that, and also highly applied research that's funded according to particular needs of the government or whichever funding body is allowing us the money?
Frances Separovic
I think directing research is really difficult because you don't know what's going to work and so with me, I'm driven completely by curiosity. But it's actually, what I find fascinating is when I do work with industry, I do find their problems fascinating and I'd like to help solve them. But what happens is, you find what their problem is and they fix it and you would like to keep working out why that was a problem, but they have changed their minds because it's not [unclear].
So I think curiosity research is what does lead to wonderful discoveries and serendipity is a lot of it, right? You don't always search for something - you've heard that expression when, I think it was Faraday gave a talk at the Royal Society, right, and he was talking and the Chancellor of the Exchequer, which is like the treasurer, was there and said, "what use is this electricity?" and Faraday said, "I don't know, but one day will you will tax it."
So at the time, we didn't know what it was useful for and again, I did the structure of one of the bee toxins, melittin, and that was more - I was doing it to show that I could do the structure of the small toxin - small peptide - in a membrane. People are looking at how they can target melittin - attach it, the silver bullet type of thing. You get melittin which is a toxin which kills cells you stick for example an antibody that goes for a cancer cell and you want it to go to the cancer cell there and then it kills the cell. But there are various problems because these are proteins and enzymes break it down and we have to understand what to do to make that not happen.
Andi Horvath
Tell me about the time you actually put a flag on the moon; you actually found the smallest fat globule, Frances. How did that happen?
Frances Separovic
Yes, and that - I was working at CSIRO food research and we were looking at how different lipids affect the phase transition of membranes. So just like ice melts to water, membranes also have melting points and if you change the length of the carbon chains in the lipids or the number of double bonds, the melting point changes. They were looking at this from the viewpoint of tomatoes when they - if there was a frosty night, then the membranes - terrible things happened to them because they went below their phase transition and things broke and leaked and went all soggy.
So we're working on these things and then we started looking - and again, we were looking at what is the smallest size that you can pack these lipid molecules into. So if you take these lipids which are in all cell membranes and you put them in water, they spontaneously form like a football with water on the inside and water on the outside and they have a fatty layer. But that fatty layer has a hydrophobic and a hydrophilic area.
Andi Horvath
So water-loving and water-hating. Got it.
Frances Separovic
So the hydrophobic part is the oil bit in the middle and then they have these little hydrophilic head groups which are on the outside and they're facing the water. So we were looking at them and we found that the smallest size you could make was with a 10 nanometre radius. So that is 10 to the minus 9 of a metre and I don't know what that's useful for, but we found that out [laughs].
We also found out the ratios of the fatty acid chains; there was more unsaturated - if it's more unsaturated, then it melts at a lower temperature so in theory, they could grow in a colder environment.
Andi Horvath
No doubt someone uses that knowledge today.
Frances Separovic
Possibly [laughs].
Andi Horvath
Frances, are there any misconceptions that you encounter about chemistry or about your field that sometimes you find yourself trying to go into bat for?
Frances Separovic

I even had this misconception; I thought chemistry was all about synthesising molecules and I thought you had to learn the names of everything and the elements and I just did not want to do that. I did not find that particularly interesting, I'm sorry, and I did have a foray into synthesising a compound; I wasn't very good at it and I really prefer the physical chemistry side of things.
So I think people don't realise how diverse chemistry is and how it goes from synthetic, inorganic, biophysical, physical, materials, it just crosses so many things and we've heard the cliché about it being the central science and when I was a physicist, I thought physics was the most important thing but now I call myself a chemist and I think it really is the most important thing. You're going from atoms to molecules to biology.
Andi Horvath
What's been the most eye-opening experience in the world of chemistry?
Frances Separovic
Just how fundamental it is to the sciences; it is fundamental to materials, its fundamental to biology, that's the thing. I really didn't understand that previously.
Andi Horvath
Frances, talk to me about inspiration and both your sources of inspiration but also how you inspire others?
Frances Separovic
If I go back to what inspired me, and I really do think it was teachers, and I still remember - and I'm going to actually mention her name - when I was at Alma Public School in Broken Hill, Mrs Ashman, she made me feel that I was good at school and really encouraged me and supported me.
Then when I went to high school, her husband was the maths master so, Mr Ashman. So then Mr Ashman did the same thing when I was in high school and I think I suffered from not having a mentor when I went to university. That was kind of why I dropped out, right, and so I think mentors are very important.
At CSIRO, I mentioned I was encouraged to apply for this job with the guy who was installing an NMR and so there's people who tell you and make you feel that you can do things and so that was important at CSIRO. Then telling me to keep going with my studies and then when I came to University of Melbourne and it was the first time I was in a chemistry department, the support of the head of school, Bob Watson, others in the department. Having these people really make you feel that what you're doing as good and it's also valued.
Andi Horvath
So you felt championed and no doubt you champion others as well.
Frances Separovic
I'd like to think so [laughs]. I'm just thinking, today I had coffee with a former student who was coming down from Wollongong and I feel that, yes, we do talk about careers and the right moves. This morning I had to write a letter - a visa application for a student who had just finished his masters and I do like to support women especially in the sciences and it's great to see what's happening at the moment where people are actively talking about it, actively encouraging and making more women more visible. But 20 - 30 years ago, you had to really push to get a woman speaker.
Andi Horvath
Now, Frances, you've won an award and I want to know all about it.
Frances Separovic
Well, it's going to sound like bragging but I've won several, but I'll tell you about the most recent one. The most recent one was being inducted into the honour roll of women for Victoria and to me, that was such a humbling experience. So I thought it was great that I got in and then I read about the other women and I said, "how come I got in?" and I was terribly - what is that word? - the imposter syndrome, right?
So we're having our award day and I was just so overcome; very awesome. Then one of the women's partners came up to me and he said that his wife was too scared to speak to me because I was so clever and I then I felt, "oh my gosh, they feel that about me?" and it actually made me feel more confident; I went over and spoke to them... but let's change that one.
What I wanted to say is, I also got an IUPAC Distinguished Women of Chemistry award and that is - there's about 45 chemistry associations around the world and every women's day - International Women's' Day - they announce 12 women as Distinguished Women of Chemistry; so now I'm distinguished. The other things that I'm proud of - I'm very proud that I was the first woman elected to the Academy of Science as a chemist 2012, and I was the third woman professor of chemistry in Australia in 2005. I think that was the first one in Victoria. So it's all pretty recent.
Andi Horvath
Frances, next we look at some sort of everyday object and I'll let you choose what that is, what would you like us to think about? So, first choose your everyday object and then what would you like us to think?
Frances Separovic
Well, one of the things that always surprises me is that people are not - or claim not to be interested in science and technology, yet every day they're using their mobile phone. The amount of science that went into that, right, the physics and the chemistry of making that device and you just have to appreciate science. It's what pushes our society forward as well as the wonderful cultural things that I enjoy as well.
Andi Horvath
Thank you, Frances. I definitely will think about the physics and the chemistry of my phone. And congratulations on your awards.
Frances Separovic
Thank you very much.
Chris Hatzis
Thanks to Professor Frances Separovic, biophysical chemist and Deputy Director at Bio21, the University of Melbourne. And thanks to our reporter Dr Andi Horvath.
Eavesdrop on Experts - stories of inspiration and insights - was made possible by the University of Melbourne. This episode was recorded on April 30, 2018. You'll find a full transcript on the Pursuit website.
Audio engineering by me, Chris Hatzis. Co-production by Dr Andi Horvath and Silvi Vann-Wall.
Eavesdrop on Experts is licensed under Creative Commons, copyright 2018, the University of Melbourne.
If you enjoyed this podcast, drop us a review on iTunes, or Whooshkaa, and check out the rest of the episodes in our archive.
I'm Chris Hatzis, producer and editor. Join us again next time for another Eavesdrop on Experts.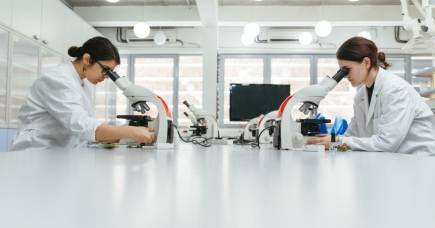 Professor Frances Separovic has amassed many 'firsts' in her career as a scientist, including becoming the first female chemist of the Australian Academy of Science and the first female Head of the School of Chemistry at the University of Melbourne.
She discusses the road she travelled to reach the peak of her profession, from school in Broken Hill to Deputy Director of the Bio21 Institute.
Episode recorded: 30 April 2018
Producers: Dr Andi Horvath, Chris Hatzis and Silvi Vann-Wall
Audio engineer and editor: Chris Hatzis
Banner image: Professor Separovic (centre, right), with her research team at the Bio21 Institute. Picture: Peter Casamento/Bio21
Subscribe to Eavesdrop on Experts through iTunes, SoundCloud or RSS.