Bringing a living archive to life
The Living Archive challenges the idea of what an Indigenous museum collection can be and could become
This cardboard prison they call an archive
is cold, airless and silent as death.
Floor to ceiling boxes contain voices
no longer heard yet still wailing within
and faces no longer seen yet still missing in a
jail of captured snippets, images and memories
like the severed heads and bleached bones of
dismembered bodies neatly locked away in the vaults
of museums and universities of the world
in the name of science or history or anthropology or
something else so important at the time that
justified the collection of bits and pieces of another –
the Other.
'Cardboard Incarceration', in Walk Back Over, by Jeanine Leane 2018.
The culture and memories of Indigenous Australia are stashed away in cardboard boxes – both metaphoric and real – in galleries, libraries, archives and museums in Australia and overseas.
It's time they were brought back to life.
But how do you bring Indigenous collections to life in a way that supports Indigenous ways of knowing, being and doing?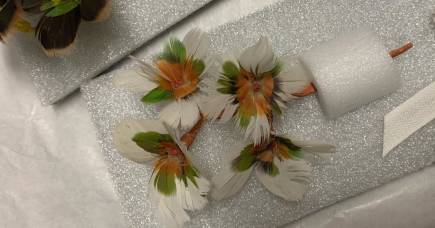 An Indigenous knowledge perspective is one where everything is interconnected, including people's ongoing relationships to their Ancestral stories found in artefacts, photographs, written material and more.
Many of these collections have never been accessed or are not known about by the communities they came from – locked away in draws or on shelves, often far from people and Country to which they are connected.
In our Australian Research Council (ARC) project Indigenous Storytelling and the Living Archive of Aboriginal Knowledge, our team is exploring creative ways to upend the cardboard boxes.
Working with Indigenous partners and students in Australia and the US, we are engaging in creative practices, including storytelling through possum-skin cloak-making, intercultural collaborations and supporting the research through teaching and learning.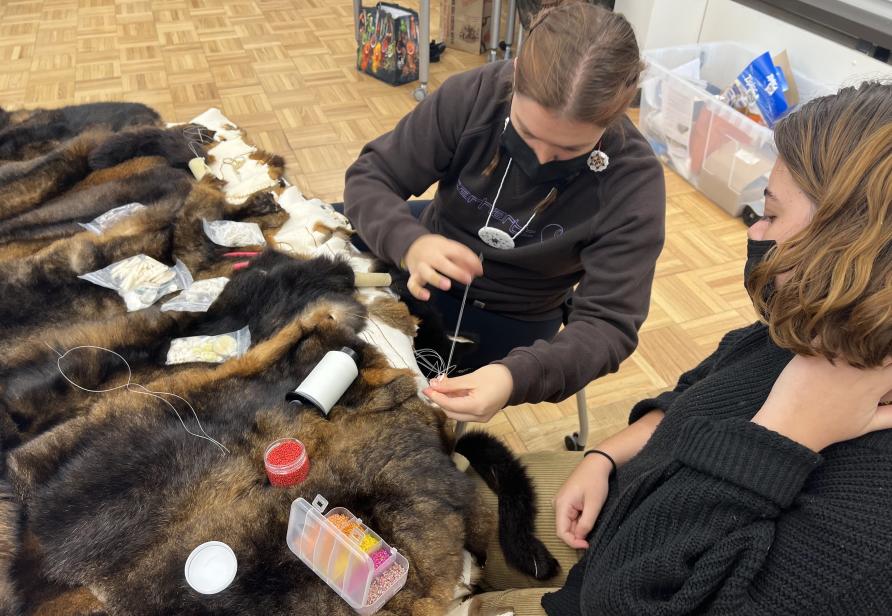 These steps aim to enliven archived collections by making and doing, finding new ways to support Indigenous knowledges and stories.
Our partners are two distinct communities from opposite ends of Australia who are seeking to preserve, access and revitalise their culture and heritage that is stored in official collections.
There's the Ngukurr community in southeast Arnhem Land in Australia's Northern Territory, a very remote community located on the Roper River.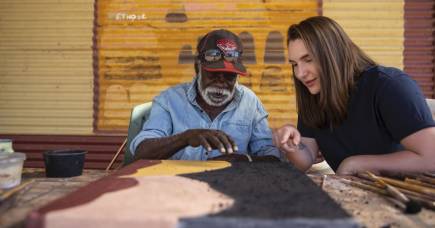 And the renowned southeast Australian Aboriginal artist Maree Clarke, whose traditional language groups are the Mutti Mutti/Yorta Yorta/Boonwurrung/Wemba Wemba peoples from more urbanised Victoria and southwest New South Wales.
Creating a relational database
The Living Archive project consists of two databases, the Ngukurr Collection and the Maree Clarke Collection, which are works in progress. Each collection includes a relational database – which provides access to data points that are related to one another – linking up information about what and where things are held.
The project has compiled digital material and links to a range of digital collections connected to each community's Ancestral collections and contemporary works.
These include cultural Institutions like the Ngukurr collection in Melbourne Museum, consisting of wooden objects, early photographs, ceremonial items and more. There's also personal collections including Maree Clarke's early 1990s black and white photographs, and private galleries and collections like the Alcaston Gallery.
The hope is that digitised information is made available to communities on the Living Archive website so they can comment and contribute stories in response – so instead of a static collection, our understanding evolves.
Sharing living knowledge
For the Ngukurr community (who have had limited access to their archives), the work of Indigenous curator and artist Maree Clarke, and others whose research into Ancestral collections to revive so-called lost cultural practices, has inspired thinking about how a Living Archive can bring old stories to life and create new stories. This includes the traditional practice of possum-skin cloak-making.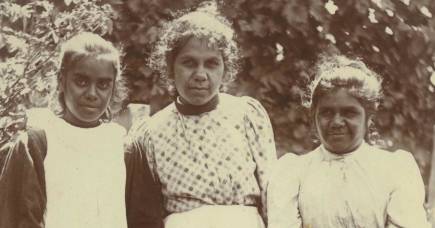 The story of Ngukurr Ancestor Dexter Daniels, a prominent campaigner for equal wages for Aboriginal people during the Wave Hill walk-off in 1966, is an example of the opportunity for people from Ngukurr and southeast Australia to share their knowledge for future generations, including by making a possum-skin cloak.
While cloak-making is specific to southeast Australian Aboriginal knowledge systems, finding a large collection of newspaper items relating to Dexter in the University of Newcastle archives – about his trips to southeast Australia, including Newcastle in the 1960s and 70s, to lobby Trade Unions for support of Aboriginal equal rights – contributed to the decision to make the cloak.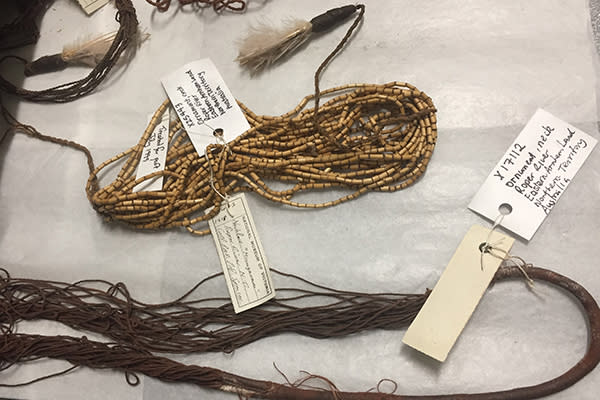 Bringing Dexter's story to life through cloak-making are two Ngukurr senior knowledge holders - Dexter's great niece Daphne Daniels, and artist Karen Rogers.
Kerri Clarke is Maree Clarke's niece who lives near Newcastle. She is a renowned maker of possum-skin cloaks and is leading the cloak-making at Newcastle High School's Big Picture program, with students from years 9 to 12.
These students are stitching together the possum pelts – and mapping a design of Dexter's Newcastle story, alongside their own onto paper. Once the cloak is stitched together, it will be taken to Ngukurr where the community will be invited to mark their stories onto the cloak.
Supporting Indigenous knowledge
The Newcastle cloak-making workshop is learning from work done by our ARC partner investigator in the US.
In 2021, a group of students led by cultural anthropologist Dr Sabra Thorner at Mt Holyoke College in Massachusetts began a pilot exploring how to support the Living Archive.
Peoples and Cultures of Indigenous Australia was a course that introduced students to southeast Aboriginal Australia and Ngukurr by guest lecturers in Australia on Zoom.
The students' research included searching online databases for Ngukurr collections across five international museums – considering how these collections are often not readily accessible or don't reflect the stories or ambitions of the communities.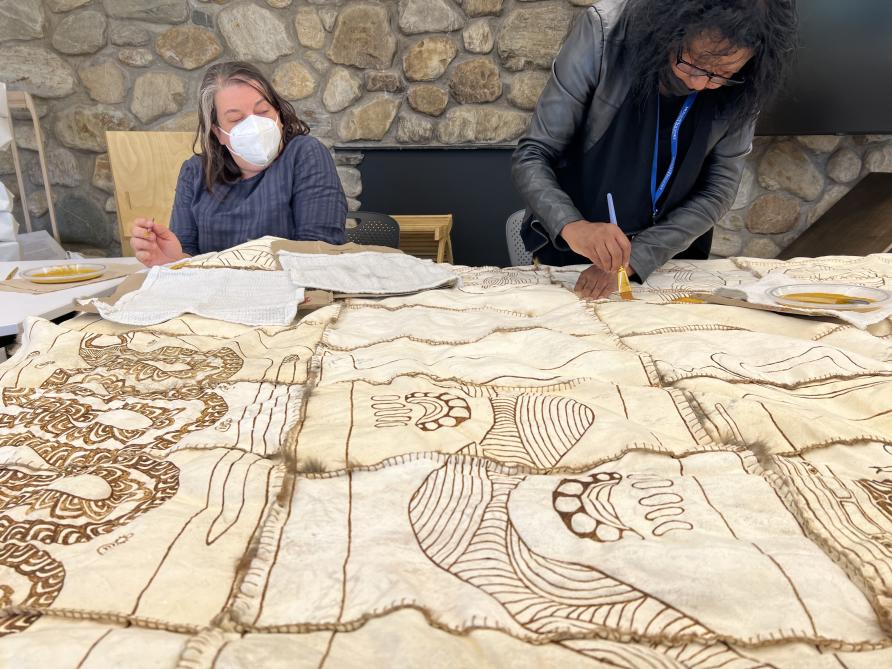 A follow-up course expanded students' hands-on engagement with decolonising practices, where Indigenous knowledge holders were experts about their culture, rather than museums.
Emerging artist Mitch Mahoney, supported by his mother Kerri Clarke and great-aunt Maree, led the cloak design. It tells the story of the Seven Sisters – an Aboriginal creation story about the Pleides star constellation.
The Seven Sisters is also the collective name of seven all-women's colleges in the US, of which Mt Holyoke is one, as well as the name of a local mountain range near the College.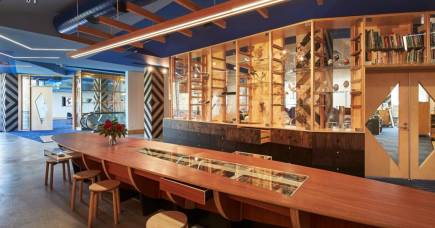 So, the story connected the cloak with the place and the people.
Juliette Gagnon Strong Heart – a First Nation's Anishinaabe student – beaded the seven possum tails in collaboration with Molly Mahoney, which acknowledged the First Nations peoples of the lands of Turtle Island (North America).
Like Australia, First Peoples in North America were dispossessed of their lands. They are also seeking new ways to support traditional knowledge and connections through creative practices.
The Living Archive project aims to build on these achievements with Ngukurr and southeast Australian Aboriginal communities by supporting Indigenous control and access over their knowledge in collections, upending the cardboard boxes, while also finding new, culturally creative ways for people to connect, engage with and share their stories into the future.
The Seven Sisters Cloak is currently located in the Mt Holyoke Art Museum and will be a signature item in their Considering Indigeneity exhibition from August 2022-June 2023.
Banner: Completed Mt Holyoke Cloak: the Seven Sisters, 2022/Fran Edmonds