Translating data into soft power
Understanding the power of raw data for cultural institutions to create compelling stories has become easier with a new data mapping app
The amount of data generated online continues to grow exponentially. This is making it difficult (if not impossible) for many organisations with scarce expertise and resources to tap into the power of data storytelling.
Data storytelling is the concept of building a compelling narrative based on complex data and analytics that can help deliver a targeted message to various audiences and stakeholders. Done well, it allows for effective communication, improves decision-making, adds strategic value and turns data insights into action.
Four years ago, the Museum Soft Power Map application was created to measure and geo-visualise the attraction power of the Australian Center for the Moving Image (ACMI) at home and overseas.
When we're talking about "soft power", this is "the ability to influence the behaviour of others through persuasion and attraction."
While the award-winning dynamic mapping system helped to deconstruct the buzz concept of the "soft power" of museums in terms of international engagement and impact, it was still laborious, data intensive research in an era of evolving new technologies with increasing data overload.
Indeed, data aggregation, collection and analysis still required advanced expertise and human resources. Back in 2018, the Museum Soft Power Map app needed the input of 17 research assistants.
They manually collected, cleaned and analysed multiple data sets that eventually fed several mapping layers of ACMI soft power. This ranged from the potential reach of its collections to the local engagement power of traveling exhibitions in different parts of the world.
The app cumulatively captured ACMI data from the past decade and correlated it with the most recent social demographics data collected from national census centres.
But, as time goes by, this snapshot of institutional data is rapidly becoming irrelevant with every new museum goer joining the ACMI community – either in person or online – and with social demographics changing so dynamically for each of the 250 countries on the map.
Without dedicated funding and an expert team, this research becomes impossible to replicate for any other organisation that's interested in understanding its global impacts, international connections and audiences.
The Museum Soft Power Map project clearly demonstrated that visualising raw data to create institutional narratives is a time consuming and resource demanding exercise.
It exposed multiple problems in the increasingly datafied reality without necessarily proposing a workable solution.
Challenged by these complexities, in 2019 the project joined the TRAM Accelerator Program at the University of Melbourne to explore if it would be possible to find a business model to scale the project up.
The research of the TRAM program confirmed to us that data literacy and intelligence is becoming a matter of institutional survival. But, during the pandemic, we found a solution which accelerated the development of Artificial Intelligence (AI), machine learning and more advanced automatic processes of data aggregation and analysis.
Early in 2022, the project began creating a new data-visualisation prototype called Data To Power in a collaboration with the Digital Diplomacy Research Group at the University of Oxford.
We used critical digital practice to experiment with data collected from 25 participating major museums from across Europe and Asia Pacific to design a new mapping solution for assessing and predicting the soft power impact of museums.
The mapping platform was developed through a series of international online research sessions which brought together museum professionals, policy makers and digital creatives from around the world.
Globally, hundreds of professionals explored and discussed the potential of new technologies to translate collections' and catalogues' metadata, audience analytics and Open Data into meaningful narratives.
The project resulted in the Data To Power Prototype. This moved our research on from a single museum app to an online service for all kinds of different types of organisations using dynamic mapping software.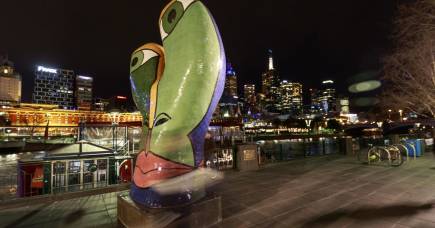 The mapping system interface is designed for users to easily navigate various tasks including data aggregation, collection, categorisation and analysis.
For example, the system taps into the processes enabled by Application Programming Interface (API), which is an automatic aggregation of data and metadata from existing open access data repositories.
In the past, it would require a lot of manpower to collect social demographic data, like migration, population stats or tourism rates for every country on the planet, but using API, the app accommodates a dynamic automatic aggregation of large data sets from Open Access repositories, like World Bank Open Data.
In the same way, it also allows analysis of social media feeds. For example, it can aggregate and scan for search words of up to 3200 of the latest tweets posted by any organisation on Twitter.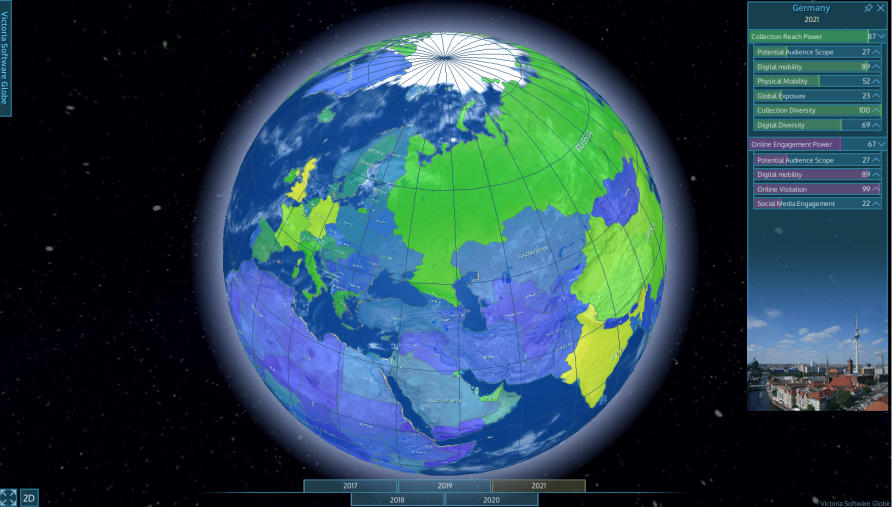 Furthermore, by using a prediction model of linear regression, the mapping app draws on the supervised machine learning algorithm to analyse multiple data sets as numeric input values to predict outputs.
It makes use of all previously accumulated data to identify a formula that allows us to forecast results for the future, transforming a mere data analysis exercise into a data intelligence system.
For example, by collecting the numbers of people visiting travelling exhibitions in different cities around the world and correlating them with data collected from hosting cities and institutions, the Data To Power Prototype can help predict what will happen when an exhibition moves to a new city.
With capabilities to create maps, timelines and data cuts for a comparative analysis across geographies, time periods and programs, the Data To Power Prototype visualisation could open new horizons for many organisations for more intelligent, data-informed decisions about their impact in the world.
If you're interested in experimenting with Data To Power mapping as a solution to your own research or communication tasks, please get in touch with Dr Natalia Grincheva.
Banner: Getty Images