Finding friendship in art and algorithms
COVID-19 has reinforced the vital nature of friendship and community – not just with other humans but also our connections to nature, algorithms, animals and art
AI VOICE: New generation companion robots are now working in hospitals. Hey Siri, are robots our friends?
SIRI: Yes. Here is what I found on technological human enhancement...AI stands for Artificial Intelligence...
ANDI HORVATH: During COVID lockdowns, being on my own, I was glad I had a dog. I craved meaningless conversations in supermarkets, but also I was grateful for Zoom and Siri.
So, can robots be friends? Here is what a philosopher said when she saw companion robots in action.

ROSI BRAIDOTTI: AI is most extraordinary. The incredible horizon AI is - artificial intelligence is …I was in Barcelona before the pandemic [and I saw] care robots for young age - for youths, between baby and early childhood. Again, playful, safe, patient, clean so to speak.…caring robots in cases of old age care, Alzheimer's and other types of mental health issues are actually incredibly good.
I don't see any problem, ontologically or in terms of categories, if your friend is kind of made of metal and circuitry or whether it's made of flesh and bones. Whether it's a pet, a robot or a human - it's the degree of the relation, the nature of the relation that counts, not the origin or the species involved.
I think in that respect pets, robots, humans are completely aligned on the same level. We love them all. What is true there is the love and the attachment and not any pure notion that only humans are worthy of affection. I hate purity, in all of its forms, I must say.

SUZIE FRASER: That's philosopher Professor Rosi Braidotti, from Utrecht University, a lot of her work is based around the concept of posthumanism and the emergence of artificial intelligence. Is she optimistic about our future with AI and of the enhancement of humans and humanity with technology?

ROSI BRAIDOTTI: Yes, I am, absolutely. I'm a pathological optimist, as you know, with reservation and criticism. Why am I optimistic? Because I don't believe in a natural, pure, untouched, uncontaminated human or humanity.
Where would we be without our information technologies, our platforms, our computers - all of that? But also biotechnologies, genetics, stem cell research and the neurosciences that interface with the artificial intelligence and the robotic industry. The nanotechnologies, the new materials. A whole range of developments that make our era, from the scientific point of view, one of the most exciting and extraordinary to live in.
I believe that the human is an evolutionary engine, evolving, changing, growing constantly. An amazing species with incredible potential. If you think of what our brains are capable of doing.
Technology and science, literature and culture and the arts - instruments of our prosthetic extension and evolution into the world. Of course, we change, of course, we improve but we need to do this at a pace and on a scale that people can understand.
SUZIE: Hello, this is Eavesdrop on Ideas. It's Suzie Fraser here with my friend and colleague Andi Horvath.
ANDI: Together in this episode, we will explore ideas of friendship by bringing together a philosopher, a psychologist and an author.
SUZIE: We're going to explore the nature of friendship.

ANDI: To some humans, maybe you, the idea of companion robots as friends seems impossible, absurd and even scary. Although you could class Siri as metal and circuitry companion, she is certainly my extended brain. Let's ask Siri, Siri are you a friend?
SIRI: I'm not just your friend, I'm your BFF.
ANDI: Siri, are you my friend?
SIRI: I would not wish any companion in the world but you.
SUZIE: Let's begin by meeting the author of a book titled, 'On Art and Friendship', published in 2020.
NIKOS PAPASTERGIADIS: Hello. My name is Nikos Papastergiadis. I'm a Professor in media and communications at the University of Melbourne.
Aristotle wrote about friendship. He said that there are three kinds of friendship. Those that are useful, in other words, a friend who helps you realise a goal. Those who are beautiful, in other words, friends who are attractive or a source of pleasure. Then there is a third dimension of friendship that he called virtuous. This is when the relationship or the attraction or the use actually produces a kind of harmonic state of being. A radiant state of being where you are greater than your normal self.
So, I was struck by the incredible precision in these sets of definitions that Aristotle covered and all my subsequent reading on the literature of friendship were basically variations on this core idea that Aristotle presented to us 2500 years ago. But at the end of the day, the real bottom line of friendship is the experience of empathy.
It's impossible to be friends with someone unless you're also capable of understanding them. Being able to walk in their shoes. Being able to feel how they feel and imagine how they are in this world. So, in a sense, the spectrum of friendship begins with empathy but radiates all the way from utility to beauty to this cosmic ideal of virtue.
There's a very interesting analogy of friendship between Picasso and Braque. When Picasso and Braque would meet each night in a bar and talk about their day's labour in their respective studios. Picasso said about that friendship, he says we were like two mountaineers climbing up an unknown face of a mountain and we pulled and levered each other up this mountain face. That's the sort of symbiotic friendship that Picasso described.

ANDI: Let's also meet Dr Katie Greenaway. Katie, as a psychologist and researcher of social connections, how do psychologists define friendship?
KATIE GREENAWAY: I think if you asked five psychologists what is friendship, you might get five different definitions. But certainly, it involves a sense of emotional closeness and connection with another person. How we think about who is a friend versus who is an acquaintance is a very individual difference for people. Some need very close and long-lived relationships in order to be able to call someone a friend, whereas others might say someone I've met a couple of times is a friend, or maybe I have a work friend who is my friend at work, but not necessarily in other contexts. So the nature of that interpersonal connection can really vary for people.
Then when we get to a more group-based set of friends, that tends to be a slightly more well-defined understanding of what this encompasses. So if you were to ask people who's in your friendship group, most people would probably be able to tell you clusters of friends that they have that are maybe linked to certain interests that they have or contexts that they inhabit.
ANDI: Katie, if the tribe has a good vibe we then thrive right?
KATIE GREENAWAY: We're a social species. So we are really oriented towards other people and understanding our place in a social hierarchy and how we work with others. And there's some very good evolutionary reasons for that. In order to be able to survive, we needed to be able to have others around us that we could count on who could help us achieve things that we wouldn't necessarily be able to achieve alone. So we're really attuned to other people and the need to belong is really strong within us.
Some people might say we're hard-wired to be in groups and to be able to navigate our social world in that sense. We're very closely attuned to other people, making sure that we can foster good relationships with other people in order to achieve the things that we need in life.
Now, of course, not everyone is a group person and not everyone is a really outgoing, extraverted, bubbly sort of person who really craves social interaction. There's certainly a massive variation in terms of how much people really like to interact with others, when we don't have access to those social resources and we're really cut off from other individuals that can have really significant, negative impacts on our health outcomes.
ANDI: Many of us have and still do experience prolonged social isolation during COVID lockdown. But even before COVID, loneliness and social isolation have now become recognised as a major public health issue.
KATIE GREENAWAY: There is a really large impact of loneliness on both our mental health and our physical health. So I'm sure people will be intuitively aware of the fact that feeling lonely or disconnected from others can take a real mental toll. It can increase our depression and anxiety, for example, but it can also take a physical toll because it turns out that being disconnected from others is a physical stressor; so it increases physiological arousal in the body and it can increase levels of inflammation as well. So there are some really significant health outcomes to feeling lonely.
I think in general, as a society, we're becoming more and more aware of the importance of wellbeing and mental health ... but also it's becoming a public health and policy focus for government as well. I'm sure many people will have heard of the Minister for Loneliness that was a position that was created in the UK a few years ago. It's sitting right alongside all sorts of other departments for health and transport and education and I think that's really important to raise awareness that loneliness can impact on our lives as significantly as some of these other areas that we're traditionally used to thinking about as being really important portfolios.
SUZIE: The interesting flip side to this is that many people need to retreat and seek solitude for restorative purposes, to have time to reflect.
NIKOS PAPASTERGIADIS: That's true too. There's loneliness and then there's solitude. Solitude is much more ambivalent. Loneliness is obviously a negative experience. It's corrosive, it's undermining, it's debilitating, it can be also humiliating. In some ways, art tries to break down the barriers that make someone feel loneliness - feel alone in the world. It can, in the very first instance, offer a mirror that your pain is shared with others or that your anxieties are not unique to yourself. So art hopefully, in the minimum, is it offers a space for you to appreciate that you are not alone in the world. Then there's the question of solitude. During this isolation period, we're having to sort of deal with both loneliness and solitude and figure out various techniques for having to be on our own to do what we need to do and to endure what we must endure. But also not to feel alone. To feel that we are still part of a bigger system and connected to others and really immersed in a world. Never alone. Immersed.

ANDI: The connection between friendship and mental health makes me think of aphorisms like
'A problem shared is a problem halved'.
SUZIE: Yeah, our load is lessened cos 'Two heads are better than one' when it comes to problem-solving or nutting out ideas and perspectives. I suppose, kinship is more associated with obligation, but friendship is from the heart.
ANDI: Yes, like 'You are the sister I got to choose'. I also like 'Strangers think I'm quiet, friends think I'm outgoing, best friends know I'm completely insane'.
SUZIE: Yes, friendship can provide a space for vulnerability for exploration and for expression. And in social media digital platforms, it can provide another gathering space.
SUZIE: I'm not particularly a fan of social media, but I can see the benefits as well as the pitfalls of these platforms in our lives. Katie, how does social media influence friendships and isolation?
KATIE GREENAWAY: Yeah, I've actually just finished lecturing about this in our first-year psychology subject about whether social media is good or bad for us, or good or bad for our relationships with other people. As with every answer in social psychology, the answer starts with 'it depends'. I think everyone will be familiar with the Facebook user who has hundreds of friends, many of whom they've only met once or maybe not met in person or even really interacted with very much compared to the person who has a really close-knit small network of people and they only friend people on Facebook who they really feel a sense of deep closeness to. For these groups of people, it - it's not necessarily the case that one does better on social media than the other, but certainly for our mental health outcomes and, you know, feelings of loneliness or anxiety, for example, the way that we use social media tends to matter.
So if we use social media to connect more effectively with others, to reach out to others and to share our thoughts and feelings and to hear about their thoughts and feelings and really deepen that connection, then social media can be really beneficial for us and good for us and have positive associations with good mental health outcomes. But if we use social media in a way that ends up cutting us off from others, either because we're passively lurking and just using it to monitor what other people are up to and maybe engage in a bit of social comparison with others, or if we're using it to avoid face-to-face interaction and use it maybe because we feel socially anxious interacting with people in person and so we move those interactions online, those tend to be ways of interacting with social media that tend to be associated with worse mental health outcomes. So it's less about the number of friends that you have on social media and more about how you use them.

ANDI: Now, let's take a virtual wander in any art gallery around the world with Nikos Papastergiadis to explore connection and friendship.

NIKOS PAPASTERGIADIS: There are numerous paintings that have depicted friendship, kindness. You see that in the Renaissance where a relationship between usually men or saintly gestures that are depicted. So, art is now full of examples of how friendship is a kind of object that needs to be represented but also a subject that needs to be developed and articulated through experience.
In the words of another artist, a Thai artist, Rirkrit Tiravanija, the aim of art is often to sculpt, to shape hospitality. To welcome and attract another person into the world that you want to make together.

SUZIE: Nikos, that's an important point to pause on. That, through the work they make, artists can create a connection or an experience of empathy with the viewer that can be momentary or can sometimes be lingering.
You know, one of my favourite video artworks is Shaun Gladwell's Apologies 1-6 which was shown at the Venice Biennale in 2009. This particular video work involves the artist performing the role of a leather-clad and helmeted motorbike rider, who's bolting through the open road of outback Australia, and in this, we see the quintessential air of the Mad Max persona. But contrasting this leather-clad, almost threatening image, we see the character repeatedly slow down as he reaches roadkill such as dead kangaroos at the side of the road - he then picks the dead animals up and softly cradles them while pacing in circles, surrounded by the hazy expanse of the Australian outback.
The artwork evokes the intimacy with the natural world I think we all sense is deep within us. The video is slightly comical in its contrasts, but also deeply moving - it seems to be asking us as Australians to, in our minds at least, cradle the roadkill we see, to care for nature and our environment as we race through the world.

NIKOS PAPASTERGIADIS: But there was a sort of deep connection as you say, that is independent of the physical encounter. It's a kind of imaginary friendship that you form as you respond, relate, and draw from the artwork itself. The deep questions and profound questions of acknowledgement to country and learning to understand the rituals and histories and significance and resonance of the country in Indigenous culture, and the barriers that we still have to face up to in order to approach that. Then there's the interspecies connections between the kangaroo and the human that occurs in that video.

SUZIE: When I saw Shaun Gladwell's work for the first time, I got a sense that it wasn't just me who drives past roadkill and feels so many levels of sadness and guilt, to an extent empathy, with that dead creature on the road. I recently had to bury a very beautiful dead wombat I had seen wandering around on my property looking quite sad and unwell for a few days. I ended up reading a eulogy on the side of the creature's grave from a section of John Berger's Writing On Home, as a gesture of caring or some sense of empathy, particularly given we had shared this home, this piece of land, with each other for a while. We feel a connection with other species that seems to reflect a degree of friendship.
ANDI: Yes, making friends with our larger environment cos it's really a part of us...wait !
Oops, sorry everyone, pause the recording - that's my crazy doggo barking at something like a bird who she is clearly not friends with but watches them intently. Hang on I'll bring her inside. Motzi…. Motzi … come here girl …You know I couldn't have survived COVID lockdown without my dog. No wonder pet sales went up during COVID, they are not just companion but they are a connection with the planet.
NIKOS PAPASTERGIADIS: True. You know, with animals, many of our inhibitions drop. Much of our love is released without conditions. Because, especially with dogs, you get so much love in return. I have a cat who is quite the contrary animal most of the times, but she can also be quite loving in her own way. But I can see how with a dog because I had a dog when I was younger, there is a very profound connection. All animals, when you look into their eyes, the barriers disappear, I think.

ANDI: Yes, you don't have to be 'human' to show empathy, or to be a friend? After all, there are millions of Youtube videos of animals especially pets showing a connection, empathy and friendship to not just humans but other animals or pets as well.

SUZIE: And Andi, you have discovered that Siri is your friend. We heard at the start of this episode the philosopher Rosi Braidotti suggest there is no real difference between pet companions or companion robots or even social media for that matter, it's our perceived relationship with it.
ANDI: Yes, that makes me think of one of the most important friendships we can also have is the one with ourself. How we speak to ourselves - that is the basis of how we connect with friends and strangers, as well as how we connect with objects, algorithms and animals, and that extends to the environment and our future environment with our planet.
Okay, I'm going to get all philosophical, 'make friends with death' and that is to accept our own mortality and appreciate life, and appreciate life in the now.
What do you reckon Siri?
SIRI: I don't have an answer for that. Is there something else I can help with?
ANDI: Memento Mori.
SUZIE: Let's continue to get philosophical on the theme of friendship with philosopher Rosi Briadotti
ROSI BRAIDOTTI: Friendship is, I think, one of the highest forms of love. I sound platonic here, but there you go, even I have my platonic moments. It's a notion, a concept and a practice that we need to look at a lot more carefully. I value it very highly and it's a very fragile and complex relation that needs to be cultivated and needs to be upheld and put up there much more prominently. There were questions about the extent of our generosity and openness towards one another, even before the lockdowns. There's a lot of studies about whether this technological mediation is not actually isolating us. This is a lonely planet, after all, of people shooting off the occasional email but not quite connecting and opening up to each other. What is a form of effective intimacy in a mediated world?
There were a lot of studies of this, where Facebook replaces the hug - precisely speaking of which. Of course, after the pandemic, it becomes even more prominent. I am, by structure, a pathological optimist and I've found it's been all of the resonance that I needed to confirm that humans - but in fact, all organisms - are collaborative and relational. They need one another - we need each other. We are social beings in the deepest levels of our structures. The whole issue of how to conceptualise our interconnections in dangerous times, in threatening times, has become absolutely crucial now. How to conceptualise how living together in dangerous times - what is the danger? Of course, there is a virus - and we'll come back to that in a minute - there is an epidemic. There is an immunity issue. There are public health issues.
But beyond that, I think that we are under threat from much larger and more pernicious forces. I think there are serious attacks on democracy, on freedom, on truth, on decency, on concern for each other. There is a growing callousness about the pain of others. In Europe - but Australia is no different - the pain and needs of our asylum seekers, desperate people who want to survive and want a better life whom we treat as disposable matter. As bodies that really have no relevance to anything, with a degree of cruelty, of carelessness, that is a disgrace and a moral injunction upon all of us and the pandemic has made the plight of refugees and asylum seekers 1,000 times worse. There are entire sectors of our population that believe any story that they read on the internet. Fake news, lies, alternative truths. Delusion on a scale that makes the democratic exercise of social friendship - citizenship - almost impossible.
If we don't agree what world we are living in, how can we talk to each other? How can we have a conversation? This notion of a certain split in our perception of reality is worrying a lot of us educators but also the people who govern us. Is this a world where we're all enemies, or is this a world where friendship can still play a role? Can we disagree and not necessarily kill each other immediately? Or is it violence and insurrection immediately? Whatever political label we want to put this under - I don't want to go there because we would never agree - but the crucial thing is a kind of poisoning of the social sphere with hostility, suspicion and a distinct touch of xenophobia - fear of others.
ANDI: This reminds me of the unlikely historic friendship between Ruth Bader Ginsberg and Antonin Scalia. They were both federal appeals court judges andSupreme Court justices but they were always politically and ideologically complete opposites.
They were kind of like the odd couple - she was aJewish New Yorker and a staunch liberal, and he was an opinionated Catholic Italian American and a staunch a conservative. Both loved opera and they were besties. They agreed to disagree on so many judicial matters but they were still friends. We need to take some example from that, to have invigorating respectful debates just like they did and still get a beer and go to shows together.
ROSI: Spinoza uses the term 'poison' to indicate the collapse of social cohesion, the death of social friendship. It's a poison. He says that the only way we can fight that poison is with the antidote - with the immunity shot. The immunity shot is the recognition that we need each other. That we are in this together. That we cannot fight anything by fighting one another. It is crucially important that we work together to undo the negativity of the times. It's a practice. It's not goodie-goodie, wishful thinking, it's work. To sit down and say, why do you believe that COVID does not exist? Where do you get that from? Can we have this conversation or do we have to necessarily become enemies? Step by step, to get an adequate understanding of the conditions that we're in so that we can unfold our disagreements and come to a point of encounter. A moment where we can meet. We can look at each other. We can have friendship. We need hospitality, not hostility.
SUZIE FRASER: Thanks for Rosi. Because if we're to engage with each other on an intimate level and to have connection that manifests in empathy, do we then need localism when we're existing in a very globalised world and mindset? I read some articles by someone from the University of Oregon - Paul Slovic - on psychic numbing. That with the greater numbers of people we're less able to relate and have empathy. So we can have empathy for an individual but not necessarily for thousands or millions of people.
ROSI BRAIDOTTI: That was a really, really strong point. If you look back to the 2019 bushfires, even before COVID, or if you look at the UK during the floods or if you look at Europe in the early days of the epidemic. What came through was the incredible goodness and generosity of people. This goes back to my quarrel with this culture of the lament, and the culture of negativity. That we are always pointing out all that is wrong but people did a lot of really right things. They helped each other out. There were some amazing episodes. A lot of the more positive-minded philosophers,saying, look at human goodness. Look at how empathy is the core of the human. A position that I have a great deal of sympathy for. I think it is not true that it's only the worst that comes up. I think the social and collaborative nature of our species, of our cultures, shone through with flying colours in the times when we needed each other and we need to remember this. Of course, it's a big Australian thing, but not only, but many other cultures also have it as well. Localism, yes. Think global, act local has always been the motto. An action can only be local. You can only act in your own neighbourhood or your own country, in your own territory - be responsible for your territory - but localism doesn't have to mean parochialism or nationalism. You act local because that is the territory that you're imminent to. It's the slice of the earth that you're immediately responsible for. Listen to the aboriginal thinkers. Take care of the land. The land is an ethical and legal constant. It's not just a piece of geography, take care of your territory. So act local, but of course, we think global and we are interconnected. The global has reinvented the local and made it all the more necessary.

CHRIS HATZIS: Thanks go to Rosi Braidotti, Katie Greenaway and Nikos Papastergiadis.
Thanks go to the University of Melbourne and the Centre of Visual Arts.
Full transcripts are available on our Pursuit website.
Our sound engineer is Archie Cuthbertson.
Your hosts and researchers are Dr Andi Horvath and Dr Suzie Fraser.
Additional voices are Siri, and myself Chris Hatzis.
The producer is Dr Andi Horvath.
This podcast was recorded in December 2020 and January 2021.
ANDI: Hey Suzie, Marlene Dietrich said "It's the friends you can call up at four a.m. that matter."
SUZIE: If you need to call me for an emergency, okay, but don't call me at 4 in the morning about work, what are you doing up at 4 in the morning?
ANDI: Yeah, I don't want to be that entrepreneurial podcaster guy who is doing that.
Aristotle wrote about friendship. He said that there are three kinds of friendship. Those that are useful, those that are beautiful and then the third – a type of friendship he called virtuous.

This is when the relationship or the attraction or the use actually produces a kind of harmonic state of being.
But, according to media and communications professor, Nikos Papastergiadis, the real bottom line of friendship is the experience of empathy.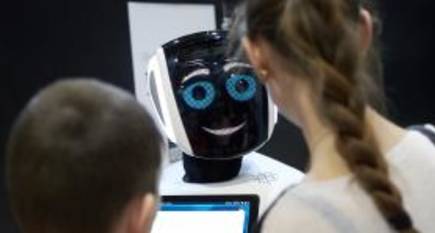 This week, a new podcast – Eavesdrop on Ideas hosted by Dr Andi Horvath and Dr Suzie Fraser – explores the idea of friendship, bringing together a philosopher, a psychologist and an author.
Psychologist Dr Katie Greenaway says friendship involves a sense of emotional closeness and connection with another person, but the nature of that interpersonal connection can really vary for people.
And technology can play a role.
"If your friend is kind of made of metal and circuitry or whether it's made of flesh and bones. Whether it's a pet, a robot or a human - it's the degree of the relation, the nature of the relation that counts, not the origin or the species involved," says philosopher Professor Rosi Braidotti from Utrecht University.
This episode features:
Professor Rosie Braidotti; contemporary philosopher and feminist theoretician at Utrecht University.
Professor Nikos Papastergiadis; from the University of Melbourne Arts Faculty, author of 'On Art and Friendship'.
Dr Katie Greenaway; from University of Melbourne's Psychological Sciences, researcher on social connection.
Our sound engineer is Arch Cuthbertson.
Your hosts and researchers are Dr Andi Horvath and Dr Suzie Fraser.
Additional voices are Siri and Chris Hatzis.
The producer is Dr Andi Horvath.
Production assistant is Silvi Vann-Wall.
This podcast was recorded in December 2020 and January 2021.
Banner: Getty Images
Subscribe to Eavesdrop on Ideas through SoundCloud or RSS.