Taking positive psychology into the classroom
Positive psychology in schools is exploring how best to apply the science of wellbeing in key learning environments - helping students develop skills for life
It's early morning at Heathmont College, a government high school in Melbourne's sprawling eastern suburbs.
Students are not in their individual year groups but spread across the campus in various classrooms, years seven to 12 mingling and talking to one another before the bell rings.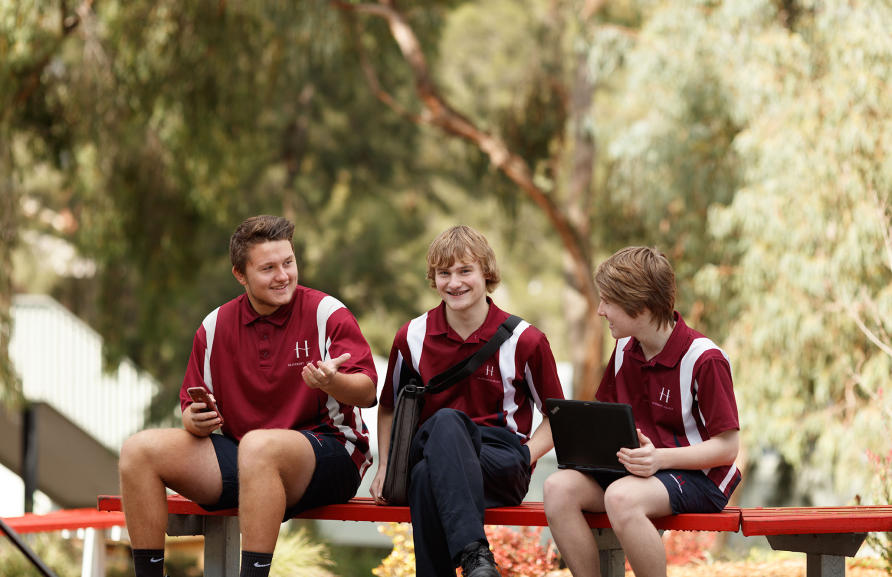 There's a different sort of buzz.
"The classes were pretty quiet to begin with," says teacher Edwina Ricci, who is leading a concerted push to introduce positive psychology in 27 schools across the Maroondah area.
"And quite confronting for staff. In high schools, teachers teach curriculum. We don't teach relationships – the thinking is, we leave that to the Phys Ed and 'warm and fuzzy' teachers."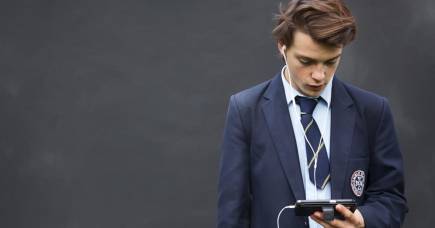 But that's beginning to change through a collaboration with the University of Melbourne's Centre for Positive Psychology.
Centre researchers are working with fellow experts at Maroondah City Council, the Victorian Department of Education and Training and the Institute of Positive Education to help improve wellbeing and education outcomes across the zone.
In the case of co-educational Heathmont College, feedback from the school community revealed that in some year levels there had been a drop off in connection between students and staff.
With research showing that a sense of belonging plays a major role in student wellbeing – and in academic performance – the school implemented so-called vertical mentor groups, and a new house system.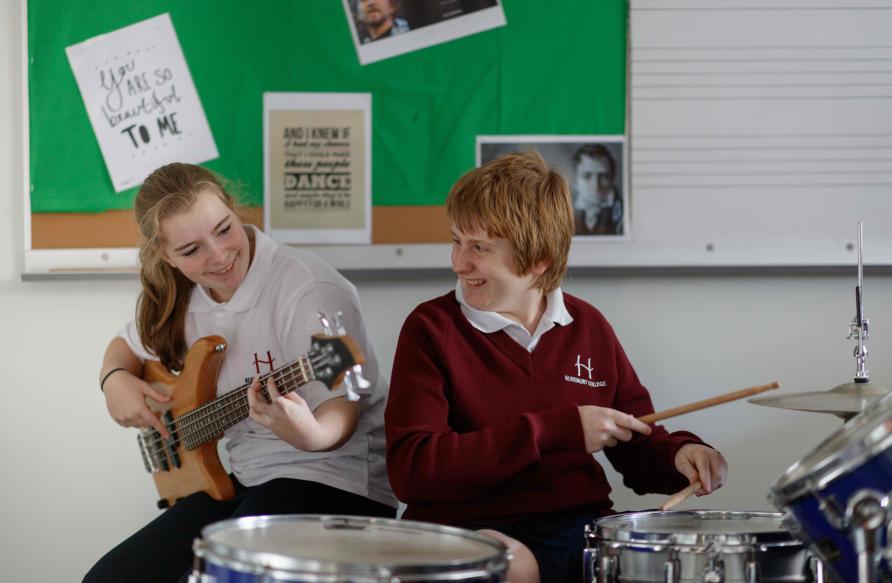 "Now, for 15 minutes at the start of every day, they're just focussing on connection," Ricci says. "And once that happens, and we have that connection, we can then teach them anything.
"We can teach them how important gratitude is – we know that gratitude and resentment can't coexist, there's science behind that – and we can teach them growth mindsets. That if they do work hard, they can learn."
The University's Centre for Positive Psychology is behind a number of projects looking at how best to apply the science of wellbeing in key learning environments.
Centre Director, Professor Lindsay Oades, says that at its most basic level, positive psychology focuses on what's right, not what's wrong.
"It's all from a science-based perspective. Rather than denying that there are bad things, it's like – well, there are good things. What leads to them? What predicts or helps positive functioning, happiness, wellbeing, optimism and strength?"
Building capacity and good functioning can help buffer negative mental health outcomes, but Professor Oades notes that positive psychology is about more than prevention.
"Good functioning and capability are good in their own right," he says.
Based in the Melbourne Graduate School of Education, the Centre partners with various organisations on its research projects.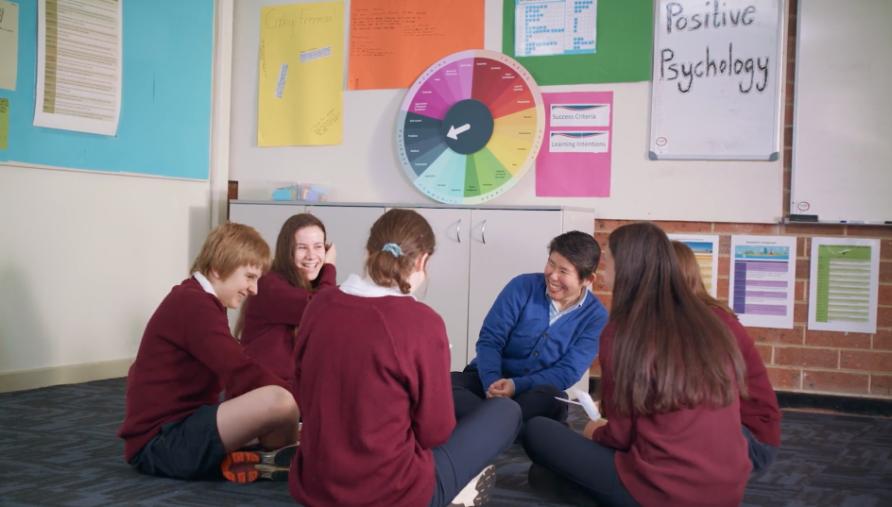 "In our view, you can't do good, applied research without good collaborations," Professor Oades continues. "Partners tell us what problems they're wrestling with, and we have the concepts, tools and methods to make sense of that."
The Research Director at the Centre, Professor Dianne Vella-Brodrick, is behind the Bio-Dash program, which teaches young people evidence-based wellbeing strategies to help them optimise performance, manage stress and build resilience.
Professor Vella-Brodrick works with young people to design engaging, tangible and personalised wellbeing programs by integrating technology and biofeedback (physiological responses such as brain activity and respiration rate) in the learning process.
"If during the school years, we can motivate young people to learn and try out wellbeing skills and enable them to literally see the physiological and emotional benefits, then they are more likely to be sold on the importance of wellbeing," she says.
"Regular application of wellbeing strategies can improve academic engagement and performance as well as relationships, health and work - all factors which are known to protect individuals against poor mental health".
Another initiative is the development of a wellbeing profiler measuring six wellbeing domains that research identifies as important indicators in young people.
The profiler is currently being used with thousands of students across schools and youth organisations nationally and internationally.
This includes a partnership with Trinity College Pathways School where 700 international students receive a pre-departure pack in their home country and undergo wellbeing activities ahead of their arrival in Melbourne.
Upon arrival they are assigned to a staff mentor, who engages them in conversations about what wellbeing looks like to them.
Crucially, academic progress is also discussed.
"A lot of parents are interested in academic performance but might not understand what this wellbeing thing is. Putting them together can be a smart way to go," Professor Oades says.
By personalising the plans and giving students a sense of agency over their wellbeing, the hope is to set them up for the long-term.
"The fact that you can have a generation of kids who actually believe they can improve their own wellbeing, and then take some steps towards doing it, even if they don't achieve them all, the message that they can is important in its own right."
Back in Maroondah, students are also encouraged to take ownership of their wellbeing journeys.
Through the council's Student Wellbeing Action Teams (SWAT) program, year 10 students receive training in leadership and wellbeing. They then receive data collected by university researchers, and are supported to plan and deliver projects based on the data.
Recent examples include students introducing exercise breaks in the middle of long classes to bolster physical activity and mental alertness, working with the school council to update canteen guidelines to increase healthy food intake and setting up a 'chill out space' for students to help reduce stress at lunchtime.
Dr Tan-Chyuan Chin is heavily involved in the Maroondah collaboration. She says co-creating research projects with partners can help drive better outcomes.
"One size, or approach, does not fit all. Context and student needs are critical factors to consider when implementing wellbeing activities, initiatives or training."
The collaboration started after the local municipality identified wellbeing as a key concern for the wider community. University researchers initially undertook a large-scale needs analysis survey of the region, involving 5000 students across 19 schools.
"We really wanted to know from the young people's perspectives about their experiences with wellbeing and how best to support them," Dr Chin explains, "rather than just implementing a program that did not meet their needs."
The resulting approach is driven by collective impact.
"It enables us to know what's working in the system, what may not be working that well and better facilitate the changes that are happening in a very dynamic and busy system."
With classroom resources and curriculum hours already stretched, the researchers are conscious of not wanting to further burden teachers.
"It's all very well to come in from an 'expert' point of view, wanting a program delivered," says Dr Chin.
"But the difficulty is, we're competing with so many other demands. Wellbeing is the foundation of things; it promotes and optimises learning in a young person so that they are responsible for themselves, but at the same time can also help their peers when they are approached for help."
That last part is important, as research shows that when young people have problems, they are reluctant to approach adults or parents for help. Instead, they either reach out to their friends or look for answers online.
"It's really forming that strong network of support that's crucial."
At a time of great change in all aspects of our lives, Dr Chin says that positive psychology can have the potential to help create lasting, positive change, not just for students, but everybody.
"It's really a paradigm shift, where education is about lifelong learning and building capabilities – not just in literacy and numeracy – but wellbeing."
Banner: Supplied